Following a particularly intense summer of wildfires, the provincial government has announced that open fires will again be permitted in the Kamloops Fire Centre.
Effective at noon on Friday, Sept. 24, the third day of fall, category 2 and category 3 open fires, as well as other equipment and activities will be allowed.
The definitions of different fire categories can be found on the attached graphic.
Fire bans, including campfires, were banned in late June amid record-setting temperatures. The campfire ban in the Kamloops Fire Centre was lifted on Sept. 10.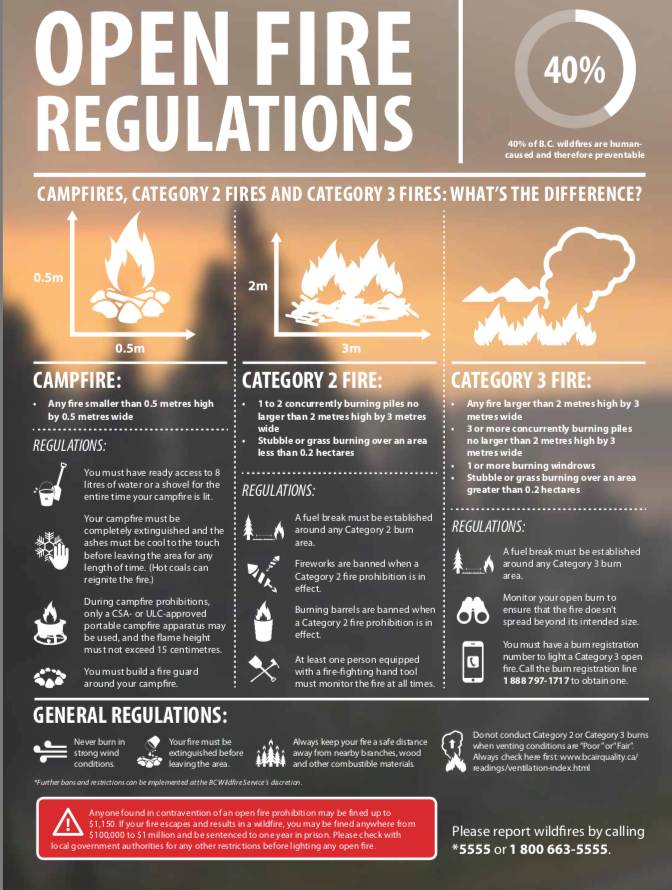 The BC Wildfire Service said it takes several factors into account before rescinding its open burning prohibitions. This includes balancing the needs of the public with the need to mitigate the risk of human-caused wildfires. With recent and forecast weather conditions that include cooler temperatures and higher humidity, the fire danger rating has dropped throughout most of the Kamloops Fire Centre.
The following equipment and activities will no longer restricted in the Kamloops Fire Centre: fireworks, sky lanterns and burn barrels or burn cages of any size or description, except when used for a campfire as defined by the wildfire regulation.
Local governments may still have their own burning restrictions in place.
Anyone lighting a category 3 open fire must first obtain a burn registration number by calling 1-888-797-1717.
Those conducting any open fire should use caution and be aware of local conditions that might impact their ability to burn safely and control their open fires. Anyone who lights an open fire must also comply with B.C.'s air quality control legislation. Check the local venting index by calling 1-888- 281-2992 or by going online here.
 http://www.env.gov.bc.ca/epd/epdpa/venting/venting.html
Safety tips
The BC Wildfire Service urges people to take the following precautions with any allowed outdoor burning:
• Ensure that enough people, water and tools are on hand to control the fire and stop it escaping;
• Do not burn in windy conditions. The weather can change quickly, and wind may carry embers to other combustible material and start new fires;
• Create a fire guard around the planned fire site by clearing away twigs, grass, leaves and other combustible material right down to the soil;
• Never leave a fire unattended;
• Make sure that your fire is fully extinguished and the ashes are cold to the touch before leaving the area for any length of time.
 The Kamloops Fire Centre extends from the northern border of Wells Gray Provincial Park to the U.S. border in the south, and from the Bridge River Glacier west of Gold Bridge to the Monashee Mountains east of Lumby.
 To report a wildfire or unattended campfire, please call 1-800-663-5555 or *5555 on your cell phone. For more information about fire bans or restrictions, visit bcwildfire.ca.