Up to 42 families in a Pineview Valley townhouse complex, many with school-aged children, have been given so-called renoviction notices and have been told they must vacate their homes by February of next winter.
Residents of Pineview Heights, at 1920 Hugh Allan Dr., received the letter from Fraserview Development Corporation on June 24, informing them of the pending evictions due to planned renovations. The letters were dated April 27.
KTW has obtained a copy of the letter sent to residents. It states that all 42 units of the rental complex will be vacated four at a time due to numerous refurbishments. The notice indicates tenants will have to vacate their addresses by February 2023, pending Residential Tenancy Branch approval of Fraserview's application.
Many are shocked and worried about finding another place to rent in a Kamloops market that is as tight and as expensive as it has ever been.
While legislation gives current tenants the right of first refusal (meaning they get first shot at moving back into their renovated unit), higher rents may be too expensive for them.
Thierry Josic and his family have rented one of the townhomes for the past three years. He described receiving the letter as a shock and doesn't know what he will do, noting he doesn't have people in town with whom to stay.
"I don't think anybody knows what they're going to do," Josic said.
He said one family he spoke with said they will probably have to leave Kamloops if the renoviction goes through. Josic said he has spoken with four families in the complex about the notice.
"From what I got, it was a bit of deer in the headlights from my neighbours I was chatting with yesterday. It's like 'I don't know what we're going to do. I don't know where we're going to go. Are we going fight this? Is there a point?' It's just like we got slammed," Josic said.
He said the notice reminds him of the feudal system, in which the lord is ousting peasants.
"It's like, 'Get out of here, we're done with you,'" Josic said. "Like the Victorian era, where they throw everybody out of the tenement and then open it up at double the rent."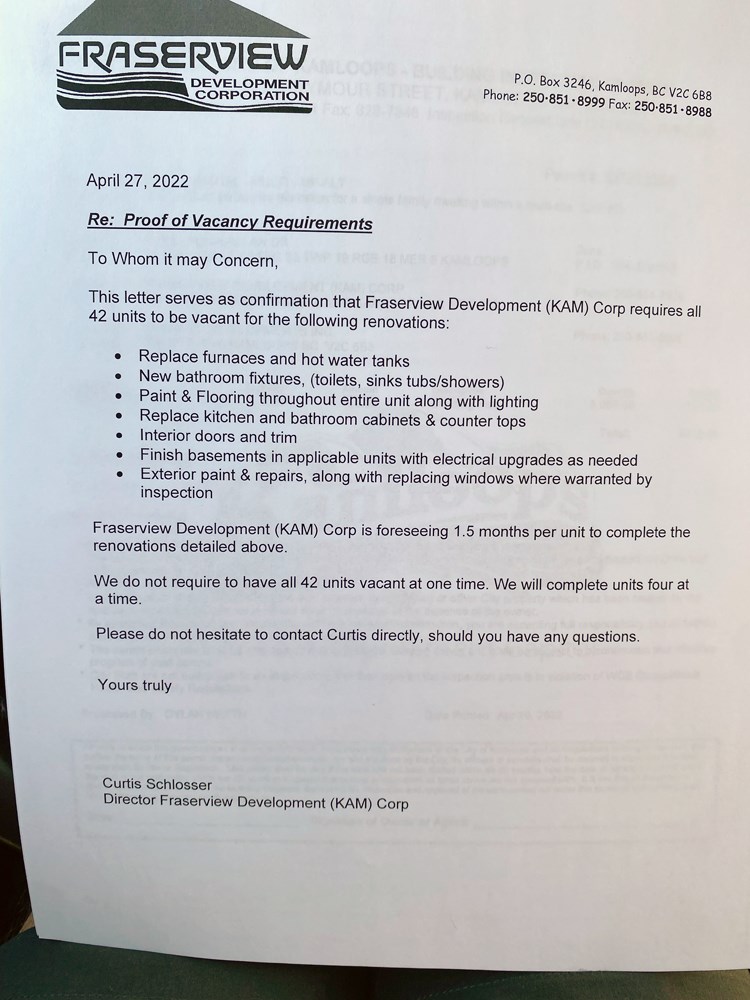 Brandy Bournival has lived in Pineview Heights for 18 months and does not know where her family, or others, will go.
"It is pure, evil greed is what it is." Bournival said. "There's not enough rental properties for 10 families right now, let alone 42 families. People cannot afford even groceries or gas at this point. Now you're going to throw these people out and increase their rents?"
Bournival said she and her husband pay $1,825 per month for their three-bedroom townhouse unit, while units now empty are being rented for about $2,000.
"You can't get a basement suite right now for under two grand," Bournival said.
"People are just crying, devastated. They don't know what to do. There's not enough places in the city for all of us."
Josic said he is paying about $1,800 in rent for his three-bedroom townhome, adding it is doubtful he and his family could find something comparable at that price elsewhere in the city.
Kamloops Coun. Dale Bass said the issue points a big red arrow at the city's affordable housing problem.
"What I'm concerned about here, beyond the fact that we're talking about 42 families who might not have a home by the end of the year, is the impact on our housing situation in the city to begin with," Bass said.
Bass said she constantly sees social media posts from those who say they cannot find an affordable place to rent, noting with 42 families potentially facing eviction, the problem will only get worse.
At Tuesday's city council meeting (after KTW's press deadline), Bass was planning to raise the issue with staff to find out if a bylaw or another solution is possible.
"Renovictions are a big, big problem on the coast and now it's coming up here. This is the biggest one I've heard of," she said.
While provincial legislation caps annual rent increases at 1.5 per cent in 2022, once a unit is vacant, the rent can be set at any price.
"That's exactly what he's [Fraserview director Curtis Schlosser] trying to do," Bournival said. "They're going to rent these out for $3,500, guaranteed."
Fraserview director Curtis Schlosser, who is also president and CEO of Granite Developments, confirmed to KTW that tenants will be evicted from their homes permanently as a result of the renovations, but will have first right of refusal to move back into their homes at what will be higher rents.
"I don't know how you sugarcoat this," Schlosser said. "I'm just trying to do what I can do to sustain my business and, at the same time, I hate displacing people, as well. There's been people there for years and I've never had a problem, but it's just that time."
Schlosser said his family built Pineview Heights in the late 1990s and it needs to be cleaned up, noting it is the oldest rental he owns. He described the renovations he intends to undertake as "substantial" when asked why residents cannot remain in their homes during the work.
According to the province's Residential Tenancy Act's policy guidelines, most renovations do not require eviction and all those listed by Fraserview are classified by the province as causing minimal disruption to tenants and unlikely to require vacancy.
According to Fraserview's letter to residents, the work will include replacing furnaces and hot water tanks, installing new bathroom fixtures, upgrading painting, flooring and lighting, replacing kitchen and bathroom cabinets and countertops, along with interior doors and trim, finishing basements in applicable units, with electrical upgrades as needed, and completing exterior painting and repairs, along with window replacement where needed.
Schlosser said "people cannot live in a house with no cabinetry and no water for weeks on end."
"I'm taking heating systems out, I'm taking all the cabinets out, plumbing, heating — everything," he said.
Schlosser said the kitchen designs are being changed completely, which is just one aspect of the remodel. He said it will take weeks and noted scheduling conflicts could delay work further.
"I've been putting Band-Aids on this project for years now, trying to fix things, and it's not worth it anymore," Schlosser said.
"My family owns it as a business and we want to keep it for another 25 years and keep renting it, but I can't keep Band-Aiding everything. It's just nickeling and diming me to death. And I know it's at the cost of having to evict some people. I understand that and I don't like it either and I understand where they're coming from.
"But for me to do these kind of renovations, I need access to the building for at least a month-and-a half minimum per unit, without anybody living in it."
Schlosser said he will raise the rental rates because he is putting up to $75,000 of work into each unit, noting that "has to be justified somehow."
As for by how much rents will rise, Schlosser said he has not looked into that yet.
"They can't come back at the old rent rate. It will be the new rent because it will be a brand new unit inside there," he said. Schlosser added that he would pay to move anyone with right of refusal who decides they don't want to go back to their old unit into the next set of renovated fourplexes if they so choose.
He said he hasn't been able to express that, or explain the situation yet to tenants, because "it's been such a whirlwind since last Friday."
Schlosser described the act of sending letters out to tenants as a "cold, ugly procedure" mandated by the Residential Tenancy Branch. He was taken aback by the government body dropping it on them suddenly last week, noting he has been planning the work and obtaining permits from organizations such as the city for more than a year.
Schlosser said he decided to undertake the renovation now because he has staff available as he is in between projects since an 82-unit apartment building project of his was put on hold.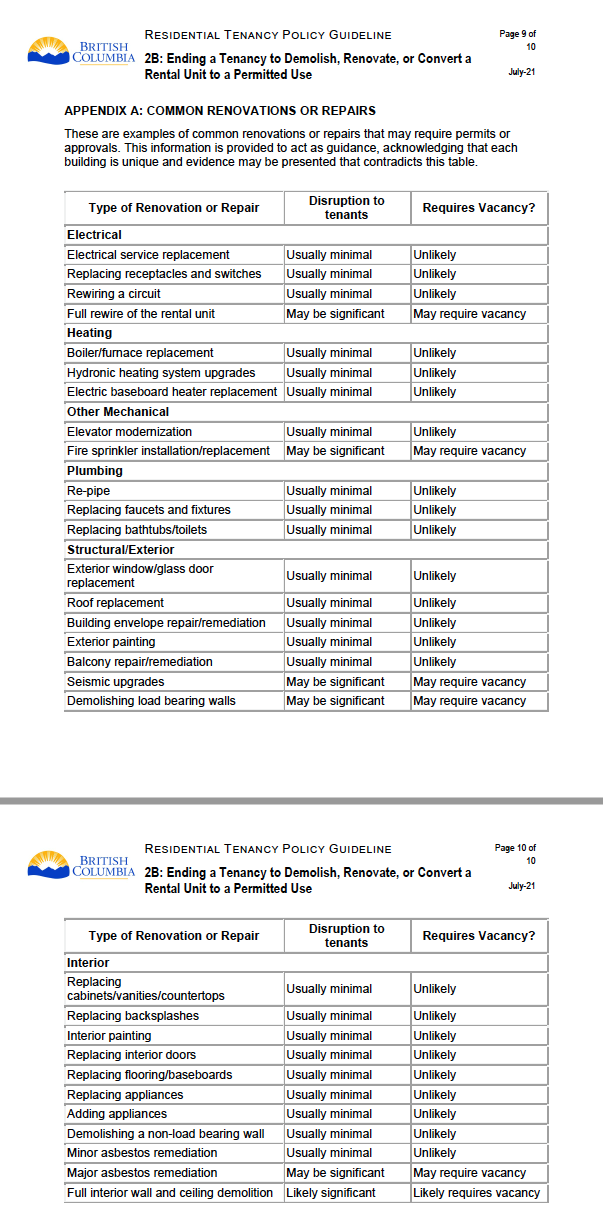 If the Residential Tenancy Branch approves the renovation and evictions following an October hearing, renters will have four more months of rent at their existing rate before work can begin, he said, adding that may continue even longer depending on when he can schedule workers and pricing after that hearing.
"We're into next year no matter what happens," he said.
Schlosser also noted there won't be a mass eviction as work will be done one fourplex and one block at a time, with a posted schedule.
Josic said he spoke with neighbours who moved in at the beginning of June, only to receive the eviction notice the same month, adding they found it strange they were asked to sign a six-month lease.
Schlosser said that it may be a six-month lease, but noted those tenants will likely be able to stay in their unit until next spring, depending on what units work begins on first.
"And until I get a positive feedback from the residential tenancy board, I'm going to keep renting my units because come Oct. 3, they may just tell me forget it, so why would I miss out on the rent of the existing unit right now?" he said. "That's just business. You can't have empty units sitting there. It costs me money too."
Bournival said residents are banding together in a bid to fight the renoviction plan.
"We don't have a choice because there really is nowhere to move," she said, noting at least four families with whom she has spoken have said they will need to leave B.C. to afford rent.
After the Oct. 3 hearing, a Residential Tenancy Branch arbitrator will decide if the work cited requires residents to vacate their homes.
If the arbitrator determines the proposal for work would require the tenant moving out permanently, the Residential Tenancy Branch will then give Fraserview an order of possession, which gives tenants four months' notice, with the last month's rent paid for by Fraserview.
In 2021, the provincial government changed legislation to protect residents from being victims of renovictions by requiring landlords to apply to the Residential Tenancy Branch for pre-approval before ending a tenancy.