Florian Lazar was on vacation when he learned over social media he may be kicked out of his home in a few months.
"It was very stressful," the father of three told KTW, noting his children worried their family will be homeless.
Lazar and about a dozen other residents of Pineview Heights townhouse complex gathered at Pineview Park in late July to discuss their legal recourse with two members of the Thompson Rivers University Community Legal Clinic (TRU CLC) in the wake of receiving so-called renoviction notices from their landlord, Fraserview Development Corporation.
Residents met with clinic representatives Kelly Melnyk and third-year law student Thomas Deneka on July 21 about how to mount a defence against the landlord's application for eviction — a case the clinic is taking on pro bono.
Up to 42 families, many with school-aged children, in the complex at 1920 Hugh Allan Dr. in Pineview Valley received the letter from Fraserview Development Corporation on June 24, informing them of the pending evictions due to numerous planned refurbishments. The letters were dated April 27.
An Oct. 3 Residential Tenancy Board (RTB) hearing with an arbitrator will decide if the work cited requires residents to vacate their homes.
If the arbitrator determines the work would require the tenants moving out permanently, the RTB will then give Fraserview an order of possession, which gives tenants four months' notice, with the last month's rent paid for by Fraserview.
In 2021, the provincial government changed legislation to protect residents from being victims of renovictions by requiring landlords to apply to the RTB for pre-approval before ending a tenancy.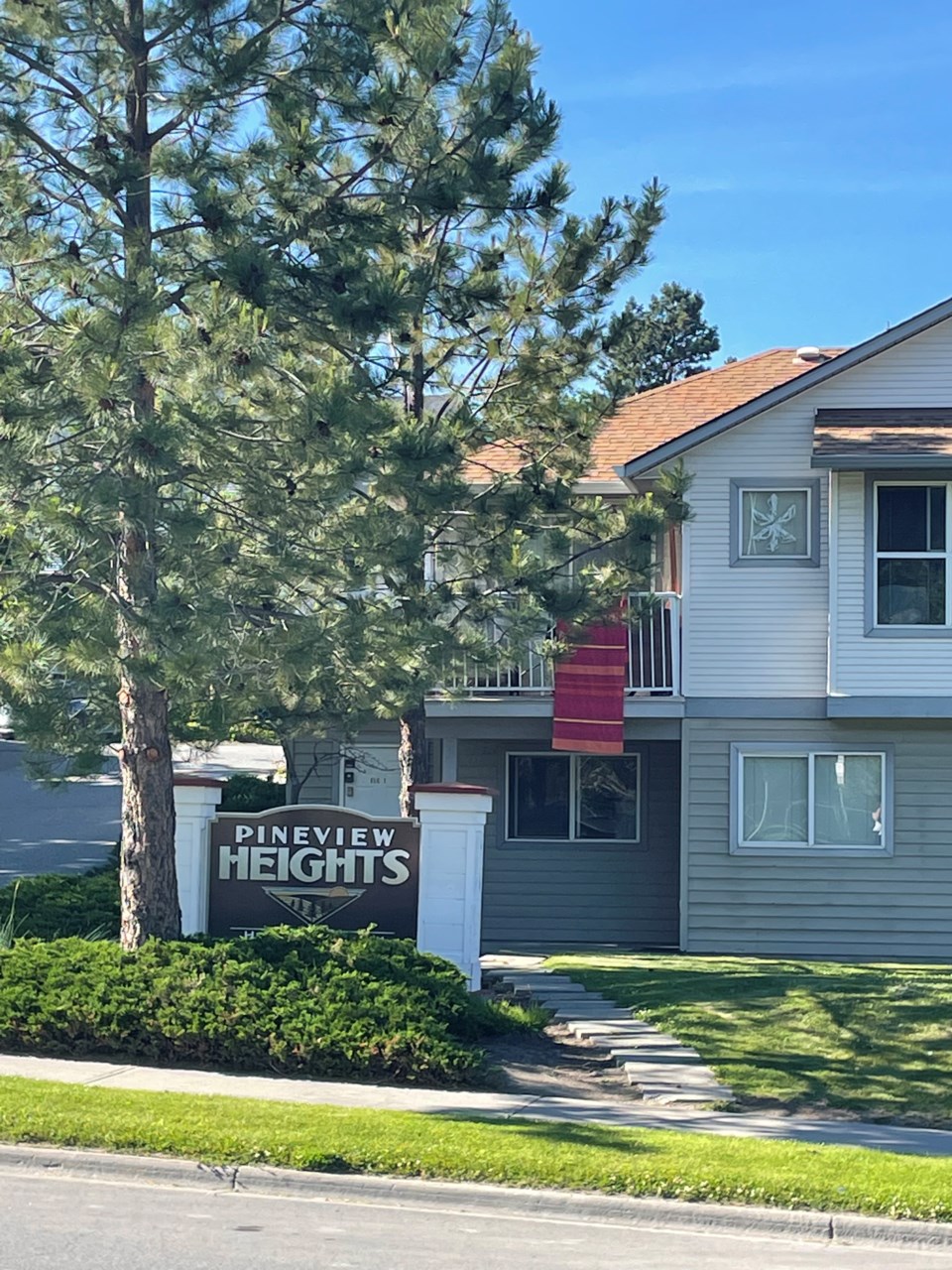 Melnyk told tenants at the park the clinic is behind the file "100 per cent" and said legal representatives would provide a list of items residents could submit them to formulate a response package for the RTB hearing.
If the landlord's RTB application is successful, but the landlord doesn't go through with the proposed renovations, tenants could apply to be compensated a year's rent, Melnyk told the residents, but they would not be entitled to move back into their homes at current rental rates.
Meeting leaves little assurance for tenants
Following the meeting, some residents told KTW they left feeling no more secure or less frustrated than before.
A tenant named Carolina, who did not wish to give her last name, said she was hoping for a sense of certainty from the meeting, but left feeling the same level of frustration.
"They all say we need to fight and we're going to do it … but they cannot give us any certainty," Carolina said.
The international student from Columbia has lived in Kamloops for 18 months and said her children, upon learning of the eviction notice, thought they did something wrong.
Another tenant named Alina, who did not wish to have her last name published, said her kids expressed similar sentiments and want to know their parents' plan.
"We don't know what to tell them because we don't have something," Alina said.
She told KTW even if tenants end up winning their case with the RTB, the next few months leading up to the hearing with possible eviction hanging over their heads is going to be "a nightmare."
"The stress, the family, the kids, it's just abhorrent," Alina said.
She said her rent is $1,850 at Pineview Heights and she cannot afford an increase.
After hearing from the clinic, Pineview Heights resident Kevin O'Neil said it's good to have people on their side.
"I felt that we could come together," O'Neil said of the meeting. "Our kids are all really close and it's a community."
He said his family was kicked out of his last rental when it was sold and, a year later, he is faced with a similar scenario again.
"It's been a rough couple years," O'Neil said.
TRU Legal clinic
looking into defence
Lazar said he was hoping there would have been more people in attendance for the meeting, while resident Erin Sims said she plans to go door-to-door to get neighbours to sign up for the defence.
"I'm kind of keeping an eye out on available rentals, but I also don't want to move if I don't have to," Sims said of her current situation.
Melnyk told KTW on Tuesday that the clinic is looking at ways of assisting Pineview Heights tenants, but nothing has yet been finalized.
She said she wasn't able to speak to how many tenants of the complex have contacted the clinic regarding a defence.
Melnyk said the October hearing is a fairly procedural matter, but she is not sure what exactly will happen during that hearing.
She said the clinic will be "poring over material" as it moves forward and, ultimately, both parties will get the opportunity to have their evidence heard. It will be up to the arbitrator to decide whose position is more credible.
The legal clinic reached out to KTW to be put in contact with residents upon reading a story regarding their pending eviction in the June 29 edition of this newspaper.
Fraserview director Curtis Schlosser previously told KTW the renovations he has planned will be done a unit at a time and are such that residents won't be able to reside in the homes during the work.
"For me to do these kind of renovations, I need access to the building for at least a month-and-a half minimum per unit, without anybody living in it," Schlosser said.
If Fraserview's RTB application is successful, tenants will be evicted from their homes permanently as a result of the renovations, but will have first right of refusal to move back into their homes at what will be higher rents.
While provincial legislation caps annual rent increases at 1.5 per cent in 2022, once a unit is vacant, the rent can be set at any price.