One of two Kamloops Safeway stores will close later this year ahead of a rebranding.
The Safeway store in Sahali Mall will close on Nov. 23. The space will then be renovated and re-opened next spring as a FreshCo outlet.
Five other Safeway stores in B.C. will undergo the same transformation.
Both brands are owned by Sobeys, a subsidiary of Nova Scotia-based Empire Co. Ltd., which has been opening its FreshCo brand stores in Western Canada since April.
Jacquelin Weatherbee, Sobeys director of external communications, told KTW the decision to close the Sahali location was made in part due to poor performance. She said the company also conducted an assessment that indicated the Kamloops market would be a good fit for the discount grocery store.
There are about 95 people employed at the Sahali Safeway.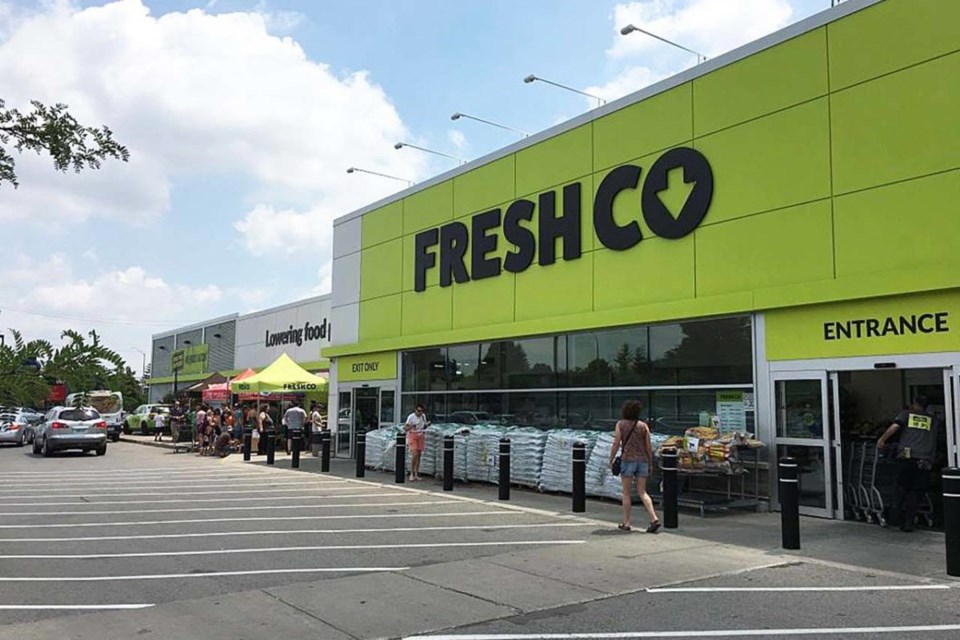 As per thee collective agreement between management and the United Food and Commercial Workers union, Sahali Safeway employees will be given three options: transfer to a neighbouring Safeway location, accept a severance payout and move on or accept a job offer at the FreshCo store, Weatherbee said.
When asked, she said she did not know if the new store will be hiring the same number of people currently employed in the Sahali Safeway outlet.
"We had our store leaders and HR representatives in each of the store locations yesterday having conversations with our employees," Weatherbee said. "It's really important to us that we handle everything as respectfully as possible. It does mean a lot of change for employees."
One worker, who asked that his name not be published, said he wasn't surprised to hear about the closure.
Having worked at the Safeway for about a year, he said none of the three options are an ideal fit for him, given his lack of seniority.
He said the buyout offer is three weeks' pay for every year worked, noting transfers to the North Shore Safeway store will depend on seniority and availability.
As for remaining at FreshCo, he said the company has informed employees that only up to 25 per cent of the vacancies will be filled by former Safeway employees, based on seniority.
As FreshCo is a discount store, the employee believes salaries will likely be minimum wage, with no professional positions for butchers and bakers, as now exists at Safeway.
"I don't think I'll be leaving my house for minimum wage," the employee said. "I can collect empties for that amount of money."
Nervous about the future, the employee said he hopes to find another job in Kamloops.
"There's still a little bit of time left until November," he said.
The employee said he thinks the store was destined to be converted regardless of how well the business was operating.
"We're getting thrown under the bus," he said. "The suits in the boardroom decided that's what's going to get done."
He said the company is trying to compete against the Walmarts and No Frills of the grocery market.
"It's unfortunate that Sobeys wants to concentrate on price and discount only, so it's a race to the bottom," he said. "You'll have a little bit lower prices, but you won't have any services."
Weatherbee said re-opening the store under the FreshCo banner will involve negotiating an entirely new collective agreement for employees with the existing UFCW 247 union at Sahali Safeway.
Calls to the union for comment were not returned by KTW's press deadline.
The pharmacy in the Sahali Safeway will not be closed during renovations. A temporary location for the department will be set up to maintain customer service before the pharmacy is re-opened within FreshCo.
The North Shore Safeway will not be converted, Weatherbee said, noting performance and market demographics are revisited regularly to determine whether stores shore remain open, are rebranded or are closed.
In addition to the Sahali outlet, Safeway stores in 100 Mile House, Williams Lake, Kelowna, Vernon and Powell River will be closed later this year and re-opened as FreshCo stores in the spring of 2020, if the timing of construction and scheduling of permits goes according to schedule.
In a press release, Empire president and CEO Michael Medline said opening FreshCo stores in those locations is allowing the company to leverage existing real estate within its network, and win market share it couldn't compete for in the past.
FreshCo has 95 locations in Ontario and has been converting Safeway locations to the discount grocery store brand in B.C. since earlier this year. The first converted FreshCo store in Western Canada opened in Mission on April 25, followed by two renovated Safeways in Richmond re-opening on May 16.
Two Safeways in Surrey are re-opening as FreshCo stores in July.
Safeways in Chilliwack, Aldergrove and Maple Ridge closed on May 25, affecting 115, 123 and 129 employees, respectively. On July 23, the Delta Safeway will close, affecting 97 employees, and Sobeys will be closing its Abbotsford Safeway on Sept. 7.
Those Lower Mainland stores are expected to re-open as FreshCo locations within five months.
According to Sobeys, its FreshCo stores reflect "customers' growing demand for fresh, quality food at discount prices."
The conversions have been in the works since December 2017, when Sobeys announced it would convert 25 per cent of Safeways in Western Canada.