Other spending of interest during Sukh Gill's time as Thompson-Nicola Regional District CAO included impressive gifts charged to his TNRD credit card.
Retiring staff members in recent years received a $970 iPad from Best Buy (Deborha Merrick), a $707 iPad from Best Buy (Carole Moss), a $595 iPad from Costco (Karen McKay-Smith, who owed $95 back), a $729 HP laptop from Best Buy (Laverne Bernier, who owed $129 back), a $617 laptop from London Drugs (Linda Kelley), a $505 Vitamix blender from Costco (Susan McLure, who owed $155 back) and an unknown $428 gift from Wells Gray Home Hardware (Carol Turner). There was also $1,119.44 spent at Anne Louise Jewellers in Vancouver on Nov. 7, 2018, with no receipt shown.
Outgoing TNRD director Pat Wallace received a $997 18-karat white gold necklace with a 14-karat diamond from Karateristics on Victoria Street when she retired in 2018.
TNRD policy outlines a maximum amount for gifts depending on tenure — $25 per year served — and Wallace was required to pay for $222 of the $997 necklace, according to documents.
A TNRD employee recognition policy, corporate practice No. 7.1, created in October 2013, states retiring employees can be recognized with a gift valued at up to $25 per year of service. In addition, the TNRD will contribute to a retirement event for employees with more than five years of service, with the regional district's contribution not normally exceeding $300 for staff and $500 for management.
And, according to TNRD policy No. 1.1.10, created in April 1994, directors who leave their position on the TNRD board can be recognized with a gift based on the amount of $25 for each year they were a member of the board.
The gift policy has not changed, but TNRD board chair Ken Gillis told KTW gifts will be "substantially more modest in the future."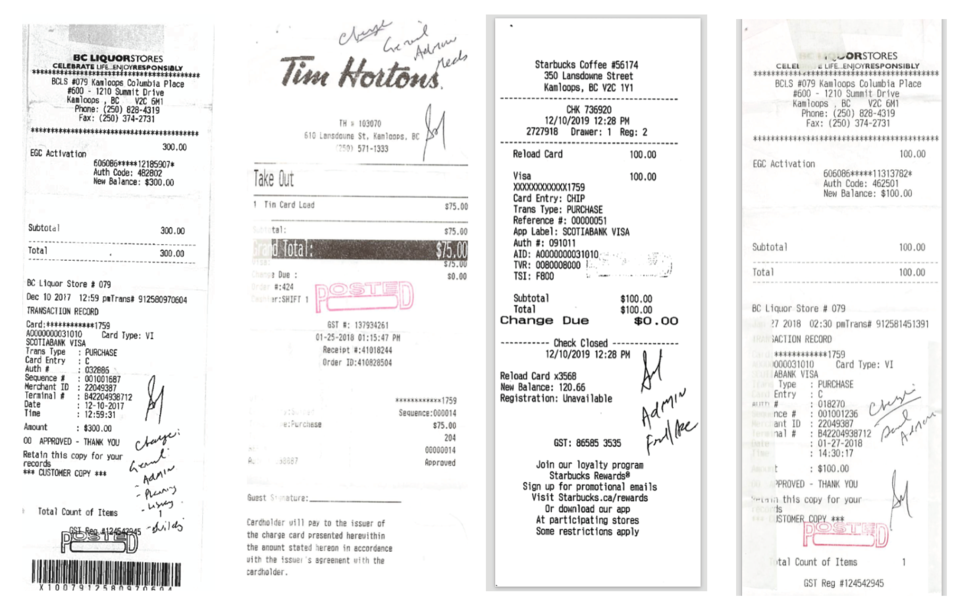 Gift cards: From coffee to liquor
Meanwhile, gift cards were increasingly purchased via Suhk Gill's TNRD credit card before his departure from the regional district in February 2020.
Many of them were reloaded onto an unknown card at coffee shops or unattributed and unaccounted for.
In expenses analyzed by KTW, it started in 2015, with the purchase of a $100 gift card at Tobiano Golf Course.
In the summer of 2017, Gill purchased eight Tim Hortons cards for an annual TNRD golf tournament and also reloaded $20 onto another unknown card.
Over time, more and more gift cards were purchased with Gill's TNRD credit card. Most were from Starbucks and Tim Hortons.
On a Friday afternoon in May of 2019, $116 was spent at the Valleyview Starbucks for two lattes, a grilled cheese sandwich and a $100 gift card.
Tim Hortons and Starbucks cards were loaded and reloaded monthly in 2019 in $60 to $100 increments for a total of $970.
The weekend before Christmas in 2018, purchases included a $275 BC Liquor Store gift card, a $135 Aberdeen Mall gift certificate and a $75 Tim Hortons card load. The receipts said to charge "general admin."
A small number of the gift card purchases alluded to gifts.
A couple of other purchases on Gill's credit card included a FitBit charger and two backpacks purchased from Bentley, a store in Aberdeen Mall, on Sept. 17, 2018, and Aug. 27, 2019.
Asked if Gill was using his TNRD credit card as a personal expense account, Diehl said he did not see that.
Thompson-Nicola Regional District credit cards earn one per cent cash back, which is applied to the cards' outstanding balance.
SEARCH THE KTW DATABASE
Kamloops This Week readers can peruse five years' worth of 
Sukh Gill's TNRD credit card spending via a spreadsheet created by KTW chronicling regional district credit card statements and receipts.
The spreadsheet can be sorted in myraid ways, from amounts to type of expense to vendor — and more.

To view it, go online to
 https://tinyurl.com/y4ccrtr9.
RELATED