A Kamloops man is staging a vision quest and fast in protest of the Trans Mountain pipeline expansion project.
Jeffrey McNeil-Seymour is fasting for four days along the route where a new pipeline is set to be drilled under the Thompson River, emerging near Mission Flats Road on the south side of the waterway.
In a press release, McNeil-Seymour said there should be no further development of "tar sands, bitumen, pipeline and pipeline worker camps, nor should waterways and salmon populations continue to be poisoned by these endeavours."
His protest began on Wednesday along a sandbar near the south shore of the river, off Mission Flats Road and west of the Domtar pulp mill settling ponds. That sandbar sits between two work sites on either side of the river, between which crews are expected to feather the pipeline under the river some time in September.
"His intention for four full days is to stop the pipeline with his vision fasting," said Miranda Dick, a Secwépemc woman who is one of a half-dozen protesters watching over McNeil-Seymour and a sacred fire. The protest is expected to continue until Saturday, Aug. 29.
Kamloops This Week visited the site of the sacred fire on Thursday morning, where protesters have set up a canopy tent and camping tent along the bank of the river, about 500 metres from where Trans Mountain workers have set up around the Mission Flats public beach parking lot.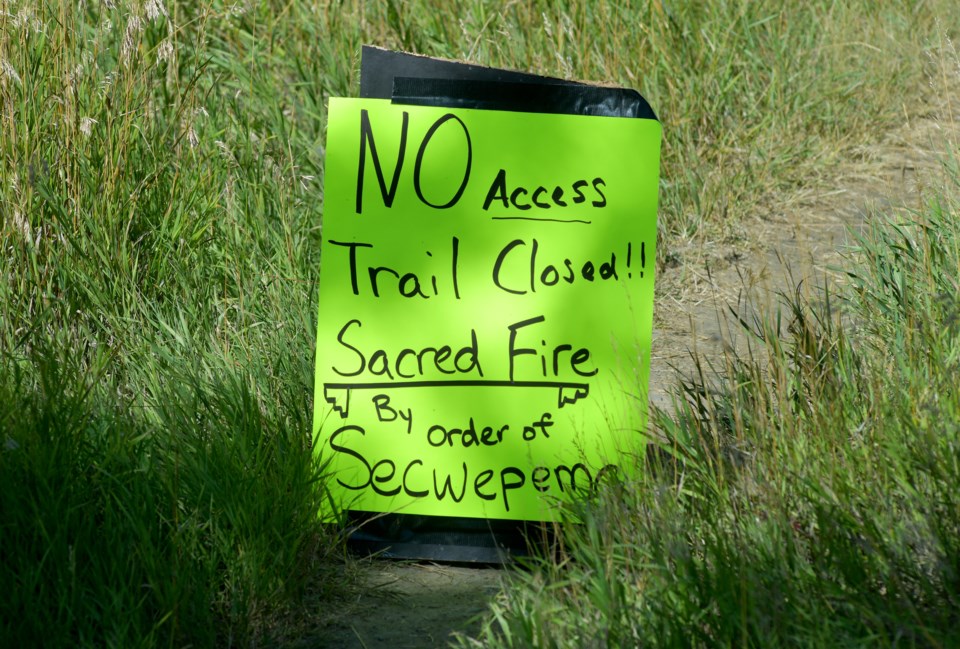 Protesters also had a couple of vehicles parked nearby, off Mission Flats Road, one with a sign reading "Sacred Fire." A handmade sign was also displayed, restricting access to a dirt trail down to the beach from the road.
Trans Mountain repled to KTW's request for comment on the situation: "We are aware of this protest. We understand there are a variety of views regarding the Trans Mountain expansion project and respect the right to peaceful, lawful expressions of opinions."
The company went on to indicate it is not taking any action as "at this time, there is no blocking or obstructing of construction," reiterating the fact there is a B.C. Supreme Court injunction prohibiting the obstruction of access to Trans Mountain's worksites.
Dick told KTW that McNeil-Seymour would not be available for an interview until Saturday due to the fact he is completing his vision quest.
She said he is sleeping outside on the sandbar over the course of the four days and, on the advice of his doctor, is staying hydrated as he is battling cancer.
Dick said she and the other caretakers will be on site for McNeil-Seymour in case he needs medical attention and to ensure his vision quest goes smoothly.
She said McNeil-Seymour is not blocking any workers at this point.
Dick said the RCMP, City of Kamloops bylaws service and Kamloops Fire Rescue all visited the site on Thursday morning.
"I just told them we're having a sacred fire," Dick said.
KTW has calls in to the three agencies.
City of Kamloops bylaw services manager Tammy Blundell told KTW bylaw and police attended to monitor and ensure the protest wasn't a violent one, finding that it was in fact a peaceful demonstration. She said they were on scene for about an hour and opted to erect slow traffic signage in the area to ensure the protesters' safety.
McNeil-Seymour is a Tk'emlups te Secwépemc member and an assistant professor at Ryerson University in Toronto. In his press release, McNeil-Seymour said he chose the spot as it is where his great-great grandmother, Cecily, stood in opposition to the original Trans Mountain pipeline when it was built in 1957.
He said that as a sovereign two-spirited, Secwépemc man, he is not bound by provincial and federal governments of Canada illegally occupying Indigenous lands.
"Indeed I am, and have been for some time now, compassionately confronting cancer both on the land, in the water and now in my own body," he said in the news release.
Dick also noted the protest and pipeline work is occurring at a "crucial time," when salmon are returning upriver to spawn.
—This story was updated Aug. 28 to add comment from bylaw services manager Tammy Blundell and further comment from Trans Mountain.