The chiefs of two Kamloops-area First Nations are calling for the Tiny House Warriors protest group to leave its camp near Blue River and stop its activity on Secwepemc land, saying the actions of the collection of protesters violates Secwepemc laws and customs.
Tk'emlups te Secwepemc Chief Rosanne Casimir and Simpcw First Nation Chief Shelly Loring issued a joint statement on Thursday (July 2).
"Since the beginning of time, we have independently provided stewardship in our territory — Simpcwúl'ecw," Loring said. "In 2017, we gave our free, prior and informed consent to Trans Mountain to build and operate the new pipeline here. I share their concern for the safety of women and girls, but they won't talk to us about the work we're doing. For example, we currently have 19 women working at Trans Mountain. They report positive experiences and no serious incidents."
Simpcw Coun. Martha Matthew said the Tiny House Warriors are not from the Simpcw First Nation.
"Nor are they our guests in our territory," she said. "They don't speak for us."
The Tiny House Warriors is a group of Indigenous activists opposed to the Trans Mountain pipeline expansion crossing Secwepemc territory. The group has built two villages — near Blue River and Moonbeam Creek, about 230 kilometres north of Kamloops.
The group has constructed tiny houses it said it will place along the pipeline expansion's 518-kilometre route as a means of protesting the project and asserting what it said is "Secwepemc territorial authority and jurisdiction."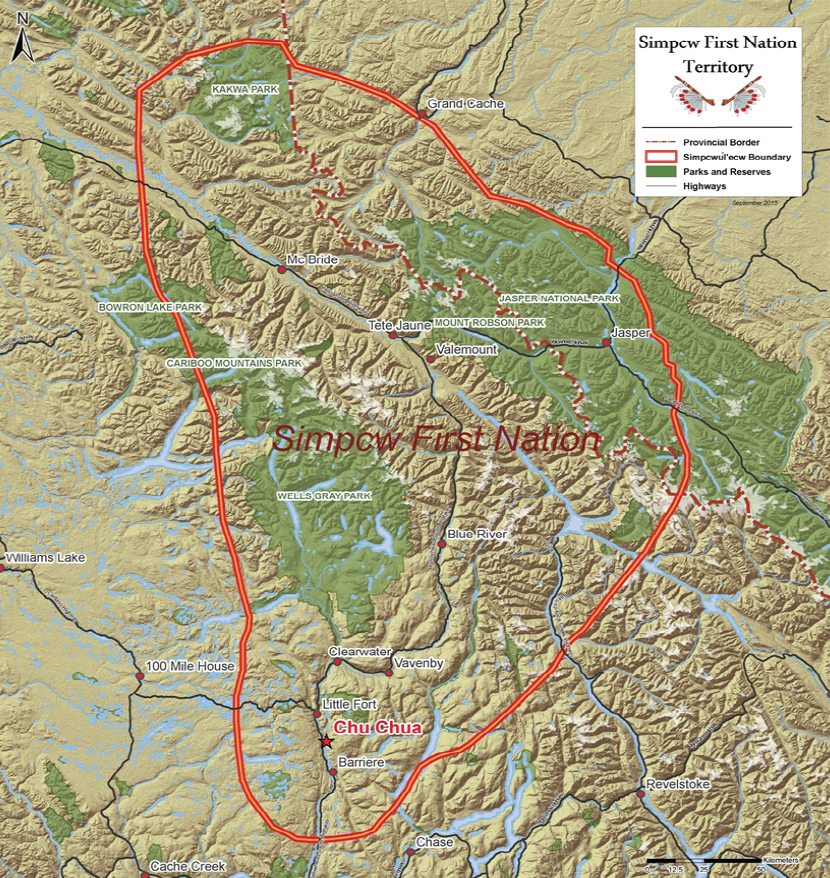 The Tiny House Warriors have become involved in various conflicts, including allegedly vandalizing Thompson Rivers University and vehicles along Highway 5 with red paint.
In May 2019, Thompson-Nicola Regional District director Stephen Quinn raised the issue of alleged increased harassment by Tiny House Warrior members on members of the Blue River community.
In the summer of 2018, protesters took to North Thompson River Park, near Clearwater, where traffic was blocked and red paint was splashed on passing vehicles. The protesters were eventually  removed by Parks BC staff. Subsequently, the group moved to Blue River.
"They were not particularly aggressive last summer, more of a nuisance," Quinn told the TNRD board last spring. "Recently, it has escalated to the point where people are being harassed, children are being harassed by this group of people and nobody seems to want to do anything about it."
The joint statement from the Simpcw and Tk'emlups First Nations notes that while the Secwepemc people are united by a common language and similar culture and belief system, each Secwepemc division is responsible for its territorial area within the larger Secwepemciiiecw area. The chiefs have pointed out the respective divisions and jurisdiction have been maintained and recognized by all Secwepemc, pursuant to the resolution of the Shuswap Nation Tribal Council passed in 2011, which recognizes and affirms the validity of each nation's divisional boundary.
They added this is also in keeping with the 1910 Memorial to Sir Wilfrid Laurier, in which the Secwepemc chiefs referenced the "boundaries known and recognized by all."
The chiefs note that, via agreements with the pipeline company, "Trans Mountain recognizes and respects Simpcw and the Tk'emlups te Secwepemc role as yecwminmen (caretakers) of their lands.
"We respect the positions taken by other Secwepemc on the project and fully acknowledge that each of us has the responsibility and jurisdiction to make their own decision," Loring said. "Simpcw has never ceded, sold or surrendered our title and rights. We call upon the Tiny House Warriors to stand down and step off Simpcwul'ecw and to respect our role as yecwminmen."
KTW has sent a message to the Tiny House Warriors, asking for comment.