Those who live and work in Tk'emlups te Secwepemc are hailing a new public transit route linking the First Nations reserve to the city.
"This is my wish for a long time," Yaya Hamadou told KTW.
The Mount Paul route — No. 18 — officially launched on Tuesday.
Leaving the Lansdowne transit exchange downtown, it travels hourly via Yellowhead Highway (Highway 5 North) to the golf course resort community of Sun Rivers, which is part of Tk'emlups.
The bus stops near the Sun Rivers entrance before dodging stray golf balls and mountain sheep as it heads toward Sun Rivers Drive and Talasa Way.
Sandy Rankel has lived in Sun Rivers for 12 years. Though she now walks and drives for transportation, Rankel said she may use the new bus service in the future, calling it a "necessity" as the population ages.
She said the service will also be attractive to homeowners renting out accommodations to Thompson Rivers University students.
"It's a great thing we finally got it," Rankel said.
From Sun Rivers, the bus loops back onto the highway, noticeably missing the G&M Mobile Home Park across the road.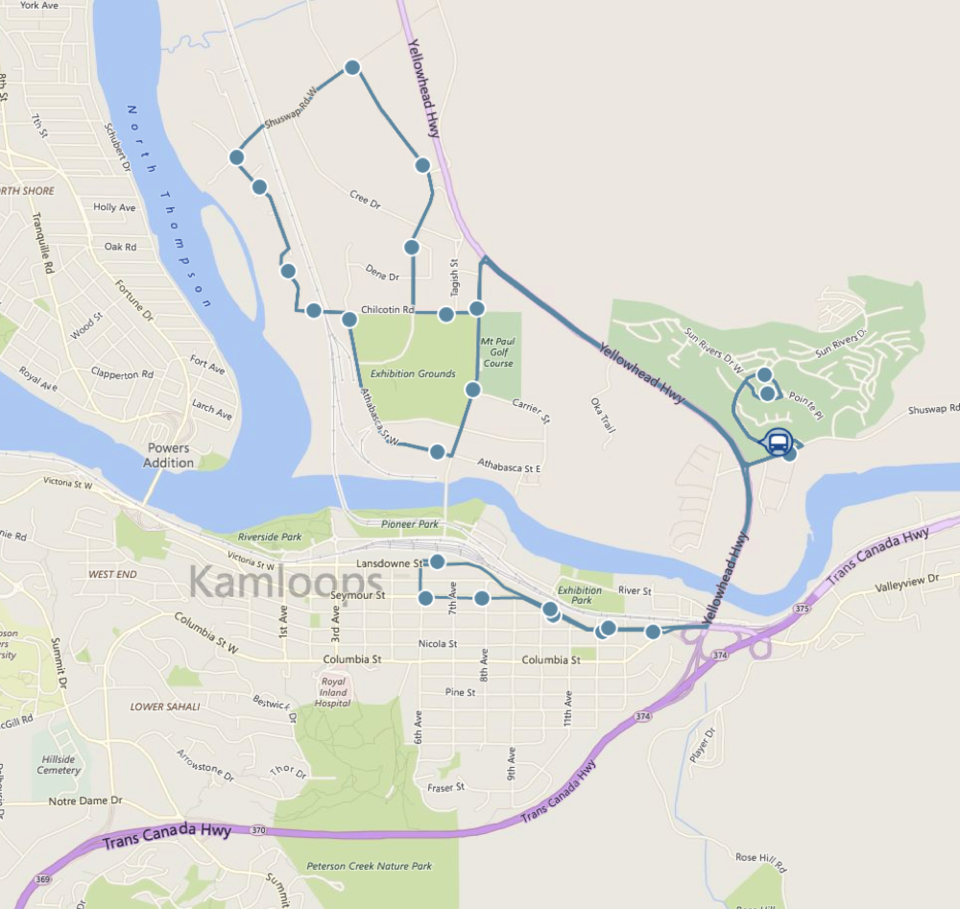 When KTW visited on Tuesday, students were leaning up against a power pole, awaiting their school bus. High school student Robert James said he has walked downtown in the past without public transit in his neighbourhood.
Now, he will walk across the highway to hop aboard the Mt. Paul route, though he said it would be easier with a bus stop closer to home.
G&M Mobile Home Park co-manager Jim Leonard said tenants have also been discussing the location. The mobile home park has 174 units and the outermost residents live about a kilometre from the closest bus stop.
"The service itself is helpful," Leonard said. "It would be nicer if it was closer."
Tk'emlups planning manager John ter Borg said the Mt. Paul route was selected with BC Transit based on density and anticipated usage. The goal was to cover the greatest area while returning back downtown within one hour.
The mobile home park was excluded due to its smaller population compared to the rest of the community.
"There are limitations and it [the bus] can't go everywhere," ter Borg said.
Tk'emlups is funding half of the route, ter Borg said, which is $180,000 per year. Budget constraints are also why the bus will run only on weekdays, during the day.
Travelling back along the Yellowhead, the bus turns onto Mount Paul Way, where a new stop can be found in front of Dee's Country Corner Cafe. Servers at the breakfast eatery have been calling cabs for customers as long as Dee McGregor can remember in her 15 years of owning the business.
"It's a great thing," she said of the new service, between flipping eggs and turning sausages.
Those at neighbouring Mt. Paul Barbers agree.
Hairdressers at that shop said the bus route will add convenience to clients, with some travelling from as far as Thompson Rivers University and Brocklehurst.
"I'm really surprised it's taken this long," barber Peggy Siemens said.
Why, exactly, has it taken so long?
Again, it all comes down to money, ter Borg said, noting BC Transit's will to add new routes, along with a partnership with the City of Kamloops, is "helpful and appreciative.
"It hasn't been because people haven't been trying or wanting it to happen," he said.
Down the road, KTW caught up with Yaya Hamadou walking along Mount Paul Way.
Commuting from work, he didn't know the Mt. Paul bus route had started and watched in dismay as the No. 18 drove past while he was speaking with KTW.
Hamadou has been working at Weir Minerals on Dene Drive for three years. It takes him two hours each day to get between work and his home in Batchelor Heights.
He will shave time off that commute — eliminating a 45-minute walk each way between the Lansdowne transit exchange and his office. He doesn't have a car and recalled cold walks during winter days and navigating the Red Bridge while sharing the pedestrian lane with bikers.
"It's very good news," Hamadou said.
A Tk'emlups transit ambassador will ride the route during the first two months of operation, collecting ridership data and evaluating the service. Ter Borg said route details may be adjusted later, depending on usage and feedback.
Tk'emlups is home to more than 3,000 residents, including Sun Rivers, which has about 800 homes.