The COVID-19 pandemic made 2020 a tough year for getting word out on the Wallgym, but its inventor, Antonio Ramunno, has used the time to develop a new version of his compact fitness system to better serve people with mobility issues like his own.
A motorcycle accident in October 2014 that left Ramunno paralyzed from the chest down led him to build the six-foot-high, 3.5-feet-wide device that attaches to walls to continue rehabilitation after his physiotherapy ended.
He then started selling the resistance training devices, gearing them to people with strength and mobility issues to gain more independence and to others whose equipment takes up too much space.
The main panel gives the user a variety of resistance and weight training exercise options through its various therabands, standing bar, free weights and strong hooks that attach each piece being used.
Business to date, however, has been rather slow, with Ramunno having sold about 15 Wallgyms.
"I'm still working at it. I'm just building Wallgyms, selling a couple here, couple there," Ramunno told KTW.
Pandemic-related restrictions on gatherings this year has made sales more challenging as Ramunno hasn't been able to hold in-person demonstrations of the product in action — something that has always resulted in a sale.
"Everything stopped with COVID. We weren't allowed to go nowhere," Ramunno said, noting he has sold five Wallgyms in 2020 and relies solely on word of mouth to generate interest.
Having sold recently sold a Wallgym to The Hamlets care home in Westsyde, Ramunno was preparing to do demonstrations in care homes across the city when the pandemic shut him out.
"This past year with COVID has been hell," he said.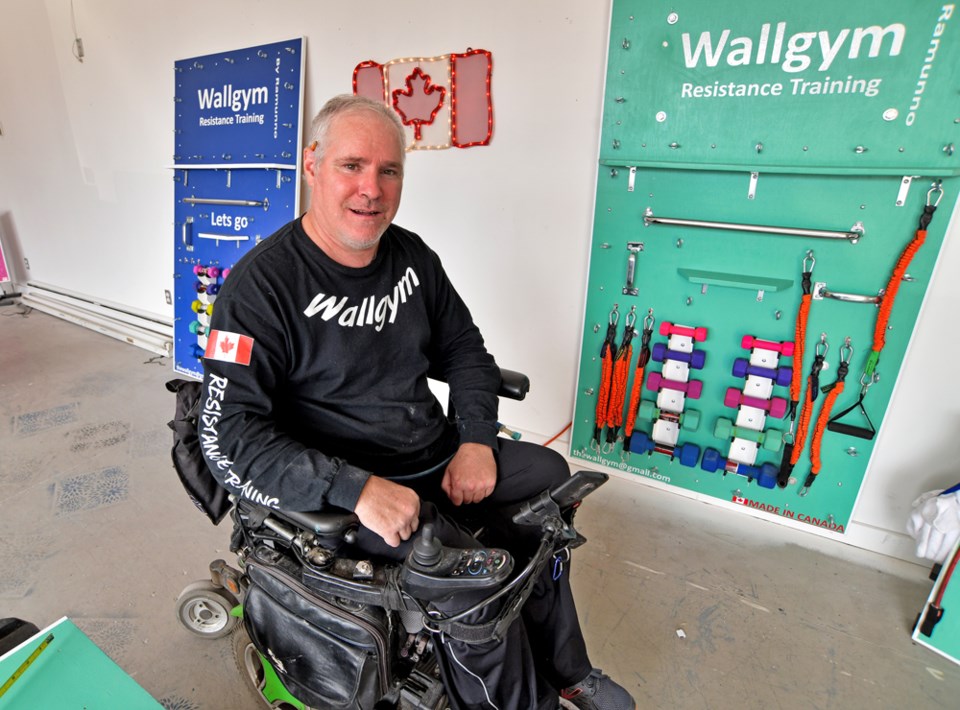 Ramunno now plans to start making videos of the Wallgym in action to replace in-person visits.
"I'm trying everything I can, but it's tough because with Wallgym, you really have to see it and do exercises on it to appreciate it," he said.
While 2020 has been tough on the Wallgym, Ramunno has now completed a prototype for a second iteration of the system, geared more toward the rehabilitation of people with disabilities.
"This Wallgym is more for people with balance problems, learning to walk, needing parallel bars — guys like me," Ramunno said. "It's gorgeous and it's sitting in my mom's kitchen."
Having designed it with the help of a physiotherapist, the second-generation Wallgym has the same dimensions of the first, but is equipped with drop-down parallel bars and a sit-to-stand assist — a specialized bracket that holds knees in place so the user doesn't slide towards the Wallgym while attempting to stand up.
It also comes with a magnetic whiteboard and a mirror on the other side to practise shaving and combing one's hair — something that took Ramunno two years to re-learn after his accident.
"I wanted to build a rehabilitation station," he said.
Ramunno has come a long way in his rehab since he was injured six years ago, having gained much more mobility, especially in the last three years.
He is now able to stand and walk with the help of a walker and said he couldn't be happier with his progress.
"Every day you work towards it. Little things from big things — it's slow, though. I'm no spring chicken, I'm 53 years old," Ramunno said.
He said he has missed going to the gym during and hasn't worked out as much this year as he used to, though he manages to get in a couple hours of exercise a day.
Ramunno splits his time working on Wallgyms between his shop at his mother's house and a storefront location at 265 Clapperton Rd., in North Kamloops, having moved from his former Tranquille Road location.
He still hopes to one day start an outpatient gym.