UPDATE: The Royal Canadian Air Force has confirmed that the crash of a Snowbirds jet in Kamloops on Sunday resulted in the death of one squadron member, with another member sustaining serious injuries. The pilot is in hospital after landing on the roof of a house after ejecting from the jet. The second team member in the plane died of her injuries.
The RCAF statement: "It is with heavy hearts that we announce that one member of the CF Snowbirds team has died and one has sustained serious injuries. We can confirm that we have contacted all primary family members of those involved. More information will be communicated in the near future."
The Snowbirds team member killed in the crash was Capt. Jennifer Casey of Halifax, the squadron's public affairs officer. The former radio reporter had been with the team since 2018.
The City of Kamloops and Kamloops Fire Rescue will be holding a press conference at city hall at 4:45 p.m. KTW will report from the conference.
As of 2:45 p.m., emergency personnel remained on scene, with Kamloops Mounties asking the public to stay away from the area of Glenview Avenue, Crestline Street, Schreiner Street and Tranquille Road in Brocklehurst.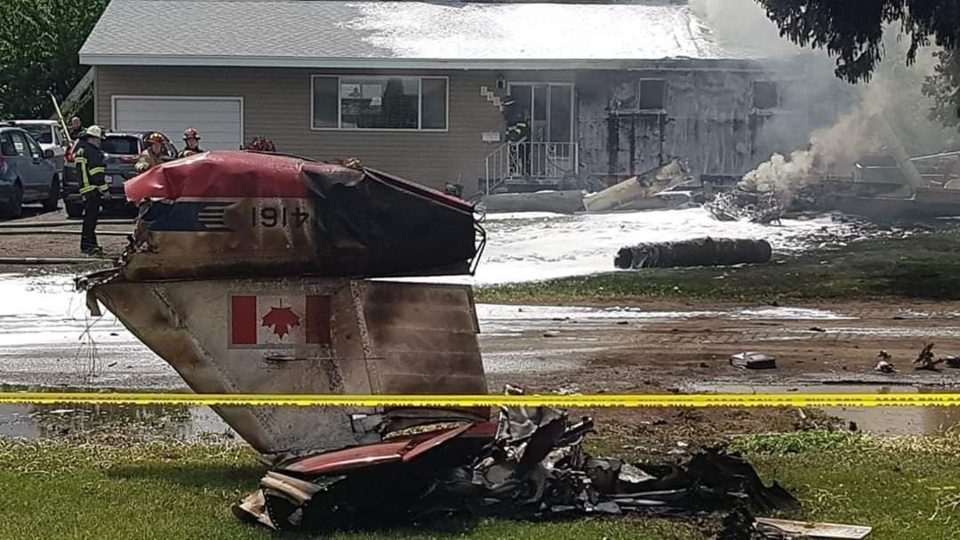 "This is a dynamic situation and we are unable to confirm status or injuries at this time," BC RCMP Cpl. Jesse O'Donaghey said. "The RCMP will be working with other safety and regulatory agencies to determine the cause of the crash.:
Kamloops RCMP are asking anyone who may have captured the incident on video to call 250-828-3000.
According to the City of Kamloops, 14 Kamloops Fire Rescue personnel and five apparatus were onsite, as were RCMP, BC Ambulance, the Kamloops Airport crash truck, Kamloops Airport authorities and Canadian military representatives.
Defence Minister Harjit Sajjan posted a message on his Twitter account:
I am deeply saddened by the news of today's @CFSnowbirds crash & my thoughts are with all those involved. The @CanadianForces are working with local authorities & will update as information becomes available. I would like to thank local first responders for their ongoing support."
A Canadian Forces Snowbird jet has crashed into a house in Kamloops.
Two jets took off from Kamloops Airport at about 11:30 a.m., bound for Comox, when one rose, then veered to the left and barrel rolled toward the ground, crashing into a house on Glenview Drive, setting the residence on fire.
The two residents of the home escaped without injury.
Witnesses saw at least one pilot eject before the plane crashed. He landed on the roof of a house on nearby Schreiner Street and was rescued by Kamloops Fire Rescue.
A witness told KTW a second person, a female, appeared to have succumbed to her injuries.
Dana Hings is a retired nurse from New Westminster who is visiting her daughter in Brock.
"We were in the garden and we heard a large crash," Hings told KTW, noting they heard calls for medical help.
Hings and her daughter rushed to the backyard of the home and found a person who appeared to be deceased.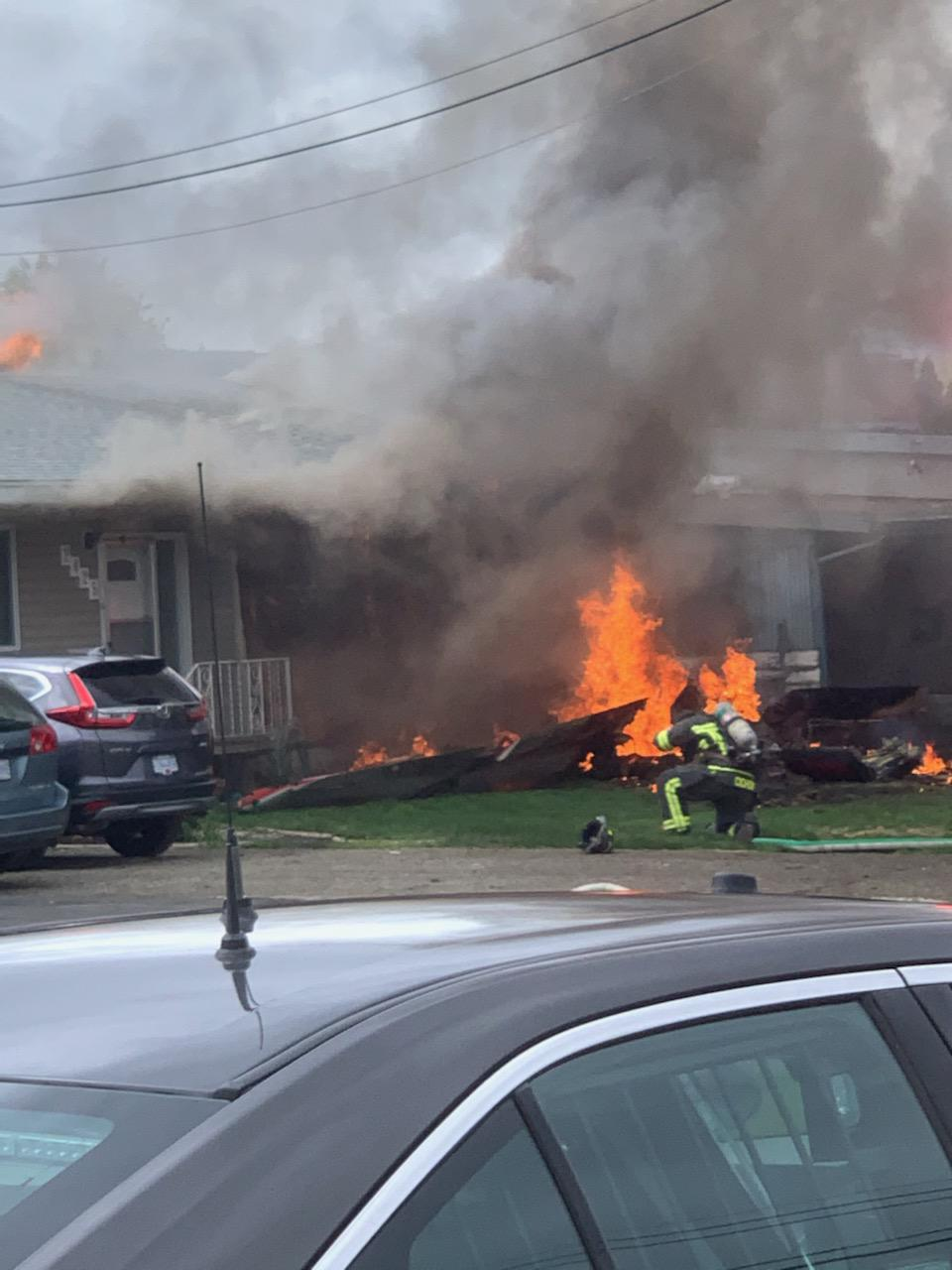 "I saw a deceased female with catastrophic injuries," Hings said. "It looked like she hit a tree. It's insane. It's not supposed to happen. This [the Snowbirds tour] is supposed to be a good thing and she died."
The Royal Canadian Air Force released a statement at 12:54 p.m. on Sunday: "The RCAF has been made aware that a Canadian Forces Snowbirds aircraft crashed in the vicinity of Kamloops, B.C. Our priority at this time is determining the status of our personnel and supporting emergency personnel. When appropriate, more information will be made available."
Cory Pelton was on Aviation Way, watching the planes, when he saw the crash and drove to the house the plane hit.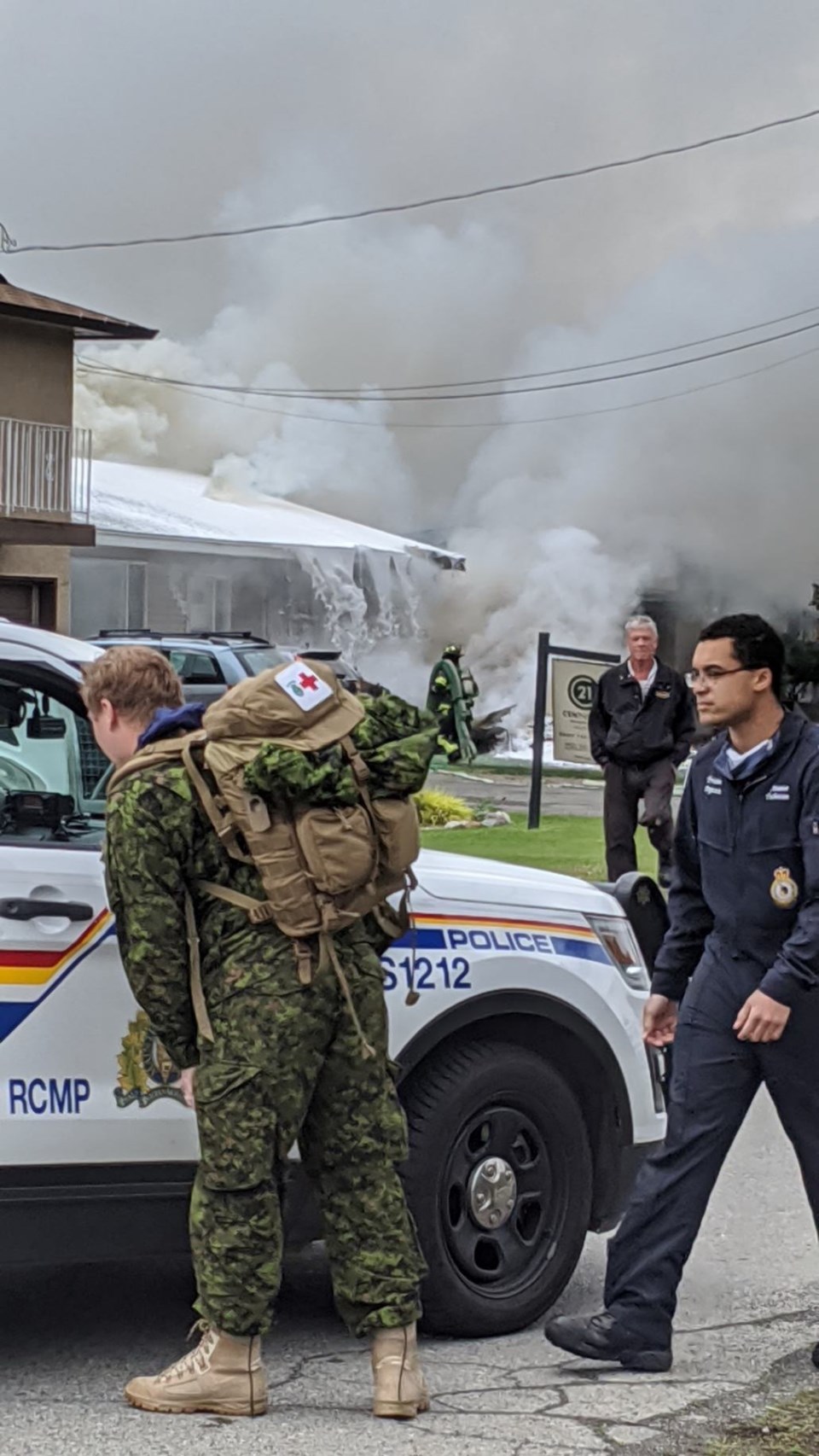 "You could smell raw fuel everywhere. I ran into the backyard and, just as I jumped over the back fence, I saw the elderly couple coming out. I asked if there was anyone else in there or any pets and they said no, that's it."
He said the plane hit the attached garage and a little bit of the house.
Another witness, a Kamloops man who did not wish to have his name published, said he was at the airport for an hour before the crash to watch the Snowbirds squadron take off as they were to continue their cross-Canada tour by heading to Vancouver lsland.
He said two jets took off together and all looked normal as they rose above the airport.
"All of a sudden, one of the planes suddenly went up, straight up, quite high, then it started dropping and doing a barrel roll," he said. "It did a few spirals and I saw the ejector seat pop out. Then I saw a big fireball, an explosion."
He said those watching the planes take off initially did not realize anything was wrong as the one Snowbird began climbing vertically, then descended with barrel rolls.
"We thought it was going to do some kind of cool trick," he said. "It was incredible. I can't believe I saw it.
Gurjit Sidhu witnessed the crash and told KTW a pilot was seen on the roof of a house, reportedly with back and/or neck injuries.
"I just saw, in the sky, something falling. I saw a pilot ejected, then I heard a big noise, like a bomb," Sidhu said.
Doug Barclay was in his Brocklehurst backyard, cleaning up after his dogs.
"I'd heard the jets take off and I wanted to watch them," he said, noting he saw trouble with the second jet.
"It starts doing what I thought was a roll. It was about 100 feet off the ground. They were that far off the ground. Then the canopy goes off, the ejector seat comes out, then there was an explosion, a fire shot out. A big bang. Then the plane went down. I just started praying and I texted my Bible study group. I said pray for everybody. It was awful."
Rose Miller lives on Glenview, where the jet crashed into a house.
"I saw the planes coming, so I got up and looked out the window and I saw the plane come down. It just happened so fast. I ran right away and phoned 911. I couldn't believe it. I yelled, 'Oh, my God!' and I ran to the phone right away."
The Snowbirds were on an east-west tour of Canada.
Operation Inspiration began on May 3 in Nova Scotia and had the nine-jet squadron flying west over communities. Prime Minister Justin Trudeau said the tour is a means to "salute Canadians doing their part to stop the spread of COVID-19."
The federal government acquired the Tutor jets in 1963 and they have been used in air shows and other events since 1971. According to the Canadian Press archives, several Snowbirds jets have crashed and seven pilots and one passenger have died during their flying history.