A neighbour heard loud bangs that rousted her from bed in an apparent early-morning drive-by shooting in downtown Kamloops on Friday (March 24).
Mounties arrived at the scene at 846 Battle St. at about 2:30 a.m., responding to multiple calls of reported gunshots. Upon arrival, investigators discovered an insecure residence, along with signs that at least one firearm had been discharged. One man was taken to a hospital with serious injuries, but nobody else was found with injuries.
The neighbour, who did not want her name published for fear of reprisal, said she was awoken in the middle of the night by her dogs making noise between about 1:30 a.m. and 2 a.m. She said she tried calming them down.
"Usually, that means there's a cat in the yard, so didn't think too much of it," the neighbour said.
She went back to bed, but her dogs began barking again and that's when she heard the gunshots ring out. That was followed by the sound of a car engine revving and vehicle peeling out.
About 10 minutes later, she said she came outside to see police lights and officers with their guns drawn at the nearby house.
The neighbour said the home has been a known problem house for the past six months, since a few young people moved into the top floor. She said she has noticed several people coming and going at all hours and leaving the house with the appearance they are under the influence of drugs.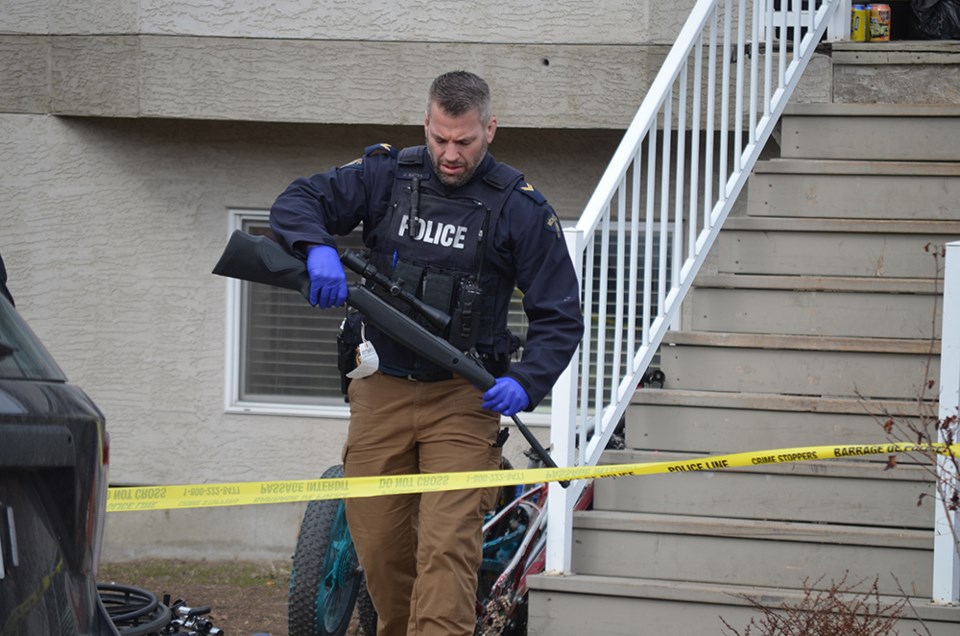 "There's bikes being broken down in the front yard all the time, different property showing up out of nowhere," the neighbour said, noting a woman with two children live in the basement of the house.
The neighbour said she has seen police attend the home on numerous occasions, but noted they have never been there for long.
Asked if the shooting has left her fearful, the neighbour pointed to the proximity of one of the bullet holes to her home and another neighbouring house.
"Absolutely," she said. "Had it been off trajectory enough, then we would have had Swiss cheese holes in our houses, too. That's insane. I have kids and you don't want that kind of stuff around your kids."
The neighbour said she moved to Kamloops from Chilliwack to get away from this sort of crime, adding police have advised her to call the city and file a nuisance complaint.
"We've [neighbours] all spoken to the owner of the house and complained directly to the owner about the type of stuff that's going on here, but she hasn't done anything about it," the neighbour said.
When KTW visited in the afternoon of March 24, several police vehicles remained at the scene and officers were coming and going from the home, some carrying paper bags and at least three long guns with apparent evidence tags on them.
Multiple bikes, a wheelchair and black garbage bags could be seen in the front yard.
Police were on scene at the bullet-riddle house for hours on March 24, from early in the morning until at least about 2 p.m. when they began removing police tape.
"And now the fun begins again because once they're finished, everybody's [residents] allowed to come back and then you just play hurry up and wait until the next incident happens," the neighbour said.
Kamloops RCMP Staff Sgt. Troy Durand said that while the investigation is in its infancy, some of the people involved are known to police and early indications suggest it is an isolated incident.
Anyone with any information who has yet to speak with police is asked to call Kamloops RCMP at 250-828-3000.