The Yew Street Food Hall is taking shape on Kamloops' North Shore, set to open later this fall.
The 7,000-square-foot facility is located on the bottom floor of the new residential building, The Colours on Spirit Square, at 107 Yew St., right behind the Red Beard Cafe.
Two vendor spots remain and, so far, restaurants include those serving up pizza, fresh pasta, vegetarian street food, baked goods and tacos.
Development partner Jeff Mitton said the project isn't going to cater to franchise restaurants, but instead is looking for restaurant concepts from those who might have formerly been serving out of food trucks — or an entrepreneur with a good idea.
"We're willing to listen to anybody who has a concept they want to bounce off us," Mitton said.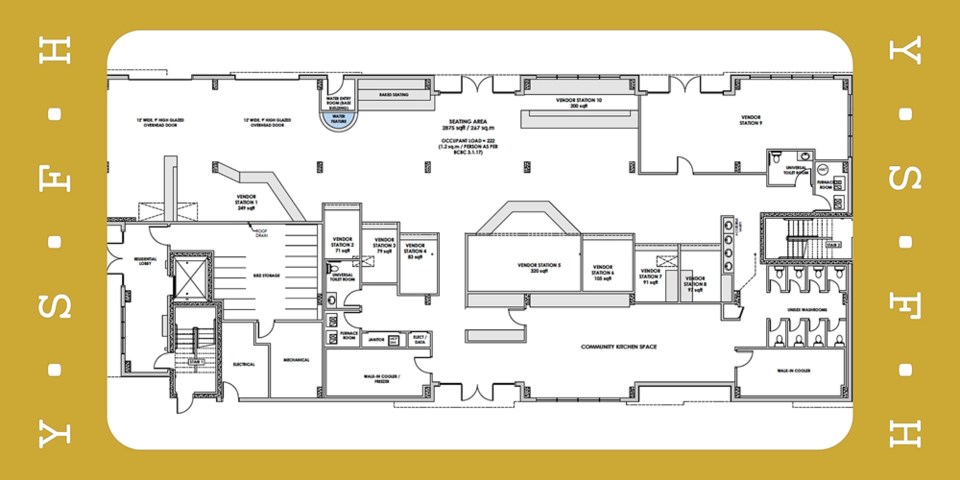 One of the stalls will host the Mitton family business, playing off the success of Mittz Kitchen with Mittz and Co., the anchor tenant of the development.
Mitton said the food hall provides a great opportunity for anyone looking to get their food or restaurant concept off the ground without committing to a more costly brick-and-mortar location.
The space will feature a large community kitchen, two walk-in coolers, prep space and customer seating for 222.
Vendors will have to staff their stalls themselves, but communal staff will also work at the hall, including bussers and dishwashers.
Plates and utensils will also be provided by the hall.
When asked about the potential of labour shortages for staff, Mitton isn't convinced the problem will continue.
"I always anticipate having problems with staff. I've been in this business long enough to see the ebb and flow of how that goes. I think the timing is going to work out well for us," he said, suggesting the end of COVID-related subsidies, such as the Canada Recovery Benefit, will bring people back into the workforce.
Around that time, Mitton said, other restaurants will also begin to slow down and staff may be shifted around to keep them working.
With permits just approved and construction ongoing, no firm opening date has been set, but fellow development partner Joshua Knaak told KTW the Yew Street Food Hall's doors will likely swing open in late October.