While the COVID-19 pandemic led to cancellation of School District 73's annual in-person Young Artists and Young Authors conferences, the two events have continued online.
Physical-distancing measures have axed to virtual art galleries and online writing workshops
A typical year for Young Artists sees students in grades 4 to 7 invited to submit two-dimensional pieces of artwork for the conference, with a committee selecting 12 to 16 award winners from a field of about 120. Everyone who submits artwork is invited to TRU for the conference, which includes workshops with local artists.
Those workshops were scheduled to take place on April 29, but organizers have instead created an online gallery of the artwork, which can be seen online at https://docs.google.com/presentation/d/1VWVMeAOo7tP6-6xX2so0ZZGrD0nPxIqDrGC9FPoS73A/edit.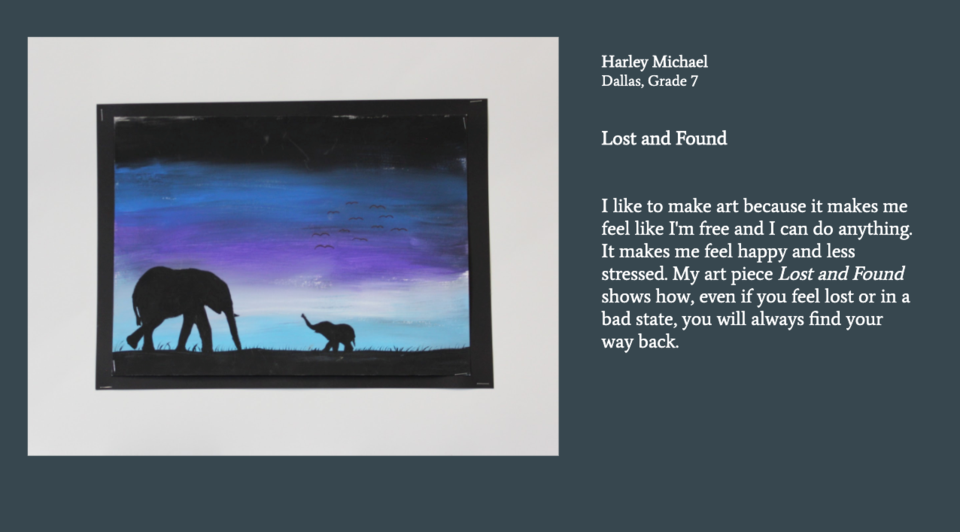 Some of that artwork will later grace the walls of the Kamloops-Thompson school district office on Ninth Avenue in Sagebrush (South Kamloops).
Meanwhile, the Young Authors conference — which was to be held at TRU on May 1 — is proceeding this week via online workshops.
During a typical year for Young Authors, students in grades 4 to 12 would submit pieces of writing to their school-based committee, which wold then select outstanding compositions. All student authors are normally invited to attend the conference, which attracts about 250 students annually.
The Young Authors' conference committee reads each piece and includes all submissions in an online anthology. Authors of the top elementary and secondary compositions receive the Marg van Dusen Award and honourable mentions are noted for each grade.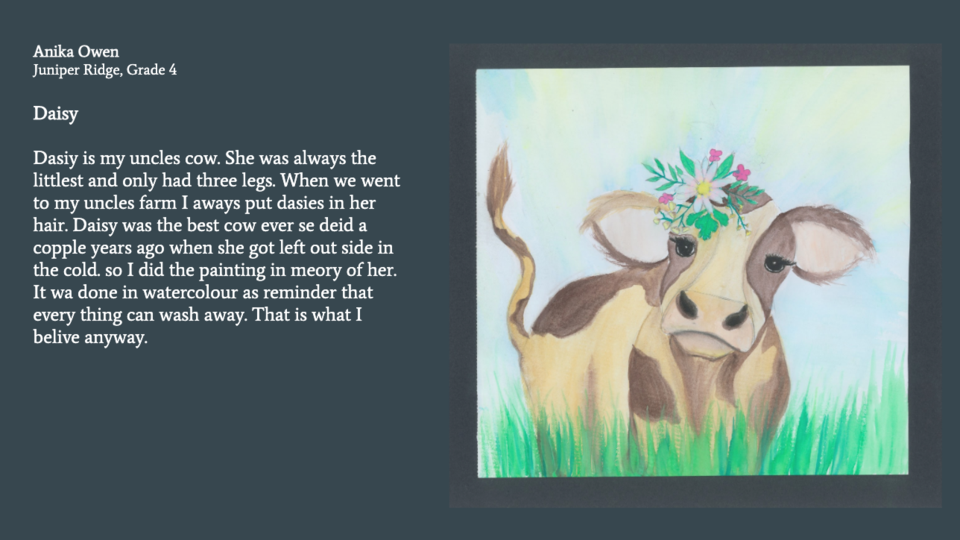 But for 2020, there will be no awards handed out and, while manuscripts are encouraged, they will not be mandatory to attend the conference due to the difficulty of connecting students with school contacts to ensure the content has been proofread and formatted correctly, according to the Young Authors website.
While students won't be eligible for any awards, any submitted writings will be published in the online anthology.
Young Authors will forego registration this year and nine speakers will present each day via Zoom-based workshops from May 5 to May 7.