McArthur Island wasn't always a recreation oasis in the Tournament Capital of Canada.
Before it became a bonafide sports destination, the 126-acre barren sand dune in the Thompson River served as a playground for kids who grew up in Brock's old apple orchards.
"We swam in the slough and we'd build rafts and we'd go over to McArthur Island," 82-year-old Norman Kopec said.
KTW dug into the island's past before council decides the future of a 14-acre parcel in the west end of the park, formerly home to a nine-hole golf course. The city has identified a multi-use nature park with a disc golf course for that portion of the property, though plans have been contested by the Kamloops Naturalist Club, which maintains the two concepts are incompatible.
Council will have the final say.
Standing next to a lush green soccer field across from the derelict golf track, Kopec pointed to a memorial park bench inscribed with family members' names and recounted the transformation of his childhood playground through the decades.
Kopec has spent his whole life in the area. He was raised on farmland in Brocklehurst and later moved to Kelly Road across the street from McArthur Island, where he has lived for more than 40 years with a view of the slough in which he once swam in the summer and on which he played hockey in the winter.
Kopec's earliest memory of McArthur Island dates back to the 1940s, when he was about eight years old. If you want to know what the island looked like back then, he said, look no further than across the river to Rabbit Island.
A 1948 aerial photograph of McArthur Island shows a sparsely treed land mass, absent the roads, paths and sports fields of today.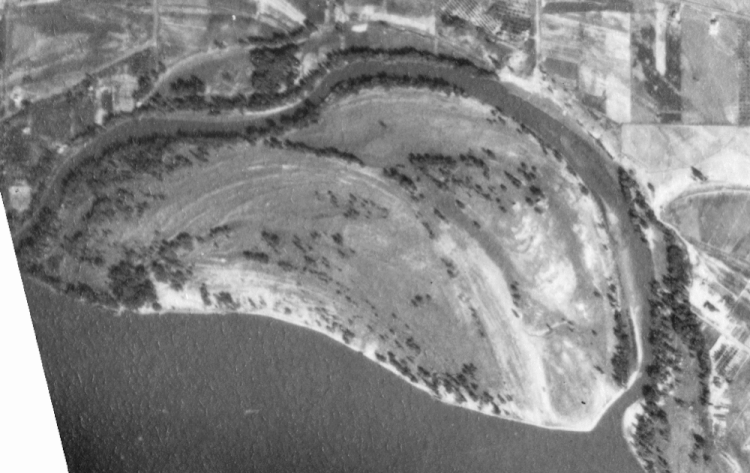 "It was a little bit swampy because it used to flood in the runoff," Kopec said.
Water levels continue to be problematic. Flood damage prompted Bill Bilton to give up his lease of the golf course land now in question.
City of Kamloops parks manager Jeff Putnam said climate change has resulted in high water levels seeping onto the sports fields in the past three of five summers. Riverbanks protect the island, but the city combats impacts by ensuring fields drain well.
"You're dealing with Mother Nature and it's such a massive scale," Putnam said. "The best thing we can do is have a really good turf-management program."
LANDFILL'S CLUES REMAIN
Kopec said garbage was used to build up the sand dune and recalled it blowing on the island during his younger years.
Putnam said the former golf course area at one point housed a landfill and the city continues to finds car parts, tires and rotten trees when digging on the property.
"Every time we dig something up, we're hauling out tires and old cars," he said.
While recent reports of poaching on McArthur Island sparked investigation by the B.C. Conservation Officer Service, Kopec recalled adolescent adventures hunting pheasants for supper and fishing suckers to sell in Chinatown, formerly across the river in the city's West End.
Fish sold for a quarter or two back then, Kopec said.
PRIVATE OWNERSHIP
Kamloops Museum and Archives records show McArthur Island was privately owned during Kopec's boyhood.
Businessman Alexander McArthur purchased the island in 1913 as part of a North Kamloops land acquisition with J. M. Harper.
The two had previously partnered on a West Victoria Street grocery store eponymously named McArthur and Harper Store.
Former museum archivist Elisabeth Duckworth detailed the sale in a profile on McArthur:
"Included in this purchase was some land McArthur called his 'island park,' but which everyone else called 'McArthur and Harper's Island' and then just 'McArthur's Island.'
"Nothing was ever done with the property, including the island, but the name 'McArthur' stuck."
Private ownership came to an end in 1957, around the time McArthur and wife Maud (daughter of the city's first mayor, Sibree Clarke) died.
Pre-amalgamation, the Village of North Kamloops purchased the island for $25,000.
The Bank of Canada estimates that transaction in today's dollars amounts to $223,500.
It was a good investment. BC Assessment valued the golf course property alone to be worth $3.3 million this year.
That is not to say significant money has not since been put into McArthur Island and it appears recreation was destined for the space ever since the early days of public ownership.
SPORTS PLANS IN 1957
The same year North Kamloops bought the island, plans were approved for a provincial centennial sports field to be built, including space for baseball, softball and football.
Two years later, the Kamloops Daily Sentinel ran a front-page story describing McArthur Island as a "future recreational playground," complete with a yacht basin and swimming pool.
Putnam said the area was likely desirable for recreation due to its central location and close proximity to irrigation.
At the time, the burgeoning recreation mecca was also home to a dog pound, a sewer lift station, a sewage lagoon and a game bird reserve, with another 12-acre sewage lagoon in the works to accommodate additional sewer connections to the village, the Sentinel noted.
Future plans included sites for the Kamloops Light Horse Club and picnic and playground areas to be developed by the North Kamloops Lions Club.
"In general, therefore, the island is destined to become a recreational playground area, a big improvement from the barren, sand-dune area it was before the development of the Centennial playing ground," the Sentinel stated.
"Even at present, the island shows remarkable improvement over its former state, with the 10 acres of the playing area already covered in lawn."
Norbrock Stadium, which this week received international recognition for its turf quality, was another centennial project — this time national — in 1967.
It was the same year Kamloops and North Kamloops amalgamated.
STOPPING THE SEWAGE
One year later, the Kamloops News Advertiser (which became the Kamloops Daily News) detailed plans for the removal of the sewage ponds on McArthur Island, allowing 45 acres to open up for development. Council of the day approved spending $1.8 million to extend water and sewer facilities and remove the lagoons. Quoted at the time, Alderman Gordon Bregoliss said McArthur Island was "too valuable to keep holding for sewer lagoons."
In 1970, more plans were unveiled for what then-reporter Mel Rothenburger called in a story an "ambitious scheme for long-range development of McArthur Island into a major sports and recreation centre for the district."
Detailed in the Kamloops News Advertiser, plans proposed a range of active and organized recreation and sports activities and facilities for "maximum and efficient use of the area."
The report included a golf course, tennis courts, a swimming pool, a jogging track, a marina, a seniors' recreation area, athletic fields, a loop road and even the possibility of a western-themed "Kiddyland," with a miniature railroad in a passive picnic area. It was set out as a multi-phase project that could be built as demand and budgets permitted.
"According to the report, the park should serve as a major centre for Kamloops as a whole as well as the North Kamloops and Brocklehurst districts in particular," the story states.
NATURALISTS OPPOSE GOLF COURSE
The par-three golf course arrived in the early 1990s, promoted as an affordable option over existing golf clubs that could encourage growth of the sport among women and junior players. The Kamloops Naturalist Club, which opposes a disc golf course currently pitched for that same area, objected to the golf course, calling for a wildlife reserve in that location — a debate that rings strikingly familiar today.
A 1985 Sentinel editorial provides a glimpse into opinion from that time. It advocated for investment in an "active" park on property that remained "in limbo" for years.
"The land can't be held in trust forever," the editorial stated. "After 12 years, the land, to the eyes of everyone but [naturalist] club members, is just unkempt property that crowns the park like a bad toupée."
'RECREATIONAL PLAYGROUND' BLOSSOMS
While some parts of city plans never came to fruition — residents fought in recent years to keep respective neighbourhood pools open rather than build a new facility on the island — present-day McArthur Island has certainly become some version of that "recreational playground" first envisioned six decades ago.
It hosts myriad activities for a wide range of residents and visitors: baseball, soccer, curling, hockey, speed-skating, figure-skating, rollerblading, jogging, walking, boating, biking, skateboarding, lawn bowling and more.
Putnam said it is the busiest year-round park facility in Kamloops. During peak use, 5,000 people visit the island to play and watch soccer on the August long weekend. In the spring, the arena is used to house trade shows. Putnam said McArthur Island helped launch the Tournament Capital program, which has grown through the years from provincial to national recognition. Last year, the sports tourism program had an $11.7 million local economic impact.
"If we didn't have McArthur Island, I wonder to myself if we would have ever gone in that direction," Putnam said.
Kamloops Disc Golf Club expects to add to that economic impact, should the city add a disc golf course to the western corner of the island. City staff are preparing plans for a mixed-use space, which will go to council in the new year as part of supplemental budget discussions.
Looking back, Kopec is pleased with development on McArthur Island since his days of swimming across the slough, but the senior said the former golf course should become a nature park — without disc golf.
Kamloops Disc Golf Club hopes to grow the sport and city staff have said they can design the course to prevent conflicts.
"No, I don't want no golf there," Kopec said. "No golf. Nope. That should be a park in its natural [state]."