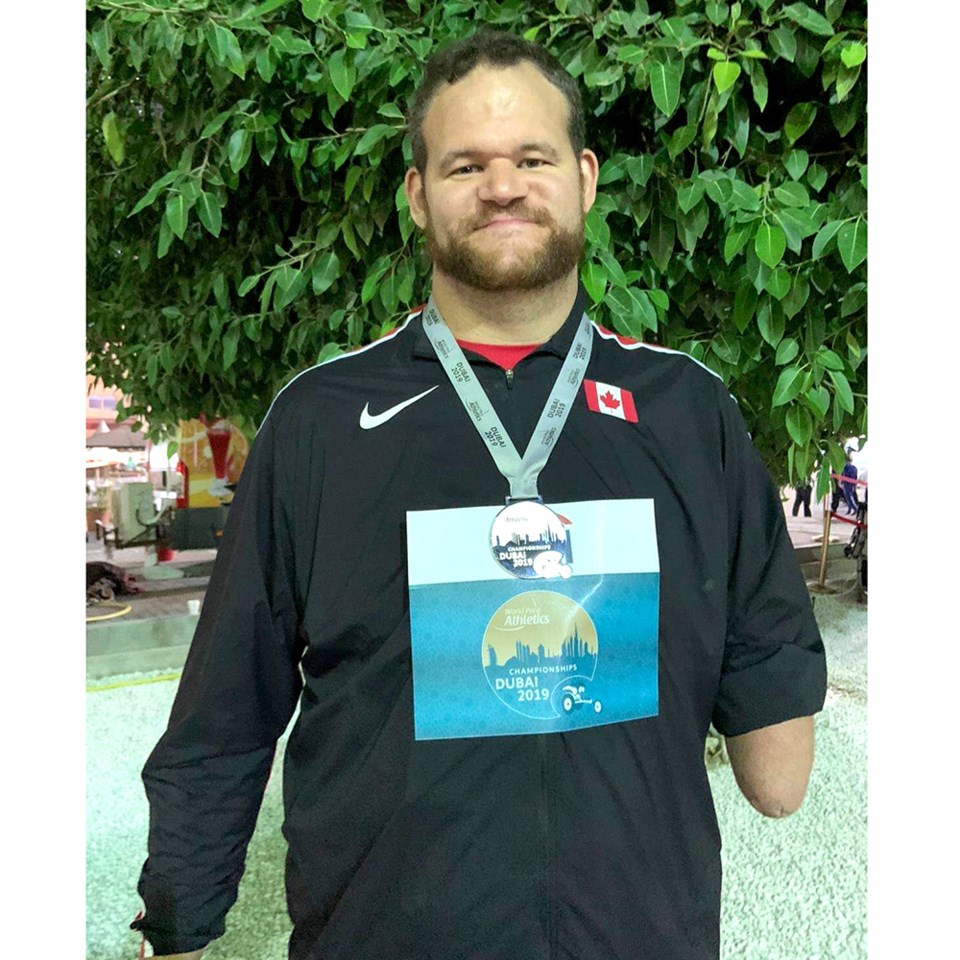 Banshees have nothing on Greg Stewart, a menacing mammoth whose piercing shrieks are enough to raise hairs and goosebumps.
The 7-foot-2, 350-pound shot putter from Kamloops found a new voice on Friday at the World Para Athletics Championships, one that reached harrowing pitches and peaked after a 16.30-metre heave.
Stewart, 33, won silver in the men's F46 shot put final with the Canadian-record mark that was bested only by Josh Cinnamo's world-record-setting throw of 16.8m.
"I usually don't yell afterward," said Stewart, whose personal best heading into the competition was 15.82m. "I'm usually kind of a quieter guy.
"But I'm like, 'I want to get pumped up here, right?' So, I was feeling it. I was like, so yeah — 'Whooooooo!'— just givin 'er, right? And that last throw, it just felt good."
Former Olympic bronze medallist shot putter Dylan Armstrong has been coaching Stewart since September of 2017, when the five-star-potential pupil had all the polish of a debuting garage band.
Rock-star performances came quickly.
Stewart, who threw 13.08m at his first International Paralympic Committee-sanctioned event in 2017, finished the 2018 campaign with a personal best of 15.8m, the longest throw by anyone in the world in his class that year.
At the time, that number was 18 centimetres short of Cinnamo's world record.
Stewart won national titles in 2018 and 2019 and pushed his PB to 15.82m in July at the B.C. Track and Field Championships.
Two major events were circled on the 2019 calendar — worlds in Dubai and the Parapan American Games in August in Lima, Peru.
Stewart injured his back a few days before the Parapan Games and could muster a throw of only 14.96m, still good enough for silver, but a far cry from Cinnamo's world-record launch of 16.49m.
The 38-year-old athlete from San Diego, Stewart's friend and rival, was pulling ahead.
Cinnamo's gold-medal-winning, world-record throw of 16.8m came on the first of six attempts on Friday, but Stewart didn't let his competitor's big-boy start affect his mental state.
His focus was elsewhere, and that place was dark and fiery.
"Dylan says it all the time — 'You need to get angry,'" said Stewart, who was born with nothing below his left elbow.
"You know in life how we sometimes experience stuff that kind of pisses us off or upsets us? It's exactly that, just channelling some old relationships or past work events or family feuds. Anything that brings up a little bit of anger. I use it in a good way. There is nothing wrong with being angry. It's just how you use it that makes the difference.
"Anger is like jet fuel."
The acrimonious jumbo jet moved the implement into orbit when it mattered most, on his sixth-and-final throw, and his visceral screams reached Kamloops long before he touched down in Fulton Field on Sunday afternoon.
Social media was abuzz on Friday morning. He was toasted on Sunday at the Santa Claus Parade downtown. Stewart visited and thanked sponsors on Monday morning, toting shiny, new silver hardware.
"It hasn't really sunk in yet, but I'm pretty pumped," Stewart said. "That's for sure.
"All of a sudden, seeing 16.30 show up on that last throw, I was just like, 'Holy shit."
Stewart, who will resume training next week, is scheduled to participate in training camps in Phoenix in December and Granada in January.
The ultimate goal from Day 1 in September of 2017 has been reaching a zenith at the 2020 Paralympic Summer Games, which are scheduled to run from Aug. 25 to Sept. 6 in Tokyo.
"I have a long way to grow," Stewart said. "My distance is limitless right now. I was recently laid off in October from Finning. To see a 40-centimetre PB was huge and I think it's due to me putting my head down and training and resting.
"What's that going to look like when Dylan and I are doing two-a-days for the next nine months? Who knows what that could look like?"
And who knows what that could sound like, the angry octave of Kamloops' brutish banshee unleashed?
Folks in Tokyo may need ear plugs.