Bike babies are spawning in Kamloops, hatched by the pandemic.
"It was really, really busy in April — May has just been absolutely nuts," said Tristan Klausat, manager at District Bicycle Company in Valleyview. "It's lots of people getting into it for the first time. Lots of $1,000-and-under hard tails."
Klausat said bike and merchandise sales are up between 30 per cent and 40 per cent since the COVID-19 crisis began in March, while parts, labour and service sales are up between 15 per cent and 20 per cent.
Roy De Vries, owner of NorKam Lock and Cycle in North Kamloops, has not yet crunched the numbers, but has no doubt they will reveal a business boom.
"Bikes are good, repairs are good and accessories are good," De Vries said. "Just everything."
Sean Daley, who manages Cycle Logic, said the downtown store was expecting a growth year, now in its fourth year of business in Kamloops, but the spike has been substantial.
"North America-wide, and it doesn't matter what brand you're looking at, whether it's the brand we stock or other brands, there is basically a shortage of bicycles," Daley said. "It's gotten to the point that there literally aren't bicycles appropriate for the customer available for them."
The trend is receiving publicity across the continent.
Unprecedented demand in Vancouver — especially for entry-level bikes — was reported at shops such as Giant Vancouver, Bicycle Sports Pacific and Denman Bike Shop in a May 18 CBC News article.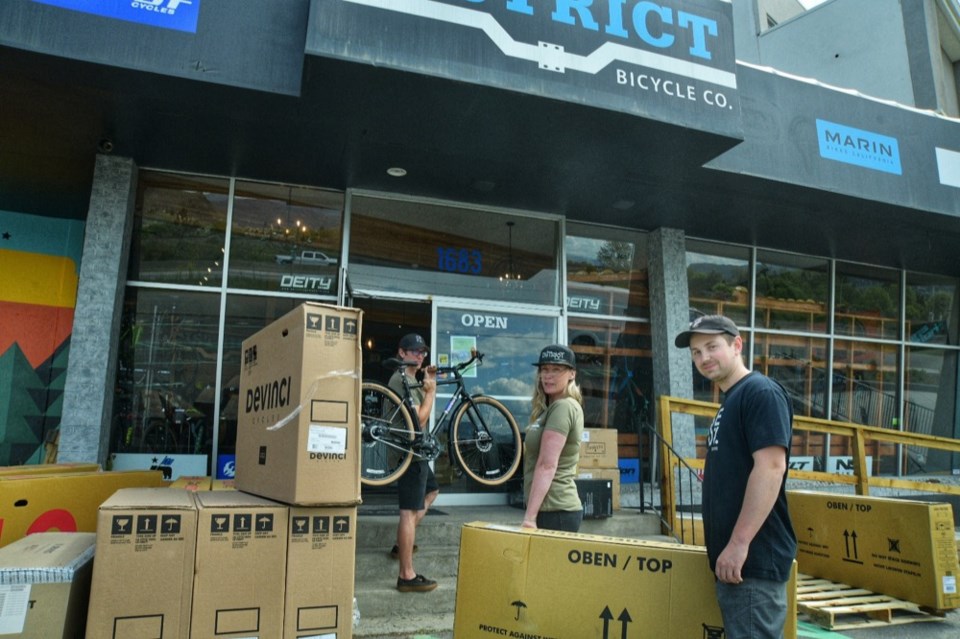 The New York Times on May 18 published statistics culled by N.D.P. Group, a market research company, which found U.S. sales of bicycles, equipment and repair services in March nearly doubled compared with the same time period in 2019.
Global supply chains are scurrying to meet demand and the U.S. is facing a severe bicycle shortage, with potential customers looking to avoid public transit, change the way they commute and find or rediscover biking as a leisure activity.
Lineups outside stores are common, even in Kamloops, where shops are sticking to physical-distancing guidelines laid out by the province.
"It's very wild, actually," said Brett Riel, an employee at District Bicycle Company who spends the bulk of his day building entry-level bikes that are promptly purchased once they hit the floor.
"As far as upper-end stuff goes, it's been fairly steady, but we're selling lots and lots of lower-end hard tails and service is ridiculously busy."
Riel said customers are phoning around elsewhere when he tells them District can't service their bike until early June, but they often call back after realizing that is par for the course in the Tournament Capital.
"It has been super busy," Riel said.
Three-time Olympian cross-country mountain biker and Kamloops resident Catharine Pendrel quipped that bikes are the new toilet paper.
"If you talk to bike shops in town, you're going to hear they're having record sales in April and that they're so busy," Pendrel said. "A lot of cities have increased infrastructure. People want to avoid public transit. People are turning to bikes as the best option for them right now. Hopefully, we'll continue to see that usage once the world returns to a more normal level."
Daley at Cycle Logic hopes for the same thing, but early anecdotal evidence seemed to give him pause about changing mindsets.
"I would love to see that, but even the last two mornings, with the lifting of restrictions … I'm looking at the shop across the street right now and there is probably 30 people in there, and the road was busy this morning, for instance," Daley said. "There's cars on the road again, which makes it more intimidating for a beginner cyclist."
Riel likes to think the newbies will stick around — and if they do, it will be good for business.
"Kamloops has always been a bike Mecca," he said. "Maybe some of those people we've been selling lower-end hard tails to will figure out they really like it and come back, buy a bit of a better bike and really get into it."