There were about 5,000 people itching to hop over the glass and give Rylan Davis a hug at Sandman Centre on Saturday.
Kamloops Blazers' public-address announcer Bill O'Donovan provided Coles Notes on loud speakers during a pre-game ceremony: Davis' father died in December of 2017 and the 13-year-old North East Trackers' defenceman has earned a Kamloops International Bantam Ice Hockey Tournament award, introduced this year in honour of Adam Herold, who died in the Humboldt Broncos' tragic bus accident.
Recipients are deemed to have displayed great courage and perseverance. Herold, then of the Balgonie, Sask., Prairie Storm, was the tournament's top defenceman and a first-team all-star in 2016.
Davis fought back tears, as did many who were watching, and stood strong at centre ice while listening to a rousing ovation before he accepted the plaque.
"It was really overwhelming," Rylan told KTW over the phone from the family home in Fort St. John, with mom by his side offering support. "I didn't really know what to do. You're just sort of standing out there."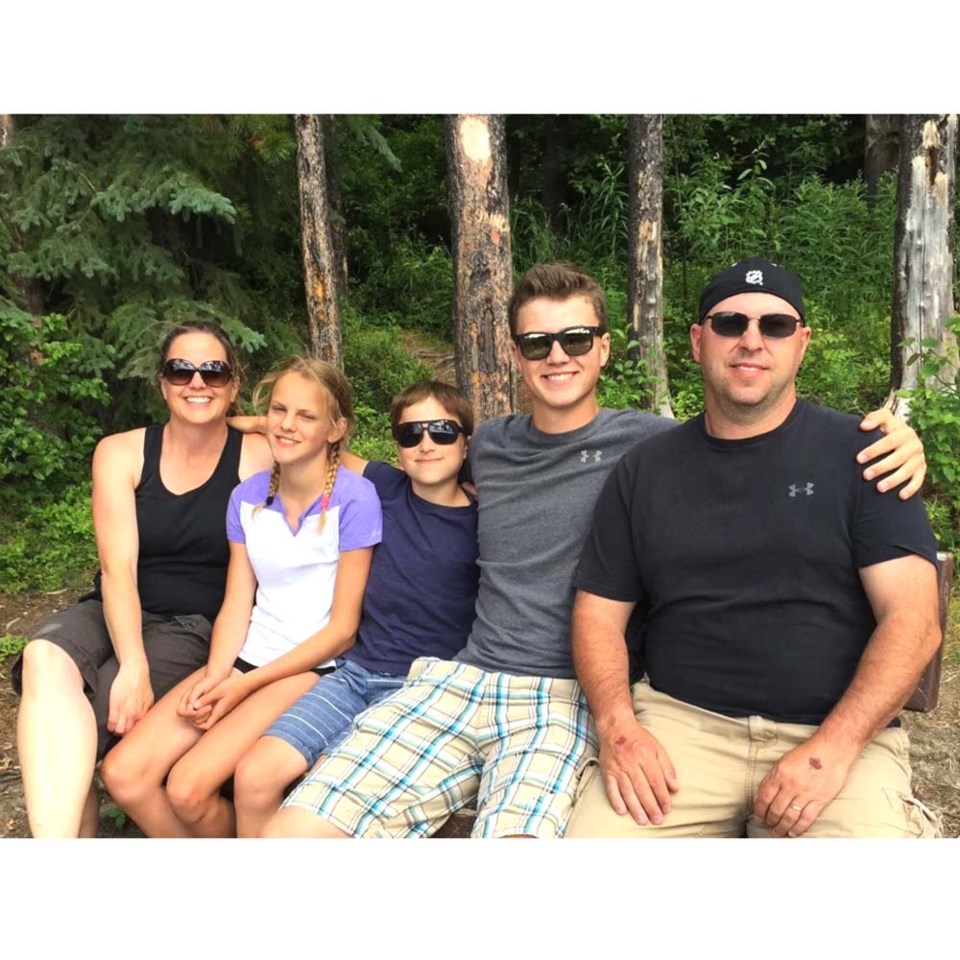 Sid Davis died of a heart attack in his sleep. He was 46.
"He's just not there to push me anymore," Rylan said.
"Even though I'm not very skilled, he would always make me try hard and do my best with what I have."
Sid was Jennifer's husband and dad to Rylan, 18-year-old Brayden — captain of the junior B Kamloops Storm — and 16-year-old Kelsey.
"The world keeps turning, I guess," Jennifer said. "We just keep going with it.
"Once we got over the initial shock, we just kept putting one foot in front of the other.
"All the kids returned to hockey within a month. I think that helped out big time. Everybody in our hockey community reached out and helped out tremendously. We still lean on them for support."
The Fort St. John hockey community was quick to reach out because Sid was family.
He was a well-known minor hockey bench boss and an assistant coach for Rylan's peewee team, the Ross H. MacLean Flyers, at the time of his death.
"He had a hand in every part of the community of hockey up there," said Brayden, noting many of his leadership qualities come from his father.
"He was very loud and joyful. You always knew he was in the room."
That vibrant voice was a constant in Rylan's life.
"It's been really tough on my little brother," Brayden said.
"My dad has been my brother's coach for, I'd say, as long as he's been playing rep hockey.
"It didn't seem right that he was gone. I was in disbelief."
Rylan misses his dad's pre-game pep talks.
"He'd usually tell me to play big, play strong and work my hardest," Rylan said. "Usually, if I'm in the dressing room before the game, I start thinking about him and what he tells me.
"He was super funny and always tried making everyone laugh. He was a very big influence."
Kelsey, a Fort St. John Flyers' defenceman, shared a few thoughts via text message.
"I think about him all the time," she said. "He was funny, he was smart, he really loved coaching and he was good at his job.
"He was a very dedicated coach, knew all of the players he ever coached by name and knew a little thing about all of them."
Jennifer was aiming to head home to Fort St. John before the Blazers' game on Saturday night, but altered plans when told her son might be accepting an award.
The mettle Rylan showed galvanized an arena and would have made Sid gleam.
"I was pretty proud of how strong he was out there," Jennifer said. "I felt the same way he did.
"He [Sid] was a really big presence in our lives and then he was gone. We've done our best to try and keep going on."
Stormy weekend
Brayden and the Storm are scheduled to play twice this weekend, in 100 Mile House against the Wranglers on Saturday and in Kamloops against Chase on Sunday.
Game time is 5 p.m. on Sunday at Memorial Arena.
Kamloops (12-18-0-2) is fourth in the Kootenay International Junior Hockey League's five-team Doug Birks Division.
Birks Division standings: Revelstoke (56 points), 100 Mile (38 points), Sicamous (30 points), Kamloops (26 points) and Chase (23 points).