The Kamloops Disc Golf Club wants to put down roots in Westsyde and build a nine-hole course at the south end of Centennial Park.
Ben Laidlaw, vice-president of the disc golf club, said the process is in preliminary stages, but the City of Kamloops has interest if there is support for the project among residents in Westsyde.
The city asked the club to reach out to the Westsyde Community Development Society, which started a Facebook poll to gauge interest in having the beginner-friendly course built.
"If the community response is positive, and so far it's been pretty overwhelmingly positive, we would take that information back to the city and say, 'Look, if the Westsyde community is in favour of this, we've got the resources right now to put that course in pretty cheaply and we'd like to move forward with it,'" Laidlaw said.
The proposed course would be installed in the treed area adjacent to the parking lot by the ice rink/lacrosse box and separated from the soccer fields by a chain-link fence.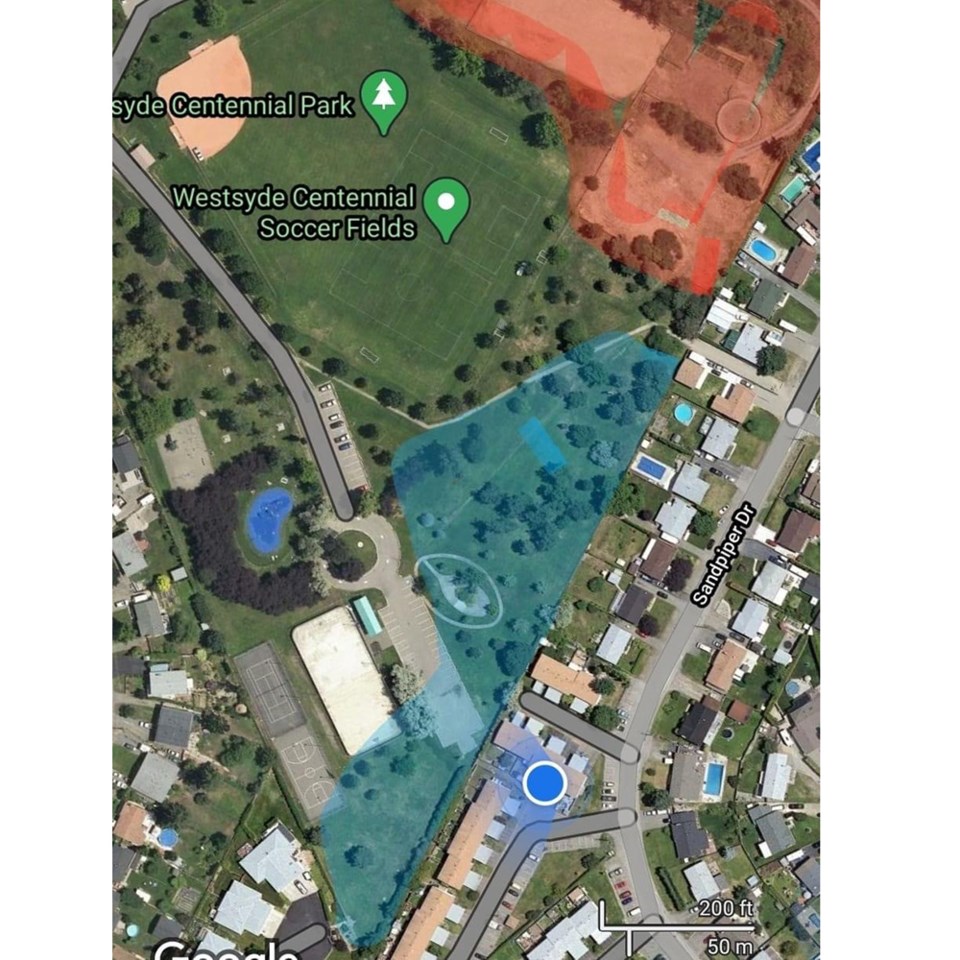 Poll results as of Tuesday (Feb. 23): 356 in favour, 58 opposed and 35 who want more information.
Westsyde resident Bonnie McBride is among those who want more discussion.
"I think a course might be really beneficial," said McBride, who does not believe a Facebook poll is an accurate method for determining interest in the project. "The park has lots of space. But what makes this different than the other disc golf courses we already have? Is there a way to make the course wheelchair accessible or for people that need mobility aid? Is there somebody else that has a pot of money so we could include a whole facet of native plants within that space?"
There are two disc golf courses in Kamloops, one in Rose Hill and the beginner-friendly track that was built less than two years ago on McArthur Island.
Laidlaw said the sport has experienced a surge in popularity, growth that started prior to the pandemic and received a boost when people started to look for safe activity in COVID-19 times.
He said there is demand in Kamloops for another course, noting there was, at one time, four or five active loops in the city.
"Disc golf has been multi-use since the start of its existence and that's sort of the only way it's been able to succeed and thrive as much as it has, is through being put in parks and being able to coincide with other activities," Laidlaw said, noting minimal land use and alteration is required.
"There are no real amenities or anything on that spot [where the club wants to build the course in Centennial Park]. There's not too much activity in that area and it would be a really nice spot for a nine-hole, beginner-friendly disc golf course."
There are 109 comments below the Facebook poll, including some that express concern over the loss of passive recreational space, increased traffic and potential vandalism, along with impact on other park users.
McBride parents children who have sensory needs and disabilities that keep them from participating in some structured sports.
"I'm always watching to make sure that we are carefully considering everybody's access to our green spaces in our community," McBride said. "I'm not sure our city is always keeping an eye on people who have accessibility issues.
"When we start to take some of our less organized, less active spaces and create opportunity for organized sport, sometimes we leave behind a facet of our neighbourhood."
Laidlaw, who estimated club membership has tripled since the McArthur Island course was created, plans to release a video this week on the Westsyde Community Development Society Facebook page and is happy to address concerns related to the project.
Strong response is expected.
"There's really been no thought," McBride said. "This has just come fast and I don't think we should just hand the land over to the first people that come with money. Nobody can answer what the master plan is for Centennial Park. There is lots of space there, but as we start to put these pieces in sort of piece meal, chunk the park up like that, have we really thought about the next 20 years and what we want that space to be?"
ICE BOWL PLUNDER
The Kamloops Disc Golf Club hosted its 19th annual Ice Bowl charity event on Sunday on McArthur Island.
More than $3,300 was raised through an online auction for the Kamloops Food Bank and KidSport Kamloops, a record amount for the event, which also produced about 700 pounds of grub for the food bank.
"That blows our previous record out of the water," tournament director Wes Eccelston said. "That sets the bar up pretty high for what we have to accomplish next year."
A record number of participants (78) took part this year, each adhering to COVID-19 guidelines, said Eccelston.
The event has raised about $24,000 since inception.