Kamloops Blazers' majority owner Tom Gaglardi spoke to KTW on Thursday.
Most of the conversation focused on the pandemic and ramifications for the Blazers and junior hockey across the country.
Here is the question-and-answer session in its entirety:
KTW: What's your take on how the pandemic may affect junior hockey in Canada over the next couple of years?
TG: The answer to the question is I don't really know. I echo Bruce [Hamilton] and Ron's [Toigo] comments that this is a financially devastating event and I think there are teams really struggling. Some owners have more means than others. Community teams have limited means. But this is a financial disaster and, again, if we don't play with fans, it's going to continue on and we are all carrying staff and fixed costs, and you're just digging a hole of money that has to be paid back at some point. We're all super concerned about it.
And then the kids. The kids this league is all about. You feel sick about this. They're missing out on crucial years of development. It's a really bad situation all the way around and I think it could have ramifications longer-term on the model. But junior hockey will survive.
KTW: What do you mean about ramifications for the model?
TG: The way the business operates, in terms of revenue and expenses. Will revenues return to where they were and if they don't, what happens? Do you have pay to play? Can your coaching staff be as deep, be as good? Are salaries going to have to be reset? Are fans going to come back into the building again like they were? I don't know that anyone has the answer. I don't have an opinion, other than it's up in the air.
KTW: How tough is it for a franchise that has been starving for a team like this to have this happen during a winning window?
TG: It's super disappointing, but you have to let go of what you can't control. There are people dying from this, people that are losing livelihoods, that are struggling to get by. The Blazers' winning window, it's super discouraging, but you have to look at the things that really matter. We're all frustrated, but the leagues that rushed out and tried to play have all failed.
It's challenging, but boy, oh boy, is this a league that is determined to find a way. We are trying everything, but we're not getting a lot of help. We're not getting help from the public, in terms of managing the virus. It's growing. The governments are not blessing our plans, but we're trying.
I think we will have a season. I really do. I'm a guy that believes we'll find a way.
KTW: You have business interests outside of hockey. How would you rate the government's handling of it [the COVID-19 pandemic] overall?
TG: I'm not going to answer that. I'm pretty critical of a lot of areas. I think it's best I not comment on that.
KTW: Fair enough. What about lost revenue for the Blazers? How is the state of the Blazers' franchise given what's happened?
TG: If the club didn't have solid sponsorship, in terms of its ownership, it would be in a lot worse shape. The business is in terrible shape, obviously, having lost all that revenue and continuing to lose revenue and carry costs. Fortunately, the Blazers are going to survive COVID-19. I think all the clubs around the league will survive it, too.
This will easily jump into seven figures of damages and bills to pay when we get going again, so it's devastating.
It wasn't exactly a real solid business in the first place, but it's going to mean some tough decisions. It's already meant tough decisions. We've had to thin down our staff. We're just trying to stay around. Luckily, bankers have been supportive and done whatever they can to help us through. We'll survive, but it's devastating.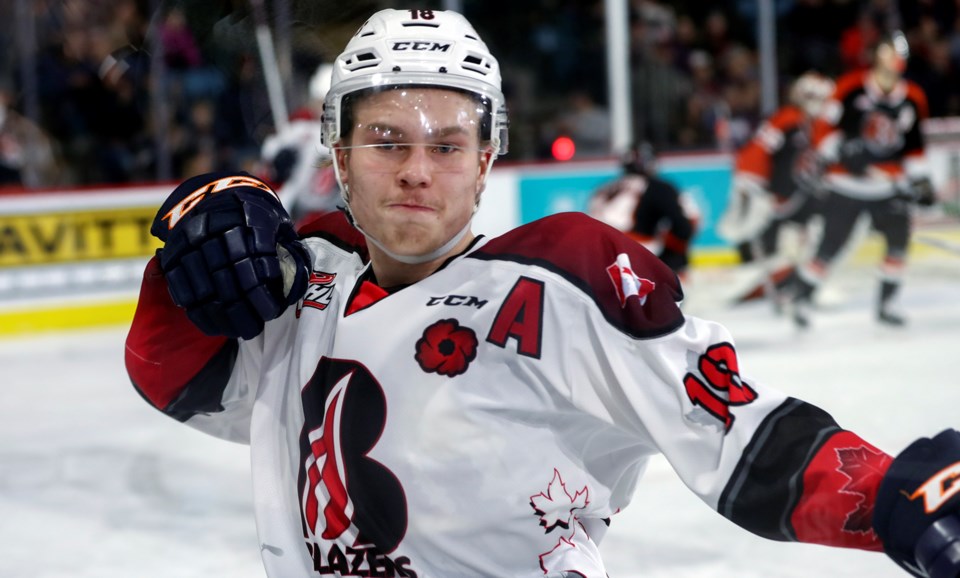 KTW: How would you compare the Western league's handling of this in comparison to the rest of the CHL?
TG: Our league is as well-run as any I've ever seen. Our group of guys are thoughtful and responsible. They think it's the wrong thing to rush into this thing and then find out you've got to shut down. That just does a lot of harm.
Sometimes, you'd wish there would be better communication, but the problem is there's really not much to communicate because you can't really get a read. We thought we had some momentum, in terms of starting to play, and then in the last six weeks, the so-called second wave has come and shattered all the plans we had in place. Our leadership in the league is solid.
KTW: On a brighter note, what does it mean to Kamloops and the Blazers to have two representatives at the world juniors for the first time since 2002?
TG: It really feels good to see the Kamloops Blazers be relevant on the national scale. I'm not a guy that doesn't call it what it is. We were missing in action for a long time. It's disappointing. There has been lots of changes made to the organization. I think this will be the start of far more relevance in the national game.
I'm proud of our group, proud of Dylan [Garand] and Connor [Zary] and I know there are guys coming behind them pushing to be on that team. It's been a while since we've been able to say that in Kamloops. The bar has been pushed higher and we plan to be a relevant team.