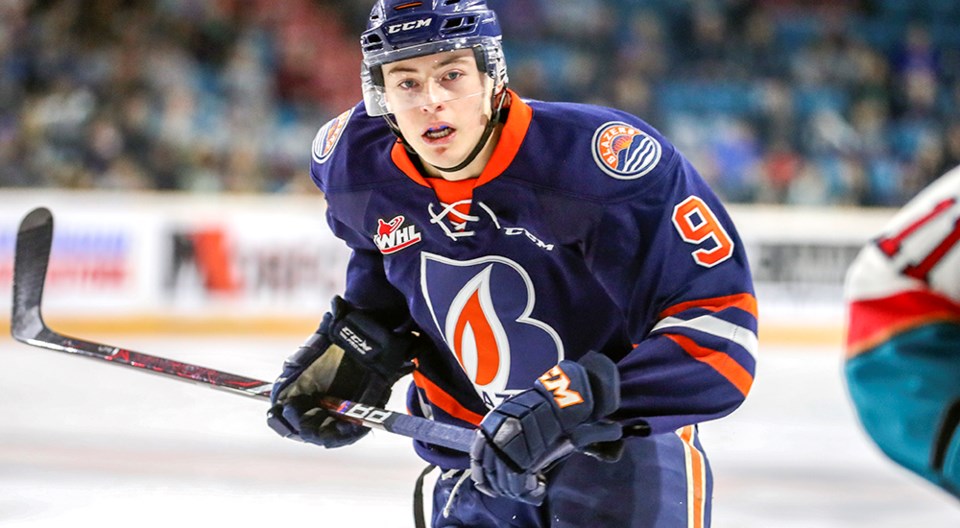 Dylan Garand and Viktor Persson of the Kamloops Blazers were drafted into the NHL on Wednesday, making three from the WHL club to realize childhood dreams this week.
Connor Zary was picked 24th overall in Round 1 by the Calgary Flames on Tuesday.
Not since 2004 have the Blazers had three players picked in the same draft, when five  — Devan Dubnyk, Roman Tesliuk, Kris Hogg, Moises Gutierrez and Max Gordichuk — were selected in the first six rounds.
Garand, who was ranked sixth among North American goaltenders by NHL Central Scouting heading into the draft, landed with the New York Rangers, who picked the 6-foot, 173-pound netminder from Victoria in Round 4, 103rd overall.
He was the third North American goalie selected.
"It just goes to show you there are so many rankings out there and they don't really mean anything until the picks are made," said Garand, whose height, or perceived lack thereof, threatened to hurt his draft standing.
"I've always believed in myself and I know what I'm capable of. The Rangers believe in me, as well. That's why they picked me and it's a great feeling, for sure."
Garand's phone rarely stopped buzzing and ringing on Wednesday. He placed a few calls of his own, too, including one to Blazers' goaltending coach Dan De Palma.
"He's such a big part of why I am where I am today and it's unbelievable what he does, not only for the organization, but for me individually," Garand said. "He deserves a lot of the credit. He's done so much for me."
Persson, a 6-foot-2, 192-pound rearguard who was picked 56th overall by Kamloops in the CHL Import Draft in July, has neither played a game for the Blazers nor set foot in North America.
The Vancouver Canucks picked him 191st overall in Round 7 of the NHL Draft on Wednesday. Persson, from Hedesunda, Sweden, was pegged 44th among European skaters in NHL Central Scouting's final pre-draft rankings.
Blazers' forward Josh Pillar did not have the draft day he desired.
The Warman, Sask, product was ranked 120th among North American skaters, but went undrafted.
"It was pretty heartbreaking, for sure, but if you're going to take positives from it, I have a lot of time before the season starts to improve my game and get better. I'm just going to prove to those guys that they missed out."
Zary, Blazers' defenceman Montana Onyebuchi and general manager Matt Bardsley were among those who texted Pillar to lift his spirits.
"They know I'm disappointed and they just want the best for me," Pillar said. "They know I could have been one of the guys that got called, but it just worked out like that."