Grayson Peters screamed high school football — provincial team shirt on, sides of head shaved and flowing mullet blustering in the wind.
The South Kamloops Titans' standout Grade 11 punter, fullback, linebacker and slot receiver was in plainclothes, injured and unable to practise, but able to talk just fine.
"I had a mop top," Peters explained. "This was two years ago — a complete mop top. And I was done with the hair in the face.
"So I saw another guy who had a mullet. It looked sweet, so I'm like, why not? I actually got it done in one of the school bathrooms here the day before spring break, before lockdown.
"They [my teammates] think I'm an absolute menace to society. It's hilarious. Just the energy people get off me on the field, it's just crazy."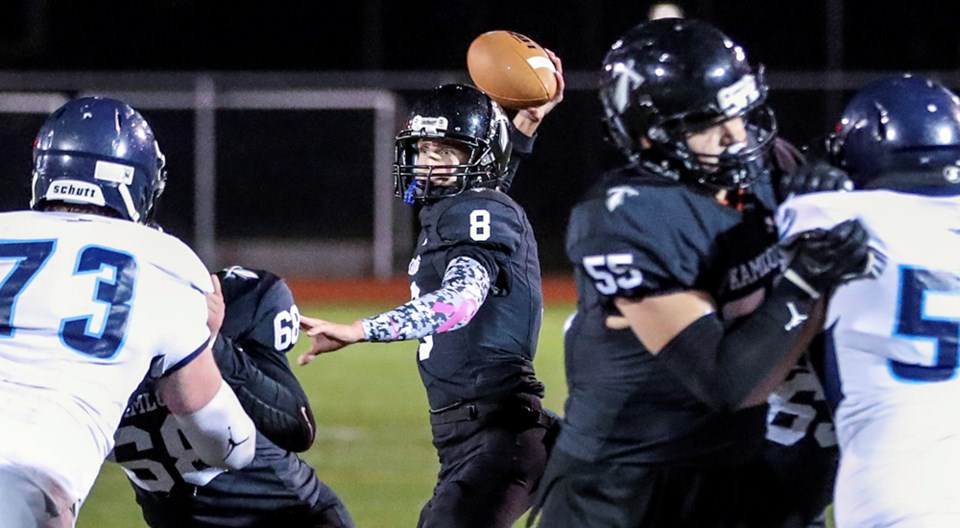 Quotes like that could not materialize in 2020-2021, when the pandemic robbed students of sports.
The most recent BC Secondary Schools Football Association-sanctioned senior contest in the Tournament Capital was played on Nov. 9, 2019, when Robert Bateman of Abbotsford eked out an 8-7 victory over the Titans in playoff action at chilly Hillside Stadium.
High school gridiron returns to Kamloops on Friday, when the Titans play host to Rutland in regular season action, a 6 p.m. start at Hillside Stadium.
"That's going to be a tough one," said Peters, who expects to miss the game with a strained MCL. "The one thing I hate most about football is being injured and watching your team succeed without you or get driven into the ground without you. It definitely sucks not being able to contribute."
Under current Interior Health restrictions, up to 100 spectators are permitted at outdoor, non-ticketed events without proof of vaccination.
There is a chance more than 100 fans will be allowed into Hillside Stadium this Friday, but the City of Kamloops told KTW it is waiting for the latest update on spectators at events.
The Titans will toil this season in the hybrid AA/AAA division, along with AAA Rutland, AAA Mt. Boucherie of Kelowna, AAA Okanagan Mission of Kelowna, AAA Salmon Arm and AA Vernon.
Westsyde Blue Wave head coach Cleve Maartman cited a lack of numbers last week when explaining his decision to fold the senior team. He noted some students seem to have become accustomed to inactivity.
"COVID hit us. That knocked out about five players who you would normally get out of the basement," Maartman said. "They're hunkered down, not motivated to do much any more. They did a lot of hanging out during the non-productive year."
JP Lancaster coached the South Kam senior squad in 2019. He passed the reins this season to Yamaoka, the Kamloops Sports Hall of Fame inductee and former CFLer whose son, Kai, and nephew, Ashton, are on the senior varsity squad.
Lancaster and his staff will lead the junior varsity Titans.
"All the guys, they're good kids," said Yamaoka, who plans to coach the senior team for two seasons, with running back/linebacker Kai entering his Grade 11 campaign. "I've known a lot of them for a lot of years. They're my son and nephew's friends. I'm enjoying coaching again."
The former junior Kamloops Broncos bench boss pitted his high school club against formidable competition from the Lower Mainland in two pre-season road games, losing 35-13 to South Delta and 23-0 to New Westminster.
"Two years ago, in JV, we made it to the provincial semifinal [and lost 42-8 to the Ballenas Whalers of Parksville]," Yamaoka said. "We weren't prepared for what we were coming up against. We want to prepare for what some of these Coast teams are doing."
South Kam athletics director Corey Yamaoka, Ashton's father, said it is his understanding both AA teams — South Kam and Vernon — in the AA/AAA hybrid division will advance to the AA playoffs, with the top seed earning a first-round bye.
Given games against AAA squads are not expected to affect the AA teams' records, it appears the regular season contest featuring hometown Vernon and South Kam on Oct. 15 will decide which team gets the first-round bye.
"The rivalry is real," Peters said.
Kai Yamaoka said his team was looking forward to the pageantry of the Westsyde-South Kam crosstown clash, but focus is no longer on the Blue Wave blackout.
After nearly two years of high school football darkness, pigskin under the lights returns this Friday.
"It's going to be fun," Kai Yamaoka said. "Go out there, hit some people, have some fun and the crowd is always fun, even if it's limited."
FULL-GO AT SOUTH KAM
The Titans are offering a full slate of fall sports, with 13 teams in action in Grades 8 through 12.
"Everything is back to normal, or as normal as normal can be," Corey Yamaoka said. "We're allowed to travel. We've got lots of kids coming out, which is good to see."
Yamaoka noted some coaches are being forced to make cuts on teams with smaller roster sizes, such as the volleyball clubs.
"I think it's increased our numbers here," he said.