Fred Sasakamoose played 11 games in 1953-54 for the Chicago Blackhawks and was one of the first Indigenous players to suit up for an NHL team.
What many people may not know is that Sasakamoose played for the Kamloops Chiefs of the old Okanagan Senior Hockey League for four years after his brief big league stint.
He played in Kamloops for four years, starting with the 1956-57 season. His brother Pete came with him, hoping to make the team as well.
The younger Sasakamoose was a handy player in his own right but in those days the OSHL was one of the best amateur leagues going. He didn't make the team but he stayed in town, eventually found work with the highways ministry and met the woman who would soon become his wife: Muriel Gottfriedson, a member of the Tk'emlups te Secwepemc nation, in those days known as the Kamloops Indian Band.
For Pete, his 86-year-old brother's death on Tuesday because of COVID-19 came as a shock.
"I spoke with him two days ago, the day before he died," Sasakamoose said Wednesday from his home northeast of Kamloops. "He was supposed to call us yesterday.
"He said he was going to beat this thing. But I had a feeling maybe he was going to go. I knew that it was going to be tough for him because he was old and he wasn't that healthy."
The Sasakamooses grew up on the Ahtahkakoop reserve, about 90 kilometres west of Prince Albert, Sask. Kamloops was still a pretty small place in those days, but it didn't feel like that to Pete.
"It felt like moving to the big city, my little hometown is only about 300 people," he said with a laugh.
Word spread quickly among the local Indigenous population about Sasakamoose joining the local team. Here, finally, was a true hero they could cheer for.
"The thing of it is in the '50s there was no First Nations people recognized in any major sport. He was the first one. He was a trailblazer. He was an icon," said Muriel, who, as was custom at the time, took her husband's name when they were married.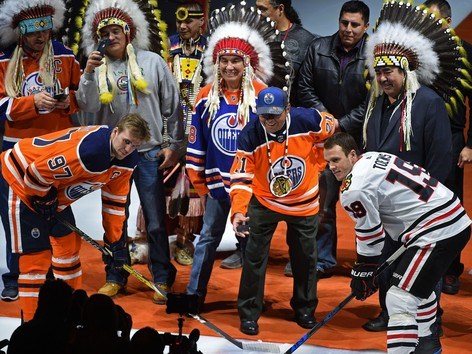 There would be as many as 200 Indigenous fans sitting at the south end of the Kamloops Memorial Arena, she said.
"My dad (former band councillor Gus Gottfriedson) bought four season's tickets. My dad, my mom and grandmother would go and then they'd take one of us."
Watching Fred play was thrilling, even for a young woman who knew plenty about rodeo and ranching but didn't know much about hockey.
"Nobody could catch him, and when he shot that puck, that slapshot, he could just shoot it," she recalled.
"One time, I remember he got hit just after he'd shot the puck so he hit the guy back and they gave him a penalty. The whole arena went quiet but I stood up and clapped. My dad asked me why I was clapping. 'They're honouring him! They're taking him to the bench,' I told him. I didn't realize it was a penalty and he was going to the penalty box. I was so embarrassed," she said, able to laugh about the memory now.
Fred's wife Loretta came with him too, as did their young family. The couple, as well as Pete, were staying at the Bayswater Motel in Kamloops, the only place that would rent rooms to Indigenous people.
"She was really lonely," Muriel recalled. "She would sit with the other wives at the games, but she was really lonely for her people."
One night, Muriel's brother Bob met Loretta at a local pool hall and learning of her plight invited her and her family to visit him on the nearby Kamloops reserve.
They also met Pete, though they didn't know who he was quite yet.
"We invited him over for Thanksgiving and he said 'can I bring my brother, too?' So we asked him who his brother is and he said 'Freddy Saskamoose,'" she said. "My mom nearly fainted. It was really good. We wanted to meet different natives. It was pretty hard then," Pete recalled. "It turned out really good."
The two Sasakamoose men arrived for dinner in their best suits.
"It was like royalty coming to our house," she said.
When the community discovered the Sasakamooses were living in a motel, they invited them to live in a little house next to the band hall on the reserve.
"They fixed up that little house for them. Right around where they lived was a bunch of old ladies, they'd bring him food. They had a little boy, Chucky, and everyone would take turns babysitting him during the games," she said.
Later, the band decided to honour their famous resident. The band council booked the arena.
"The band made him an honorary chief. He's the only person that's ever got this honour. They're not ever going to have another honoured like that I don't think," she said. "They had their drums and they were singing and they were cheering. He was so loved and respected by the Interior Shuswap people.
"He never forgot those days and he always spoke of those days."
In 2012, Fred spoke in front of the Truth and Reconciliation Commission and shared all the details of his life at the Duck Lake residential school. Taken away from his family when he just seven years of age, he said he was raped by older students and beaten and abused by the priests who ran the school.
He witnessed many other cases of abuse and said it left him with much to carry over the years. Muriel said she thought he'd found the strength to speak out in full from his grandfather.
"Him and his grandfather had this spiritual connection, he understood and kept all those things he'd learned from him," she said. "His parents told him when he went to Chicago (in 1953) 'you go there and you learn what you can and you bring your learnings to the people but don't think you're better than anyone. Don't think you're stuck up or anything. You be humble.'"
Muriel, who was the first first Indigenous woman to attend public school in Kamloops and went on to help found the B.C. Native Women's Association as well as serve on the board of the Royal Inland Hospital as well as be the first Indigenous person to work for B.C. Tel and serve on a parole board, said Fred grew to be a tremendous community leader.
"That man was a family man, when I talk 'family' I don't mean just his wife and children, I mean his siblings, his aunt, his uncles, when he was on council he worked so hard for the people," she said. "He wanted people to be proud of their heritage. As human beings he really lifted us up. All the people here, they still talk about him, when he came here he just gets a real big welcome."
In later years, he met with First Nations communities in northern Saskatchewan that had been dealing with a rash of suicides and alcoholism.
"He stayed there two weeks and he talked to them about when he drank and how he felt and how he got his spirit back when he stopped drinking," he said. "He found his spirit through his culture. He did sweats. He also never lost his language. He started speaking it all the time."
He then went and raised money to start a hockey program and travelled back months later to run a hockey school.
"And that reserve turned around."
Pete said a man once came to his brother's house, hoping to buy his old Blackhawks sweater. At first he offered $5,000 but Fred kept negotiating and got the man to pay $20,000.
"He donated all that money to four reserves, $5,000 each. It was for the kids," he said, before laughing and adding: "His wife was really mad. 'You could fix the bathroom!' But he said 'it's OK the bathroom still works!'"
"He did a lot of really good things for the Indian people," she said. "He never wanted glory or anything, he just wanted people to live."