Rome holds a special place in Matt Berger's heart.
The 27-year-old skateboarder from Kamloops secured qualification to the Olympic Summer Games in Tokyo last week at the Street World Championships in the Italian capital, using energy from the crowd to bounce back from a nasty fall and sneak into the finals.
Berger was 17th in Olympic World Skateboarding Rankings heading into the world championships, the final qualifying event for the Games.
He was under the impression he needed to be ranked inside the top 16 in the world after the Rome event in order to guarantee his place on Canada's first-ever Olympic skateboarding team.
That world-ranking positioning could be secured by being one of eight skaters to reach the finals at the world championships.
One mistake in the warm-up session prior to the semifinals had potential to scuttle his Olympic dreams, a vicious fall off a 10-stair rail.
"It honestly was one of the worst slams I've taken in skating in years," said Berger, speaking to KTW on Tuesday from his home in Huntington Beach, Calif. "It was so bad that I was, like, in shock and laying on the bottom of the stairs checking my body. Am I good? Is my back good? Am I all right? Did I hit my head? I didn't know what happened, in a sense, because it was so bad and it caught me off guard."
Worried spectators began to clap when Berger dragged himself up and stepped back onto his board, trying to focus on the semifinal round, which was to begin in 10 minutes.
"The crowd started yelling and they were super supportive," Berger said. "Every little trick I did, they were cheering me on and there was this kind of cool connection I've never really had in that sense, where the crowd's energy kind of brought me back to life."
Berger's last trick of the semifinal round was the same one he bailed on during warm-up — a kickflip, backside, tail slide big spin out on the 10-stair rail.
He stomped it.
"I ended up putting everything together and that trick was the very last try I had and if I didn't land it, I wouldn't have made the finals," Berger said.
"The crowd was just so psyched. I just remember rolling away with this huge sense of relief, but also looking at the crowd and being like, 'You guys helped me with this.'"
The video of the trick and his reaction, which includes forming a heart with his hands and pointing to the crowd, is approaching 10,000 likes on Instagram.
"That was probably one of the most life-changing tricks I've done in competition," Berger said. "I didn't even realize it at the time, but in hindsight, that last try and that trick was a really big game changer for my Olympics."
Berger, Andy Anderson of White Rock and Micky Papa of Vancouver will represent Canada in skateboarding at the postponed 2020 Games, which are scheduled to run from July 23 to Aug. 8.
Relationships with companies such as RBC and sponsors Etnies, Flip Skateboards, Monster Energy, Thunder Trucks and Bones Wheels, along with competition prize money and video appearance fees, help Berger pay bills.
Qualifying for the history-making Canadian team promises to open up more doors for his career.
"General Mills, and I couldn't even believe it, but they decided to put me on my favourite cereal, Cinnamon Toast Crunch, so you can find that in the local grocery store," said Berger, who will feature in the X Games Real Street video coming out on July 5.
"It's been very life changing in a lot of ways."
Berger underwent failed knee surgery in 2015. In 2017, he had an experimental, cadaver-implant knee surgery.
"So to mentally be in those spaces and then to be able to have come back from that place, in hindsight, is overwhelming, especially after Rome, realizing, hey, you did this — you're going to the Olympics," Berger said.
And he might be going to Japan with a childhood friend from Kamloops, Isaac Kaay, who is likely to find out on Monday if he cracks the roster of the Canadian rugby sevens squad that will compete at the Games.
"That's like my brother," said Berger, who attended elementary and secondary school with Kaay. "We keep talking in hopes we can do the opening ceremony and cruise together, but I don't know if COVID is going to allow for it."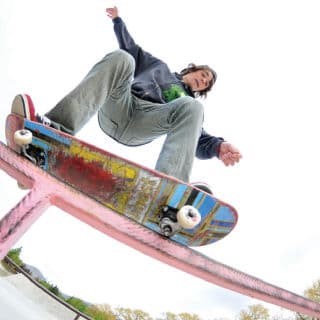 Berger was born and raised in Kamloops and credits mentors such as Derek Swaim and Stacy Gabriel for contributing to his development.
"For me, growing up, we ended up getting the new skate park in McArthur Island when I was maybe 11 or 12, and that park is incredible," said Berger, whose family still resides in the Tournament Capital. "It's a little beat up now and needs a little TLC, but for that period, it was like being gifted the greatest training ground."
Men's and women's street and park events will be included in the 2020 Games, with 80 athletes from 24 countries in action.
Berger is the top-ranked Canadian in the street discipline in Olympic World Skateboarding rankings, sitting 10th overall.
"There was a point where I was so defeated with coming back from my knee injury that it wasn't even about trying to come back to skateboarding," Berger said. "I had accepted that I might never be able to be a professional skateboarder and do it for a living anymore, but I just wanted to get my life back.
"This is honestly unbelievable for me."
ON THE SHOW
Berger and Kaay will join the hosts of Kamloops Last Week on Wednesday.
The episode will be published on the show's YouTube page.
Podcast versions of KLW can be found on all major providers.