Warren Newcomen knelt on the dock and offered a hand to son Westin.
Nan Stevens, a mother in tears, watched her boy from a nearby pedal boat on Paul Lake, where a crowd of about 30 people — part of the village that helped raise the child — gathered on Monday to cheer on 18-year-old Westin, who lives with severe developmental delay, autism and a seizure disorder.
Among the fan club was 15-year-old Finn, who clapped while his older brother inched closer to a milestone six years in the making, a moment that would not have materialized without Bon Bon.
Bonnie Peterson, who calls herself The Old Lady, is the 77-year-old support worker who swam a few metres in front of Westin on the 450-metre trek across the lake, provoking him with encouragement.
"He calls me Bon Bon and I call him Westy Besty," Bonnie said with a laugh. "He'll say to me, 'Proud of me?' and I'll say, "Oh, I am so proud of you.' He's just a very special young man."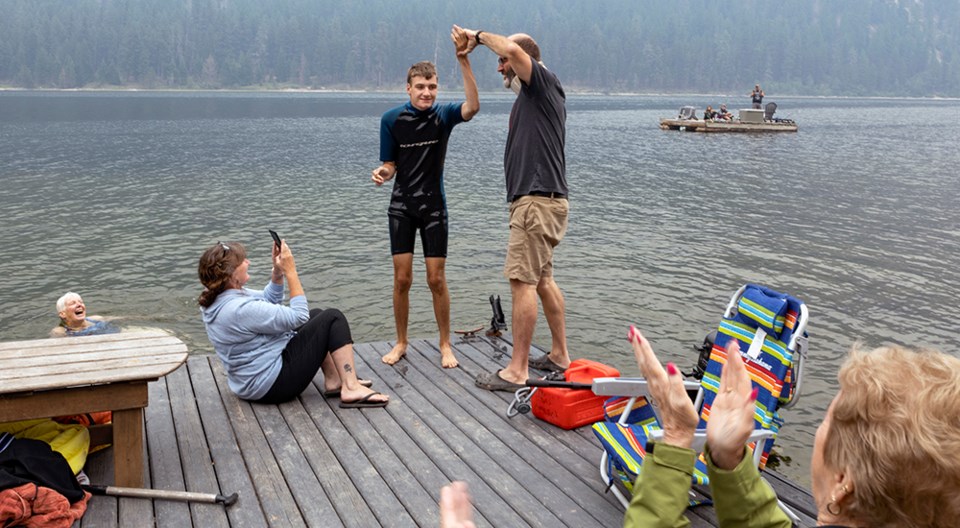 Nan was 39 when Westin arrived and life was forever changed.
"Right away, I knew," said Nan, recalling thoughts that accompanied the birth of her son. "Knowing he would be a dependent his whole life, I think I went into the dark, deep basement of grief — figuratively and literally — for, I'd say, five to seven years."
Seizures persisted. There were numerous trips to BC Children's Hospital in Vancouver and a revolving door of psychologists, pediatricians and insufficient diagnoses.
Westin, violent in adolescence, was expelled from elementary school.
"He wasn't welcome back to any elementary school," Nan said, noting Westin has a cognitive age of about two or three. "He's bitten people, kicked people. We've had to say a lot of sorrys to the public.
"Nobody signs up for this. It's changed my life forever. It affects us financially, it affects our mental health, our physical health, the toll it takes, the lack of sleep ... you just try to get through the day sometimes."
Nan recalled the trying period that led to a change in outlook.
"I really woke up when I got sick," she said. "I had a brain tumour in 2008 and a craniotomy. I decided I could be angry and grief-stricken my whole life with this monkey or I could choose to embrace the journey.
"The black hole isn't very friendly."
Bonnie entered Westin's life not long after his expulsion from school.
"Things were difficult, yeah, but I take young people the way they come to me," said Bonnie, a support worker for 57 years.
"I don't read past report cards," Bonnie said. "I took him to therapeutic riding and it went from there. He can downhill ski, ride a bike, hike, ride a horse — he's a very talented young man."
And he can swim, thanks in large part to parents Warren and Nan, who were told any attempts at athleticism would be futile, but thought that medical advice was off the deep end.
Gross motor skills are Westin's jam and Bonnie has been his swimming instructor for the past five years.
At first, he wore masks and goggles, afraid to get his face wet. So she painted nail polish on stones and let them sink to the bottom of the pool.
They were shiny. He liked that. Soon, Westin was a maskless, stone-surfacing machine.
"I say, 'Oh, wait until you tell mom and dad,'" Bonnie said. "And he says, 'Yeah, proud of me.' And I say, 'Yes, they'll be proud of you."
Added Nan: "Bonnie believes Westin is the greatest thing on earth. She's one of the village people you adopt as a family member."
Westin was 12 when he started knifing through the pool with Bonnie, who pushed him into completing 12 laps, one for each of his birthdays, each 25 metres in length. Each year, Westin improved his personal best by one lap.
This year, he completed 18 laps, which is 450 metres, roughly the length across Paul Lake from the family dock.
A plan to celebrate his accomplishment and inspire others was hatched.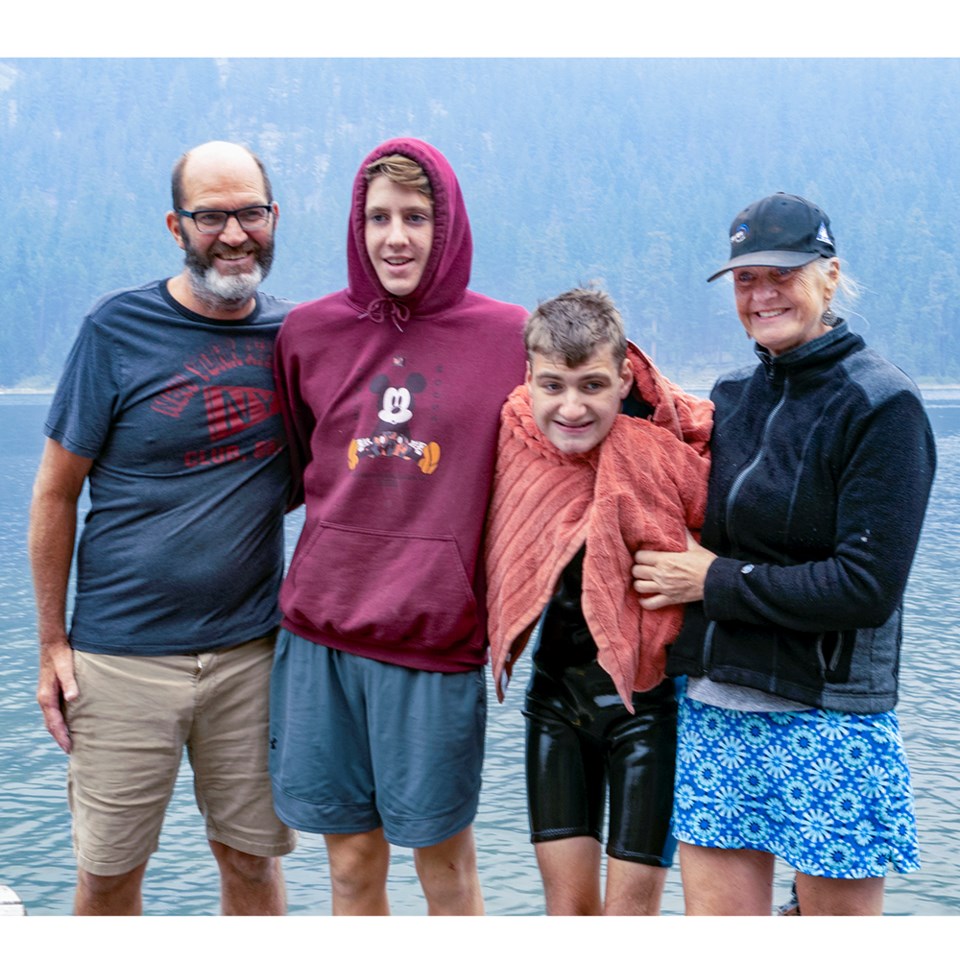 "The public isn't so great with high-needs kids yet," Nan told KTW a few days before the swim. "A story like this is a little step in the direction of, hey, these people have the right to be included in all ways.
"He's a beautiful soul. We hope you get a sense of this boy's spirit. He has this incredible spirit. It's contagious. You'll see."
Dad Warren spoke to KTW prior to the swim on Monday, sitting on the dock before the crowd arrived, concerned about chop on the smoke-blanketed lake.
"I think there will be a few tears, a lot of cheers and, yeah, I guess I'm a bit nervous because I hope he makes it," Warren said, noting Paul Lake is a different animal than the YMCA and TCC pools.
"The main message is that if you have a kid with some challenges in his early days, he can overcome them. We're not going to let him give up. That's one thing we don't do."
About eight months ago, the idea was planted in Westin's head and these three words he has repeated ad nauseam since: "Swim the lake."
But it was another refrain that echoed off the water more often on Monday — "Show me the money."
Westin is a huge fan of the movie Jerry Maguire. He bolted out of the house on Monday uttering the famous line and it became the mantra of the day.
Finn, a brother and caregiver, piloted the dock boat across the lake to drop off Bon Bon and Westin, whose upright swimming form lends itself to saying and hearing 1990s classic movie tropes.
"Show me the money!" crowd members yelled as Westin reached the halfway point. Mom, keeping her distance in the pedal boat, exhausted the Tom Cruise and Cuba Gooding Jr. special — anything to keep Westin going.
"Being a mom has probably been the best thing I've done in my life," Nan said.
After recovering from the craniotomy, she completed a doctorate degree in education and used it to equip emergent teachers with skills necessary to work with children with special needs.
The former Thompson Rivers University associate professor, now retired, is quick to acknowledge there are, and always will be, hard days.
But Monday was not one of them. And there have been better days in recent years.
Nan said her son, who has been taking CBD for six years, is a poster boy for medical cannabis, noting he has been seizure-free for three years and non-violent for about five years.
The pandemic came with a silver lining for Westin, who seems to experience more calmness and happiness with less programming on his schedule.
"After many years of grief, there is an incredible amount of pride, and swimming across this lake is just a small example of the pride I have for this boy," Nan said.
"It was like, you own it or you reject it, and I wasn't rejecting the journey, but it hasn't been easy, I will tell you that. We do have choice in how we respond to events in our lives."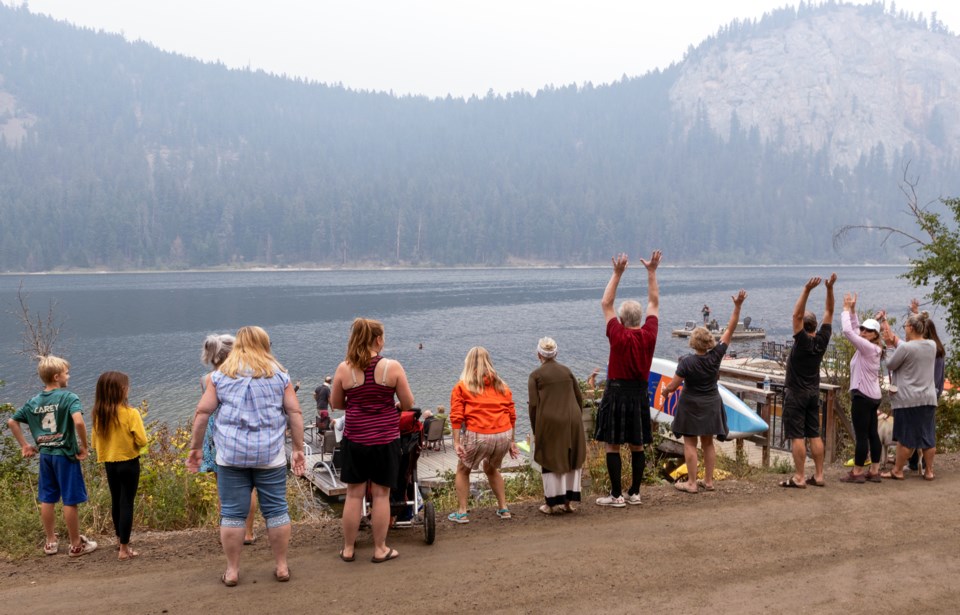 Warren pulled Westin up onto the dock as his son completed his swim, while We Are the Champions played on a bluetooth speaker, the second of two tracks on the playlist, the other being one of Westin's favourites, Crazy Train by Ozzy Osbourne.
Bon Bon treaded water, watching and gleaming. You should have seen her face. She was so proud. Westin never once touched the support boat or latched onto her arm.
He did it on his own, with encouragement from his village.
"I want people to see that a young person who has a disability still has wonderful qualities, is still capable of doing very special things," Bonnie said.
"I'm hoping it might just change one person's mind. Some of them are just totally disrespected. They could be in a room and, as far as other people are concerned, they don't exist. They need to be respected and given a voice."
Westin's voice was heard on Monday.
"Show the money!" he trumpeted, shivering and shaking as his fan club dispersed.
Mom had a few more words, too.
"I'm so proud," Nan said. "I'm so, so proud."
CATCH THE VIDEO
KTW took video of the swim on Monday, footage that will be seen in Episode 13 of Kamloops Last Week.
Find the show, which will also feature outgoing four-term MP Cathy McLeod, online on YouTube on Wednesday evening.