Doctors delivered life-changing news to Kyrell Sopotyk on Friday, Jan. 22, just hours after he fractured his T5 vertebrae in a snowboarding accident near North Battleford, Sask.
"They didn't sugarcoat anything and told him he would never walk again," said Lori Sopotyk, the mother of 19-year-old Kamloops Blazers' forward Kyrell. "He's paralyzed from the belly button down and it's a long, long journey ahead for all of us. That was the first thing out of his mouth, his hockey, that he would never skate again. And he felt like he had let everyone down."
Lori and husband Bobby spoke to KTW by phone on Tuesday morning, both in shock and openly discussing the difficulty of coming to terms with the harrowing diagnosis.
"He comes out of his bed and sits in his wheelchair," Bobby said. "I'm glad for him in that way, but it's still not right."
Added Lori: "He's staying in good sprits, but it's tough. Nobody is giving us any good [news]. They're just telling us to plan for the worst and the long road ahead of us. We're not giving up. We have high hopes. Ky's a fighter and he never gives up."
Medication is allowing Kyrell to sleep and heal, but he wakes up, often in 20-minute spurts, to speak with Lori and doctors and communicate with the army of friends and family in his corner.
He breaks down. Some of the texts he receives lift him up, while others are reminders that life will never be the same.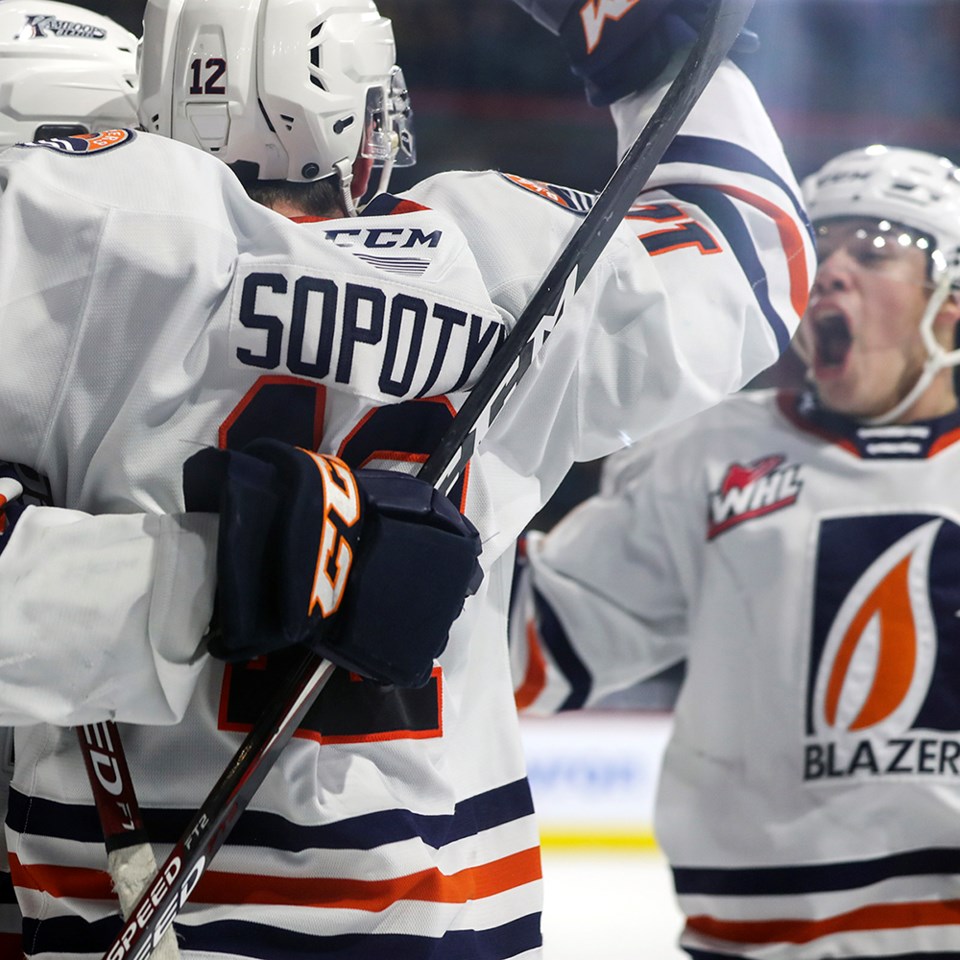 "It's been a struggle to get through," said Bobby, who suffered a stroke on Dec. 21 and was in hospital until Jan. 12. "Right now, we don't know what's going to happen with Kyrell and walking. Basically, his WHL career is over. We're just going to try to get him to walk."
There is no clear timeline for what's next, but Bobby mentioned medical care in Calgary and pursuing research that will offer maximum potential for recovery.
Health-care and home-renovation costs are likely to mount, a burden that will feel less weighty thanks to donations pouring in from across the hockey world.
Kathleen Zary, mother of Connor Zary, who is Kyrell's best friend and teammate with the Blazers, organized a GoFundMe page on Sunday, with the goal of raising $10,000 for the Sopotyks.
"I know that, as a mom, my first priority would be to look after my child, and I wouldn't be thinking of going to work or where my next paycheque is coming from," Kathleen said. "I wouldn't want any of that on my shoulders. So to see the overwhelming support has been an amazing blessing for the family. I know they are eternally grateful for everybody's help."
The fund had eclipsed $150,000 as of KTW's press deadline on Tuesday.
"We're overwhelmed with the love and support, with the GoFundMe and Blazer Nation and our community and hockey family," Lori said. "We're just so appreciative for them to be able to give us this chance for Kyrell to have that chance at as normal a life as can be for him."
Kathleen sparked the generosity and has become media spokesperson for the family. Connor, devastated and often alone in a hotel room in Calgary, communicates regularly with Kyrell.
"We couldn't ask for a better family in our life," Lori said. "And we are family. We'll be together forever. There are no words we can even express, even through Bobby's stroke, too. They have been a life-saver."
Connor is skating with fellow Flames' prospects ahead of the American Hockey League campaign.
"My best friend Kyrell was in an accident over the weekend and is currently in hospital," Connor tweeted on Sunday. "He is the best guy I know and him and his family would do anything for anyone. Please donate if possible! Love you brother stay strong."
Surgery took place on Saturday.
"I sat with him all day as he laid there lifeless and staring at the ceiling because he couldn't move," Lori said. "The hospital has been amazing, allowing me to be by his side as long as possible."
A rod from the T2 to T8 vertebrae provides spine stability and allows Kyrell to sit.
"We're going to do whatever it takes to move him forward and research and see if we can get him walking again," Lori said. "That's his money [from the GoFundMe account]. We're not taking any of it. It's all for Ky's future."
Bobby expressed gratitude for the kindness of the public, but noted his focus is entirely on Kyrell. He grapples with accepting the reality facing his son, whose hockey dreams ended far too early.
"We're just in shock," Lori said. "We're just hoping it's a bad dream and we're just going to wake up and he's going to be here, walking and smiling, but nobody is giving us any good prognosis.
"We don't want to think that way. We still want to see him walking and hoping," Lori added. "We realize he had big dreams. We all had big dreams, and he was pursuing. You know what, he's going to have different dreams now."