Facebook comment sections can be scary places, but they can also be revealing when taking the temperature of a sports organization's fan base.
Here are three messages KTW pulled from below the Kamloops Blazers' announcement on Tuesday of Darryl Sydor joining the WHL club as an assistant coach.
"He will be the head coach very soon."
"This is a big wake-up call for Serge Lajoie."
"Just preparing him for the job next year?"
Lajoie doesn't need to scour social media to know the optics — team part-owner who won a Memorial Cup playing for the Blazers and Hall of Fame-calibre former D-man with NHL coaching experience added to rookie WHL head coach's staff as team falls out of playoff position — don't look too good for him.
He answered questions after his Blazers, on Sydor's debut night, vanquished the Victoria Royals 6-1 at Sandman Centre on Wednesday.
"I'm not worried," Lajoie told KTW. "I don't see Darryl Sydor as a threat. For me, I've always invested my full energy in whatever I've taken on. But I value family. I also value education. I've got an education degree, a master's degree. I have good roots back in Edmonton.
"The reason I tell you that is that sometimes things aren't meant to be. In my heart of hearts, I know I'm supposed to be here. If there is an ulterior motive, to have him in to oversee things, I don't see it. If that's the case, again, I'll reiterate, I've put a lot of work in this year. I've seen a lot of growth in these players.
"I could leave with my head up high."
Sydor, 46, said fans' hot takes are one thing, but reality is another.
"Everybody has opinions," Sydor said. "Everybody has observations. That's not what is happening. I'm here to give guidance and if there's feedback that I can give on how he can become a better coach, that's what I'm here for."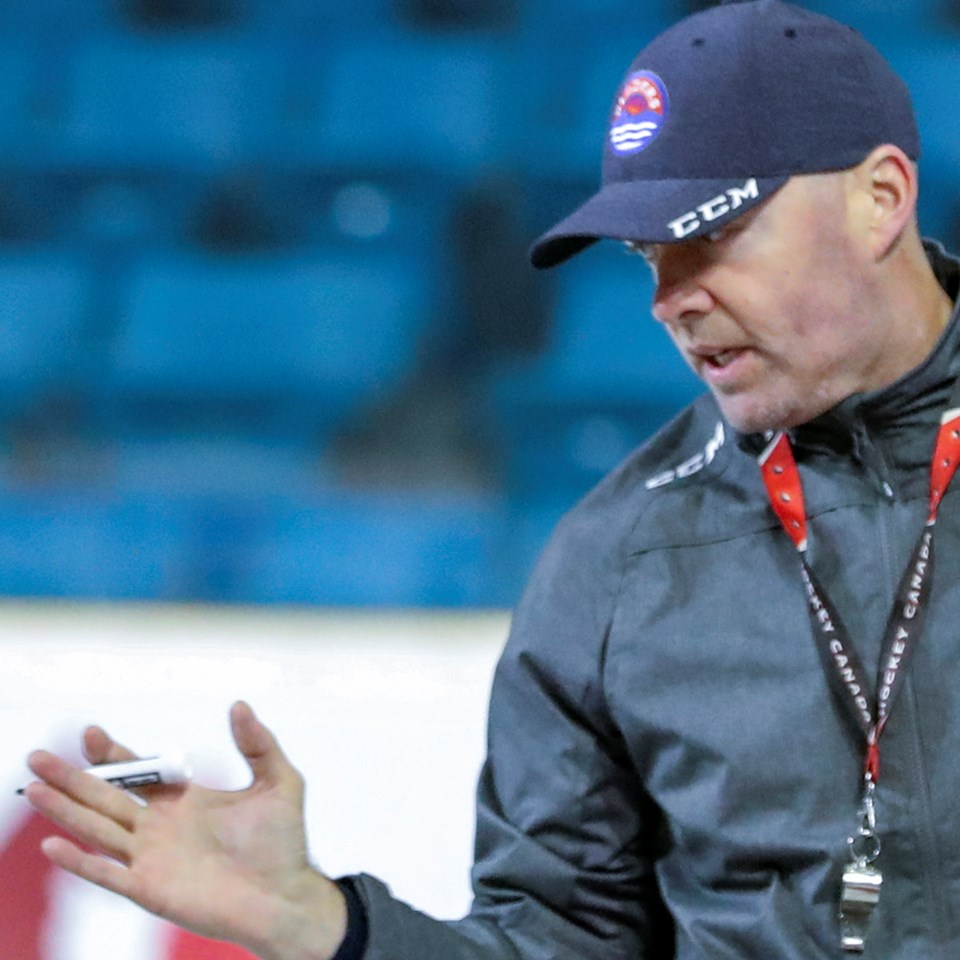 In August of 2016, Sydor had just been hired as an assistant coach by the Chicago Wolves of the AHL when KTW asked for his thoughts on some day coaching the Blazers.
He was one year removed from a drunk-driving conviction that changed his outlook on life, an incident that also altered his coaching goals.
"Yeah, it could be getting there, a little bit closer to that," he said at the time. "I never really thought I would want to be a head coach, but I'm a different person now. I like teaching the game and I like teaching kids, and head coach could be a possibility in a few years, who knows.
"My kids are getting to the age where a couple more years of high school and then it's university. We love Kamloops. My son keeps on saying he's going to go to TRU."
The two-time Stanley Cup champion was asked on Wednesday if the assistant coaching position in Kamloops may be a stepping stone to a head coaching job.
"Who knows," Sydor said. "There is a dream they [WHL players] want to achieve and it's fun. They're all eyes and all ears. To give them a little bit of hope and, hopefully, develop them into good young hockey players, if not, then good human beings, I have a passion for it."
Sydor was brought into the mix with 16 games remaining on the Blazers' regular-season slate. He joined the club's other full-time assistant, Dan Kordic, who Lajoie brought with him from the Alberta Golden Bears of U Sports.
"I mentioned to Matt [Blazers' GM Matt Bardsley] that, in a perfect setting, I would like to have three coaches, so two full-time assistant coaches," said Lajoie, a 50-year-old Bonnyville, Alta., product who led the Golden Bears to a national championship last year.
"But I didn't want to just have a [part-time assistant coach] Chris Murray on the bench once in a while or a [goaltending coach] Dan De Palma once in a while. I wanted consistency. For the longest time, Darryl wasn't an option.
"It just came about that he was able to free up his schedule and be consistently on the bench with us as a full-time assistant to the end of the season. It's not about us. It's about the team. Putting our egos aside."
Sydor spoke to coaching staff and Bardsley before committing to the position.
"It's Matt's decision," Sydor said. "He had a little bit of a plan in place that he wanted to get another person on the bench.
"The game of hockey happens quick. When you have three sets of eyes on the game, to be able to control different things on the bench, whether it's emotions, whether it's lines, whether it's the D-pairing, it helps out. Especially with a couple new coaches coming in, to understand the league and help them out. I've been coaching for a little bit."
This is Sydor's first WHL coaching gig. He spent the last eight seasons as an assistant coach in the NHL and AHL.
He had two seasons in the AHL, one each with the Houston Aeros and Chicago Wolves, and six seasons in the NHL, five with the Minnesota Wild and one with the St. Louis Blues.
Last summer, Sydor returned to Kamloops full-time, along with wife Sharlene, who is from the River City, and sons Braden, Parker, Dylan and Cooper.
He is relishing the opportunity to coach Dylan this season with the minor midget Thompson Blazers. Murray also helps coach the minor midget team. His son, Luken, is on the roster.
Sydor has become familiar with this season's edition of the major junior Blazers since returning to the city.
"Darryl's been around this team since maybe a month into the season," Lajoie said. "He's been at practice. He knows these players. It seems like a natural progression to have him on the bench. It does make things cohesive for Dan and I on the bench when there's another set of eyes just to validate what we're seeing."
The Blazers' bench boss was asked if the situation may be perceived as a lose-lose for him. The hypothetical scenarios: If the Blazers make the playoffs, Sydor is the hero who pushed them over the line; if the team misses the post-season, blame can't be pinned on latecomer Sydor, so Lajoie is the goat.
"If I'm not the right man, if that's what you're insinuating, if we don't get to the playoffs, and, as a first-year coach, they feel that Darryl is the better man, I'm going to walk away knowing that I did everything I can to not only get the program back to its rightful place, as one of the best in the CHL, but I've helped some young men develop and I can leave with my head held up high," Lajoie said.
Kordic, a former NHLer who played both up front and on the back end, was behind the Blazers' defence on the bench on Wednesday, with Lajoie in the middle and Sydor, a rearguard in his pro playing days, supporting the forwards.
De Palma and Murray were in the press box, along with former WHL netminder Lucas Gore, who on occasion helps out with the Blazers' backstops.
"They [the players] know it's OK to have a lot of voices," Lajoie said. "We're all pulling in the same direction. I think it's nice to have an extra set of hands pulling with us. Coaching is a lot of managing. I've got to coach my coaches. I've got to manage my coaches."
Lajoie said he and Sydor, who will be spending ample time working on the power play, are on the same page.
"The reason why it's a good fit is because we speak the same language," Lajoie said. "That's why, as much as I don't know Darryl overly well, seeing him operate on the ice, we speak the same language. The program I come from, the University of Alberta, it's amazing what can be accomplished when no one cares who gets the credit.
"It's not the Serge Lajoie Blazers. It's the Kamloops Blazers."
The first-year head coach finished the press conference by backing himself and the plans he has for the Blazers.
"If we make the playoffs and the assumption is that it's because of Darryl Sydor, I'm not here to have my ego bruised or my feelings hurt," Lajoie said. "We want to win hockey games. I have the utmost belief in my vision. My vision, again, is our vision. I know that I can bring that to fruition.
"It's not a one-year thing. It might not be next year. But in three years from now, with the young players that are coming up, I have the utmost confidence in my ability to bring this team to where it needs to be."