Cole Armstrong is not hiding behind expansion team status.
The first head coach in Kamloops NorthPaws' history blusters into town with lofty objectives for his West Coast League baseball club, which is slated to begin play in the summer of 2021.
"I want to win the league. Why else would you ever take a job like this?" said Armstrong, the 37-year-old baseball journeyman from Surrey. "I want to have the most wins in the season and win the championship. That's the ultimate goal. Now, I'm not naive to the fact this is my first venture into college summer baseball, but that's my goal."
That type of confidence and belief impressed NorthPaws' consultant Sean Wandler, responsible for leading the search for head coach No. 1.
KTW spoke to Wandler, along with Armstrong's father, Mel, a former coach himself, and one of Cole's childhood friends and teammates, Paul Hayes, for insight on the club's trailblazing bench boss.

WHY HIM?
The NorthPaws advertised the gig for one month and received about 20 legitimate applicants, none of whom checked more boxes than Armstrong, according to Wandler.
Wandler was looking for an extensive baseball resume (see Coles Notes below), a deep recruiting Rolodex and relatability to college-age players, all of which he found in the 37-year-old candidate from Surrey.
Those pre-requisites were augmented by a pleasant passport bonus — the NorthPaws are proud to be Canadian in the predominantly American 15-team league — and perhaps Armstrong's No. 1 selling point, which is fire for the game.
"If anyone is going to overcome those operational first-year challenges, we honestly think Cole is one of those guys because of the enthusiasm, excitement and the drive," Wandler said, noting Armstrong's 10-year Minor League Baseball career will be a teaching tool and contact resource. "He really feels like he's got something to prove, that he really wants to show Kamloops and the fans we can be competitive in the first year."
Armstrong's six-year coaching, managing and player development career inside the Chicago White Sox organization was halted by the COVID-19 pandemic.
Looking to move into the college coaching ranks, he was tickled to hear from friend and former New York Mets' hurler Jim Henderson, the Calgary product who mentioned the NorthPaws' job opening.
Wandler wasted little time responding to Armstrong. Zoom meetings followed with the Kamloops ownership triumvirate of Norm Daley, Jon Pankuch and Neal Perry.
"He's ready and raring to go," Wandler said. "He made that very clear in the interview process."
Armstrong, who lives with his girlfriend in Wichita, Kan., will not get rich working for the NorthPaws.
The summer job (which requires year-round attention) enables him to keep doing what he loves while earning some coin and adding to a baseball resume that may eventually include full-time work on a U.S. college staff.
"It's not about the money and it's not so much a stepping stone," Armstrong said. "I really wanted to be able to give something back to baseball in Canada and B.C. It's a chance to build something from the ground up and that was the biggest appeal. I'm so pumped to get back to B.C. and up to Kamloops for the summer."

WILL THEY COME?
Armstrong was at a Minor League Baseball training camp every year from the turn of the millennium until 2019, either as a coach or player.
Relationships formed during that long haul, which included highs and lows across the U.S., will form the backbone of his recruiting operation.
"It just seems like the people I was close with, whether it was a player that turned into a scout or a guy who I played with who's now an agent, it seems to be more important who your recommendation is coming from, when you make the calls to those college coaches, as opposed to cold calling someone off a website," said Armstrong, who played in the Dominican Winter League from 2009 to 2011.
"When you've got background with people who have an extended network in the college realm, that's who I've seen the most success with, as far as coaches being willing to send some of their better players."
Most of the NorthPaws' recruits — the roster will include about 25 to 30 players — will have dreams of playing professional baseball. Armstrong, picked by the Atlanta Braves in Round 12 of the 2003 MLB Draft, has been in their cleats.
"To find a guy that's been in the trenches is a huge recruiting tool," Wandler said.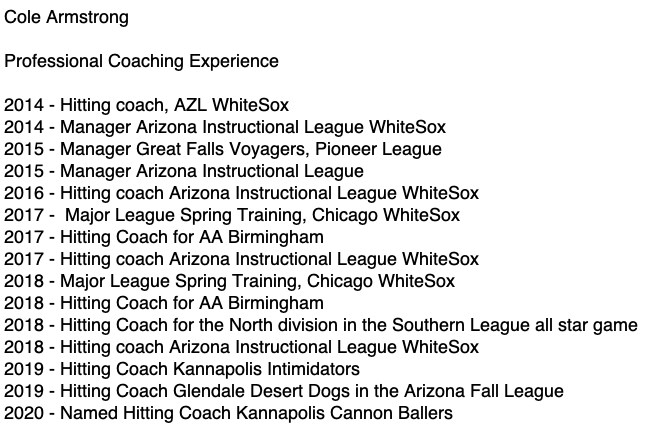 The NorthPaws' first signee, catcher Trey Newman of the NCAA Division 1 Utah Valley University Wolverines, worked with Armstrong during a tenure in the Arizona Collegiate Wood Bat League.
"The amount that he cares is crazy," Newman, from Phoenix, said in a NorthPaws' press release.
"That's a guy that's been in baseball a really long time. He's been through it and he's going to have the players' best interest in mind. He's a great guy to play for."
In some cases, Armstrong won't have to do much touting at all. Pro scouts want to see college players swing and react to wood bats. The WCL has a track record of producing MLB alumni.
"The league has grown substantially," Armstrong said, noting the indoor baseball facility on McArthur Island has proved a useful recruiting tool. "It's turned into the premier wood bat college summer league for players at Division 1 schools on the West Coast."
Those who choose Kamloops will become carriers of the NorthPaws' reputation.
"It's about providing players with a great experience, so they go back and rave about Kamloops and the NorthPaws to those coaches, so those relationships between the schools and NorthPaws grow and strengthen and it becomes so that, every year, that school is dead set on sending their best players to us," Armstrong said.
Norbrock Stadium and hot Kamloops summers also seem to be playing well in recruiting conversations.
"I know it will be an extremely attractive place for players to come," Armstrong said. "You're going to see guys in the next four years who played for Kamloops going in the first round [of the MLB draft] and they're going to end up in the big leagues."
Armstrong and his yet-to-be named staff will include one assistant coach and one pitching coach.

IN THE BLOOD
Dad saw this coming.
"I knew the kid was destined to be involved in baseball when he was nine years old," said Mel Armstrong, who coached Cole until he was about 14. "He just had a natural instinct for the game, for how things work and with his skill level. He was starting catcher as a nine-year-old on a 12-year-old team. He really loves the game."
Major League Baseball aspirations never materialized for Armstrong, who called it a playing career in 2012.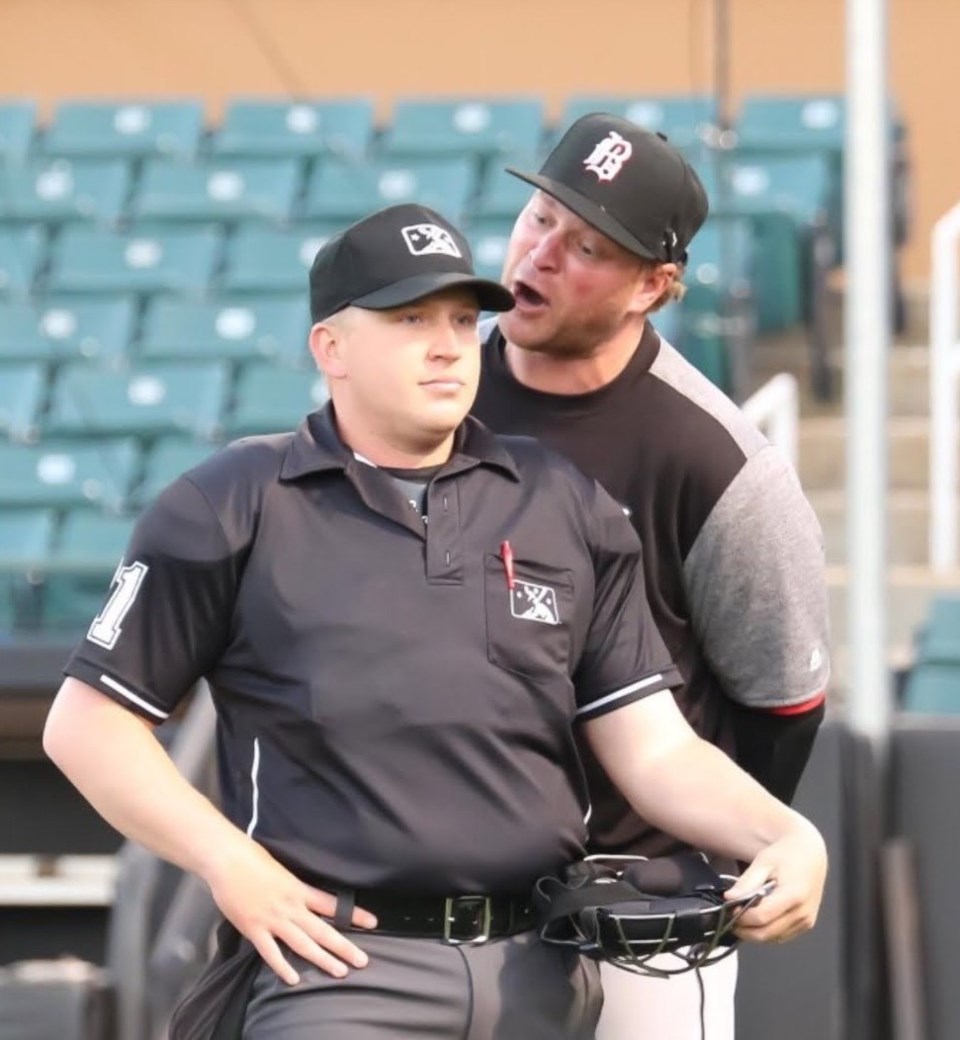 "I spent my whole life as a player and as I transitioned out of that — or should I say, as I was told to transition out of that — the coaching thing became a natural fit," Armstrong said. "It was really all I knew. I see things I do that maybe I unknowingly do because of how my dad treated players. The things he influenced most are work ethic and how you treat people."
Paul Hayes was a childhood friend of Cole's and teammates with him on the Kennedy-Surrey team, coached by Mel, that reached the 1997 Junior League World Series in Taylor, Mich.

"Mel is probably one of the best coaches I ever had," Hayes said. "He saw your strengths. He had a way of connecting with you, made you believe in yourself, very compassionate, very empathetic. I think those types of tendencies were passed on to his son. You definitely saw that kind of leadership from Cole at a very young age. Given who his father is, all that knowledge that got passed on, that passion for the game, he was destined from the beginning to be in the game."
Mel and Nicky, Cole's mom, plan to be regulars at Norbrock Stadium.
"Oh, yeah. We'll be there. Don't worry about that," Mel said. "We're really looking forward to it. We took a road trip up to have a look at the park about a month ago. It looks great."

FIRE IN COLE?
The NorthPaws sent local media a few pictures to go along with a press release introducing Armstrong.
One of the photos features the sizeable coach unleashing verbally on an umpire, who is managing not to react despite Armstrong's close proximity.
"I will represent the NorthPaws exactly how ownership wants them to be represented," Armstrong said with a laugh. "If that's part of what they want me to do, and the time is right, and I feel it benefits our club, then, yeah, it's something I'm absolutely willing to do.
"At the same time, I don't necessarily know how much good yelling and screaming at an umpire is going to do. I'm not going to make a sideshow out of it unless I'm asked to. When the time comes, I'll be there."
Dad was asked if son has some fire in his belly.
"He's mellowing out," said Mel, noting former White Sox hitting coach Mike Gellinger has been a mentor to Cole. "He's learning to take things a little slower. He's got more realization of how you need to handle that kind of stuff."

COLES NOTES
Armstrong grew up in Surrey and parlayed a standout career with the Whalley Chiefs in the B.C. Premier Baseball League into national team experience and opportunities down south.
The 6-foot-3, 210-pound catcher had post-secondary stints with Chipola College in Florida and the NCAA Division 1 Kansas Jayhawks.
He was picked by the New York Mets in Round 32 of the 2001 MLB Draft, but did not sign. The Atlanta Braves nabbed Armstrong in the 12th round of the 2003 MLB Draft.
Armstrong played 10 Minor League Baseball seasons, his farm club career split between several organizations, including the Atlanta Braves, Chicago White Sox, Anaheim Angels and Miami Marlins.
He represented Canada internationally from 1999 to 2012, including at the 2011 Pan Am Games in Mexico, where the Canadians earned gold.
Armstrong worked for the White Sox in player development, position coaching and managing roles from 2014 to 2019.
He earned the 2016 Charles Lubin Award, given by the White Sox to a member of the player development staff who demonstrates superior judgment, player communication, motivation and teaching skills in the pursuit of excellence.
Seby Zavala, Danny Mendick, Ian Hamilton, Jimmy Lambert, Eloy Jiminez, Zach Collins and Alfredo Gonzalez are among MLB players mentored by Armstrong.