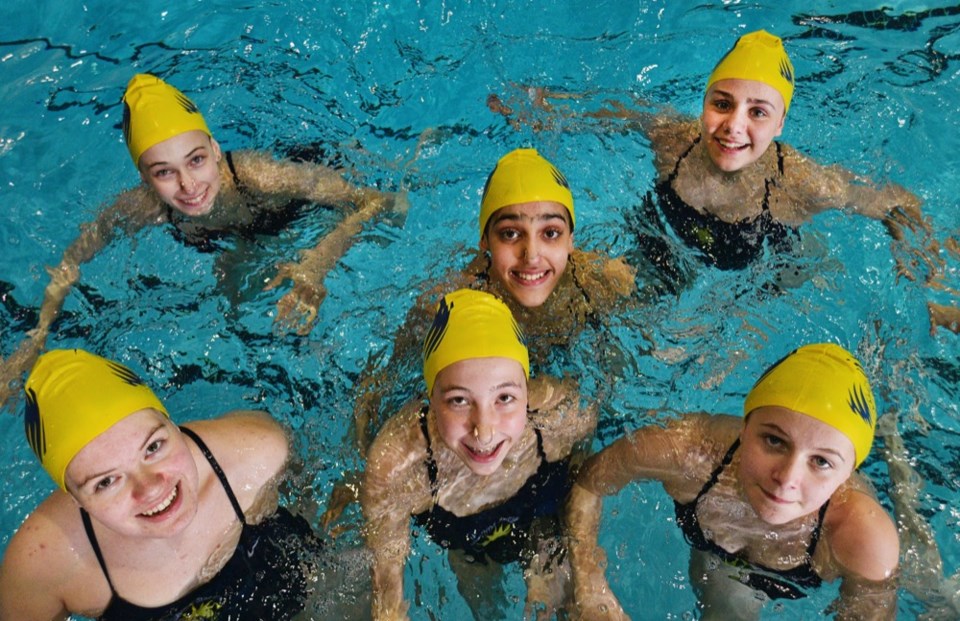 Nadia Curtis couldn't quite describe the harmony that exists among the Kamloops Sunrays, the local artistic swimming club.
"We call it synergy," said Curtis, a Grade 7 student at Marion Schilling elementary. "You can just feel it with all the girls."
For those wondering, artistic swimming is, or was, synchronized swimming. The International Swimming Federation changed the name in 2017 at the suggestion of the International Olympic Committee.
Sunrays' swimmers have been preparing all season, nailing down routines to themes and music through countless hours in the pool.
The plan is to make hard work pay off at the RBC Wealth Management Canada Artistic Swimming Championships, which will run from May 6 to May 12 at the Canada Games Aquatic Centre and feature about 500 of the nation's top swimmers.
"This is the best that Canada has that's not on the Olympic team," Sunrays' head coach Tina Naveri said.
"It's a sport where you use every single muscle in your body at the same time. It's been compared to running a marathon while holding your breath. You need to be extremely strong."
Curtis, Rosina Fraser-Bowden, Karina Aujla, Keira Fawcett, Norah Mallett and Kate Liebe emerged from a national qualifying event in Montreal in March and will represent the Sunrays in the 13- to 15-year-old team category at the Canadian championships.
The squad is slated to be in preliminary action at 6:15 p.m. on Friday, May 10, with the final scheduled for 2 p.m. the next day.
Are they ready?
"Like 10 out of 10," Curtis said. "Totally confident."
Fawcett explained her team will roll out a routine set to tribal-mashup music, a frenetic, upbeat performance paced by drums.
"Usually, 50 per cent of it is under water, holding your breath," Fawcett said. "It's a lot of breath control, pretty much like sprinting for four minutes under water."
Spectators can expect to see a focused Sunrays team.
"We have to be fierce and really take on the pool," Curtis said. "We use facial expressions and play with the ideas and the movements that we do."
Charlotte Ribalkin, who is coached by Naveri and Disa Fladmark, is scheduled to own the pool twice in the senior division, with a technical solo at 2 p.m. on May 7 and free solo at 2 p.m. on May 9.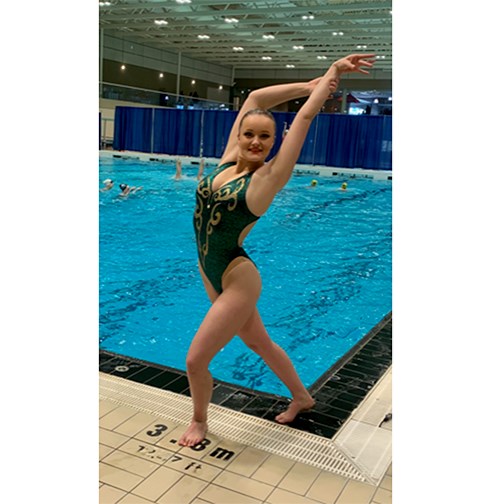 The themes for her solos are I Put a Spell on You in the technical event and Bird Set Free in the free routine.
"If they don't feel a connection to the music, then it's hard for them to swim to that music," Naveri said. "For solo, especially, she has to be able to like and relate to the music."
For the complete event schedule, go online to artisticswimming.ca.
Nationals will mark the culmination of two years of practise for most of the Sunrays.
"I've never had a group of girls that has gotten along as well as them, in and out of the pool," Naveri said. "It definitely makes a difference."