If only the pandemic took notes from Billy Miner.
This Kamloops robbery has been anything but botched.
Fans are bilked every time blossoming dynamo Logan Stankoven does something special, stripped of moments promised since his hometown club nabbed him fifth overall in the 2018 WHL Bantam Draft.
The 5-foot-8, 170-pound Blazers' forward is backing up confident talk of plans to catapult up NHL draft boards. He is off to a torrid start in his truncated 17-year-old season, with five goals and eight points in three games, including the game winner in each contest.
He is blowing up right in front of our eyes on oft-choppy-and-buffering computer screens. There are no roars, except for his after those game-winning goals. There are no butts in seats and no sold-out barns.
Blazers' majority owner Tom Gaglardi is watching great drafting materialize and money fly away.
Fan larceny began last March when the 2019-2020 WHL season was scuttled amid the COVID-19 crisis, with the playoffs inching closer and a deep run well within the realm of possibility.
Stankoven, a right-shot centre, finished the campaign with 48 points in 59 games — tallying 18 goals in 30 games after the Christmas break — and was named Western Conference rookie of the year.
How dominant would he have been in the post-season? Could he have helped push the B.C. Division champions to a WHL title?
We will never know.
Blazers' head coach Shaun Clouston marvelled at Stankoven's overtime winner on Saturday in Kelowna, an end-to-end foray that lifted the Blazers to a 4-3 victory over the Victoria Royals.
"What did he improve on? Look at that goal," Clouston said. "His acceleration up the ice was great. He just sprinted up the ice and then he turned and cut back, so just that agility and that quickness. He rounded the top of the corner and showed some good deception. He comes out of that pile, because of the fake drop, kind of open and he buries it top shelf. And yet it is too bad the fans, home and away, aren't able to see that."
Stankoven said gaining speed was his No. 1 focus in the extended off-season.
"I'm not the biggest guy," he said. "If you can't skate, it's tough to produce and contribute to the team. It's really paid off so far. If that was in front of fans, it would have been a pretty crazy ending and it would have been pretty loud in the building. Either way, no fans or with fans, I'd still be pretty fired up and excited. Goal scoring never gets old for me."
Improved speed is noticeable, but Clouston said Stankoven's game has taken strides in all aspects.
"The guys who are able to improve that much, they believe in themselves," Clouston said. "It's hard to put in that much work for that long if you don't believe in yourself. He believes in himself. He's not happy to have a good shot. He wants a great shot. Or maybe he's got a great shot and he wants the best shot."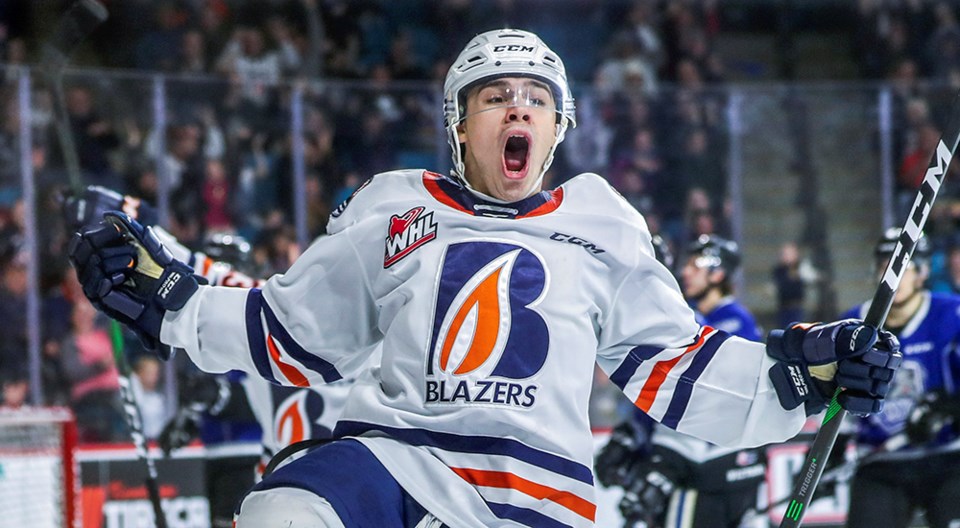 A kitchen knife-wielding imbecile allegedly pinched ice cream bars from a downtown Kamloops business last week.

The Tournament Capital pilfering continues next week — Team Canada is scooping Stankoven for the remainder of the WHL season.
He will begin self-isolating on April 12 prior to travelling south for the International Ice Hockey Federation Under-18 World Championship, which will run from April 26 to May 6 near Dallas, Tex.
"There was a little bit of pressure at the beginning of the season, finding out we only have 24 games to showcase ourselves," said Stankoven, who is not satisfied with a "B" rating in the most recent NHL Central Scouting rankings.
"Now with being invited to the U18s. I only have a few more games left before I start my quarantine. I realized I can't take a night off or a game off. I only have a short stint of games to showcase myself and show the scouts and the people watching my skills and what I'm made of. One bad night could change a lot."
The ultra-determined local son can be seen toiling for his Blazers on Monday online at watch.chl.ca, a 7 p.m. start against the Vancouver Giants. You cannot be there, but play-by-play man Jon Keen will bring you into Sandman Centre on Radio NL.
Perhaps the pandemic will take notes on the infamous train robber's demise. Miner died on a prison farm after drinking contaminated water. Liquid concoctions may place the virus in peril.
"What we can hope for is, come next September or October, we get back to normal, or closer to normal," Clouston said. "To have a goal like that scored … his effort and enthusiasm is so obvious. He draws the spectators' attention. It is unfortunate we're not able to see that in person."