Olivia Aikens scooped a ground ball and threw it to Lacey Boswell, who made the catch, the sound — whap! — bouncing into a warm spring night on McArthur Island.
The play was met with widespread cheer by teammates who had struggled with the drill on Tuesday, working together to keep the ball off the deck, keeping count of how many successful transfers they could rack up.
"Nice throw!" bellowed Sara Logan. "Good catch!" Layla Spencer yelled.
"That's three in a row!" Olivia Johnson howled.
The next throw sailed about 10 feet above its target and crashed to the ground, along with hopes of a new record.
"That's OK, girls," said Danielle Johnson, head coach of the eight-and-under Pink Panthers. "Start again. You have to start somewhere."
The Pink Panthers know all about starting somewhere — they are the first all-girls team in the Kamloops Minor Baseball Association's 54-year history.
All-girls baseball programming is a rarity across the country, although more teams and leagues have popped up during the last year in Manitoba, Ontario and Nova Scotia.
Females in Canada have long flocked to fastball and still do. The Kamloops Minor Fastball Association has more than 100 registrants ages five to 19 in 2018, most of them girls.
The idea for all-girls baseball in Kamloops gained steam when KMBA executive director Sean Wandler was sharing ideas with a Baseball Canada committee and bumped into a Quebec-based woman who is having success with a girls' program in La Belle Province.
"It will give them a safe environment to try the sport and learn about the opportunities outside the KMBA, such as the B.C. selects girls' program and other opportunities like that," KMBA president Chris Balison said last year, noting a pilot program was in the works for 2018.
Here's seven-year-old Spencer's version of Balison's explanation: "Girls like the same things sometimes and, most of the time, boys like the same things. It makes me feel unique and I like meeting new girls. It makes me feel more comfortable having friends around my side."
Playing with female teammates lessens the intimidation factor for some girls, especially those taking up the sport a little later on in childhood.
"Part of it is the age group they're in," coach Johnson said.
"These are mostly eight-year-old girls and, at this point in their life, they want to be with a group of girls. They're very much aware that boys are on this side and girls are on that side.
"They show up, they have this group of friends who all like baseball and I think that is the extra draw to come and play."
The Pink Panthers are pitted against boys' teams, now three games into their season in the tadpole age group.
Scores are not officially kept, as per league rules, but make no mistake — the girls are keeping track.
"We've won so far," Aikens said. "The last game it was 10 to 9 and we won because we had 10 and they had nine."
Boswell trumpeted an unblemished record: "We pretty much haven't been defeated by any boys."
So, how is this happening, this run of female dominance?
"They think that boys are stronger than girls, but it's actually the opposite," Olivia Johnson said.
"Girls are cooler," added Mia Hunter.
"Girls have more strength than boys," declared Boswell.
Coach Johnson was less bullish on the girls' proposed 3-0 record, but said they definitely won their last game, marking the first unofficial victory by a female baseball team in KMBA history.
"We don't technically keep score, but the girls know the score," she said. "They know if they've beaten the boys. They know if they've gotten that out against the boys. The competition is very much there."
There are about 62 girls registered in the KMBA, many of whom enjoy playing on boys' teams. Parents of tadpole-age daughters were given the option of having them play with the boys or girls.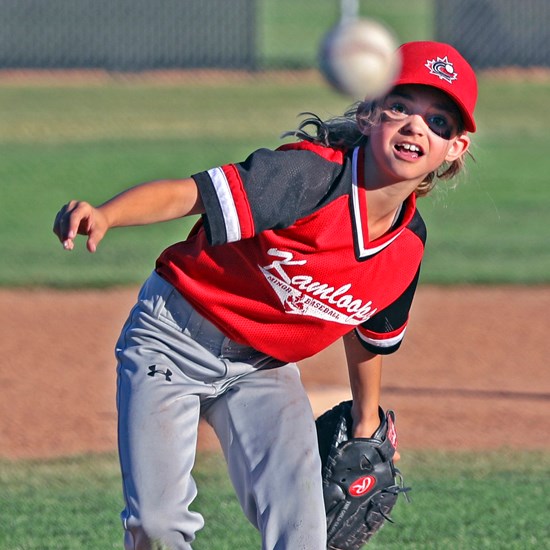 Last year, there were about 50 girls signed up in KMBA, each of them playing on boys' teams. Positive feedback this year suggests all-girls teams will soon pop up in more age divisions.
The KMBA also hosts an all-girls practise night on Fridays, basic skills coaching sessions that do not require membership with the association. All told, there are about 82 girls playing baseball in the city, including those who toil on KMBA teams and girls taking to the diamond only on Friday night.
Baseball BC is monitoring this year's pilot project in Kamloops and notes will be taken as it plans for an all-girls league on the Lower Mainland.
Doing their best to make the Tournament Capital look good are the Pink Panthers — Aikens, Logan, Spencer, Johnson, Hunter, Boswell, Sophia Lawrence, Chloe Dolha and Macy Doll.
"Hi, I'm Sophia Lawrence, I'm from Kamloops and I'm on the first-ever girls team," said one very excited Pink Panther. "It's the best because it's all girls."