Four years ago, the International Olympic Committee determined skateboarding will make its debut at the 2020 Summer Games in Tokyo.
Matt Berger, an accomplished pro skater who was born and raised in Kamloops, could begin dreaming.
"I've had an ironic path for becoming an Olympian," said Berger, a 27-year-old Valleyview secondary graduate. "I never once thought about any Olympics because that was never even an option, right?
"I'm skating all of the top events in the world and then, all of a sudden, skateboarding gets brought into the Olympics and those top events have now become Olympic qualifiers."
Berger underwent failed knee surgery in 2014.
Reaching Tokyo, chasing the podium in X Games and Street League Skateboarding events, featuring in videos, signing sponsorship deals and earning competition prize money were not atop the list of reasons Berger was inspired to make a comeback.
"When it's taken away to that extent, you get to the core of why you do what you do and why you love it," said Berger, who lives in Huntington Beach, Calif. "For me, it got to the point where I was like, 'I don't care if I can do this as a career any more. I love it so much. I just want to be able to do it.' That became the driving force."
Berger began talks with a surgeon who convinced him to go under the knife again in November of 2017.
"After having a cadaver implant and 11 months of doing slow rehab on it, I'm very lucky," Berger said, noting the surgery was experimental. "I feel like I've got my life back. My knee feels 100 per cent. It never bothers me anymore."
Men's and women's street and park events will be included in the 2020 Games, which have been pushed to the summer of 2021 as a result of the COVID-19 pandemic.
Berger, who competes in the street discipline, won gold at the Canada Skateboard National Championships in March in Toronto.
The victory vaulted him into 17th place in Olympic World Skateboarding Rankings, making him the top-ranked Canadian on the planet, which was subsequently rocked by the pandemic.
Nationals was Berger's most-recent competitive event.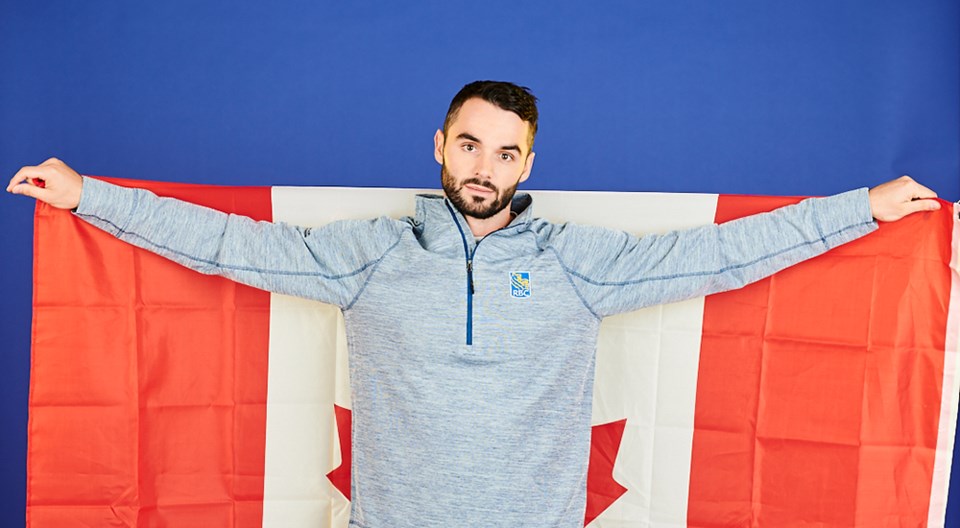 If the Olympic qualification period ended today, Berger would be going to Tokyo, he said.
"All competitions have stopped and everyone is just playing it by ear to see what the governments do with coronavirus restrictions," Berger said. "It sucks, of course, because we're all looking forward to it.
"But at the same time, it's not the end of the world. I've always been the type of guy to just kind of roll with the punches. It's not like the dream is over. It's just been delayed. We've got nine months until 2021."
With scheduling paused, Berger is making time to hold up his end of a deal struck with the RBC Olympians program, which provides financial support to aspiring Canadians in turn for their ambassadorship.
Berger's latest pitch: Athletes between the ages of 14 and 25 can be scouted through the virtual RBC Training Ground program, created in concert with the Canadian Olympic Committee. Go online to rbctrainingground.ca before the Dec. 1 deadline for submissions.
Relationships with companies such as RBC and current sponsors Etnies, Flip Skateboards, Monster Energy and Bones Wheels, along with competition prize money and video appearance fees, help Berger pay bills.
"My No. 1 accomplishment is achieving my childhood dream of being a professional skateboarder," said Berger, whose exploits are easily accessible on Instagram (he has 138,000 followers) and YouTube.
"I love skating competitions, but I also love skating the streets for different video parts. I've been able to see the world through skateboarding."
Berger, who won bronze in the men's street best trick competition at the 2019 X Games, teased his involvement in the upcoming X Games Real Street video contest, decided by fan voting and a panel of judges.
Five judges will score the street competition in the Tokyo Olympics at the Ariake Urban Sports Park, where skaters will perform two 45-second runs and five tricks in each round.
Kamloops could have one of its own taking a run at the podium.
"When the opportunity came and someone asked me if I wanted to go, it was an absolute no-brainer," Berger said. "Of course I want to represent the country that's shaped me into who I am."
IN THE STANDINGS
KTW checked Olympic World Skateboarding Rankings last week and Berger was ranked 17th.
On Monday, Oct. 19, he was wiped entirely from the rankings.
Berger and Canada Skateboard reached out to worldskate.org, which keeps the standings.
The Kamloopsian has been informed his absence from the rankings is a technical error that will be corrected.