Move over, Toledo — Diesel is coming through.
Ty Robinson, the son of Kamloops Blazers' athletic trainer and equipment manager Colin (Toledo) Robinson, was hired last month by the watermelon-wearing duo's pigskin pride and joy — the Saskatchewan Roughriders of the Canadian Football League.
"They started calling me Diesel," said 23-year-old Ty, whose first week as the CFL club's assistant equipment manager began on Sunday, July 11. "Just because I'm always working hard and I never stop moving. He [equipment manager Gordon Gilroy] says, 'You're all gas and no brakes."
Added Toledo: "It's just crazy how it happened. That's our team. My basement is all done with green and silver and pictures and stuff. For him to go and work there, it's just amazing."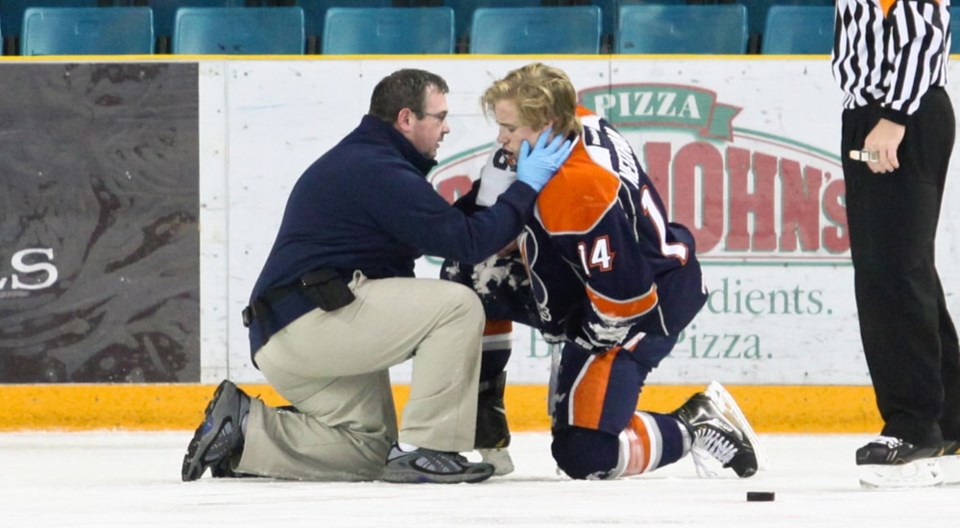 Toledo's moniker derives from his time in Swift Current in the 1990s, when, during his days as the Broncos' trainer, he would regale team members on the bus with fictional stories about his tenure as an enforcer for the Toledo Storm in the East Coast Hockey League.
It stuck and today even some of his longtime acquaintances may not know his real name is Colin.
In Kamloops, he is Toledo.
"I also do a pretty good Shaquille O'Neal impression, so I think The Big Diesel would be a fine nickname for me," said Ty, who opted not to perform the impression over the phone.
Whether Diesel sticks remains to be seen, but Ty seems primed for a long career in sports, one that has fairytale beginnings.
The former linebacker blew his knee out in high school, when he was 16, essentially ending any hope for a post-secondary football career.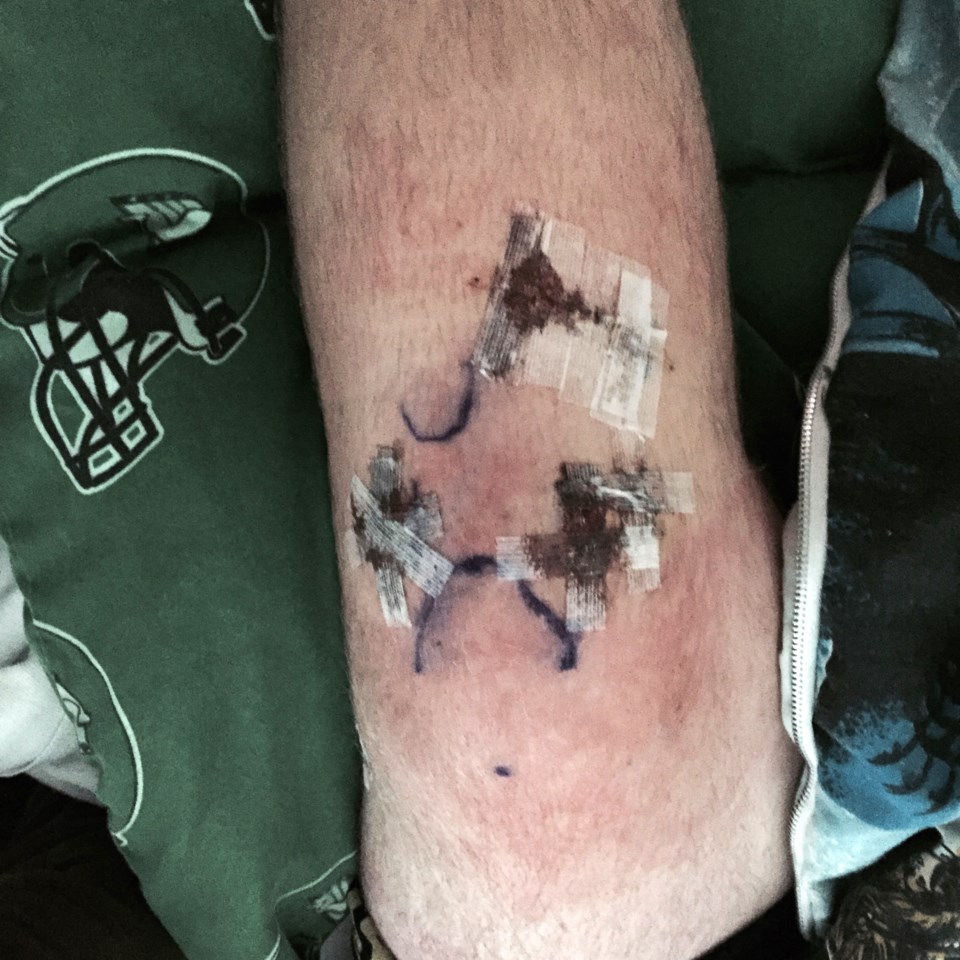 "The only pillow he wanted to help bring his knee back when he was icing after surgery was his Rider pillow," Toledo told KTW.
"We took pictures of that and sent it to him on his first day [working for the Riders] and said, 'You thought your life in football was over. Not only are you working in football, but you're with your team.'
The Robinson name did not hurt Ty's chances of snagging the CFL gig in the Queen City. Toledo, 46, has established a glowing reputation in the WHL, with 25 years in the Dub under his belt.
Regina Pats' athletic therapist Greg Mayer, a friend of Toledo's, got word of the opening with the Riders and immediately contacted the Robinsons.
Ty interviewed with Gilroy and Saskatchewan general manager Jeremy O'Day on June 29. He was hired that day and, by July 4, was setting up his room in the University of Regina dorms.
But Ty has earned the opportunity on merit.
He grew up in the Blazers' dressing room and eventually became the club's stick boy, handling all sorts of duties — filling water bottles, doing laundry — usually delegated to least-tenured staff.
By 15, he was the trainer for the junior B Kamloops Storm of the Kootenay International Junior Hockey League, augmenting that position with summer work as assistant equipment manager for the Kamloops Broncos of the Canadian Junior Football League.
Ty moved on to work for the Thompson Blazers of the B.C. Major Midget League before stepping up to the junior A ranks and toiling for the Vernon Vipers for three seasons in the B.C. Hockey League.
"The game was kind of taken away from me, so it's pretty cool to see it come full circle," Ty said. "Now I have it back in my life and I'm working for my favourite team.
"In my interview, I said I dressed up for Halloween up as a Roughrider in B.C., which is not an easy task. It's a dream come true for me, really."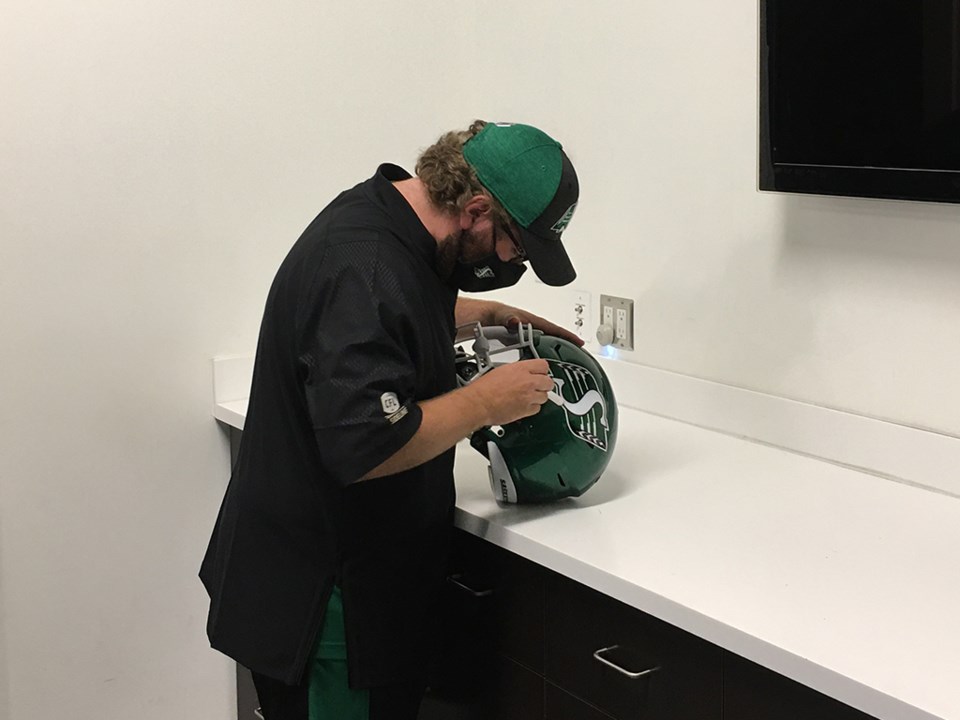 Ty will not forget his first week on the field, which included a task not listed in the job description — hiking the ball to starting quarterback Cody Fajardo.
His first three snaps were very late, a little late and damn near over Fajardo's head.
"I went to apologize to him," Ty said. "He's a first-class human being. He said, 'Don't worry about it. Take your time. No pressure here. It comes with time.'"
Ty has aspirations to progress up the equipment-manager ladder, perhaps down south in the NCAA Division 1 ranks or in the NFL.
"As of right now, the only team I want to work with is the Green and White," he said. "I'm going to make the most of it, make the best of every day and see where things go."
The Robinsons, including mom Tracy and daughters Haylee and Lahney, are planning a trip in August to Regina to watch the Riders play and see Ty at work.
"He's in pro football and I couldn't be more proud of him," Toledo said. "It's surreal, to an extent."
Father and son are in contact daily, but dad's experience is almost solely limited to hockey.
"He knows more about the job than I do," Toledo said. "He's learning on the fly. They've treated him so well."
The Diesel is forging his own path.
"Being Toledo's kid was always something that kind of followed me a little bit and I felt like I had to try to live up to the name a little bit," Ty said.
"Obviously, my dad is a great guy, but to kind of have my own name in the CFL will be pretty cool, to establish myself away from just being Toledo's kid, you know?"