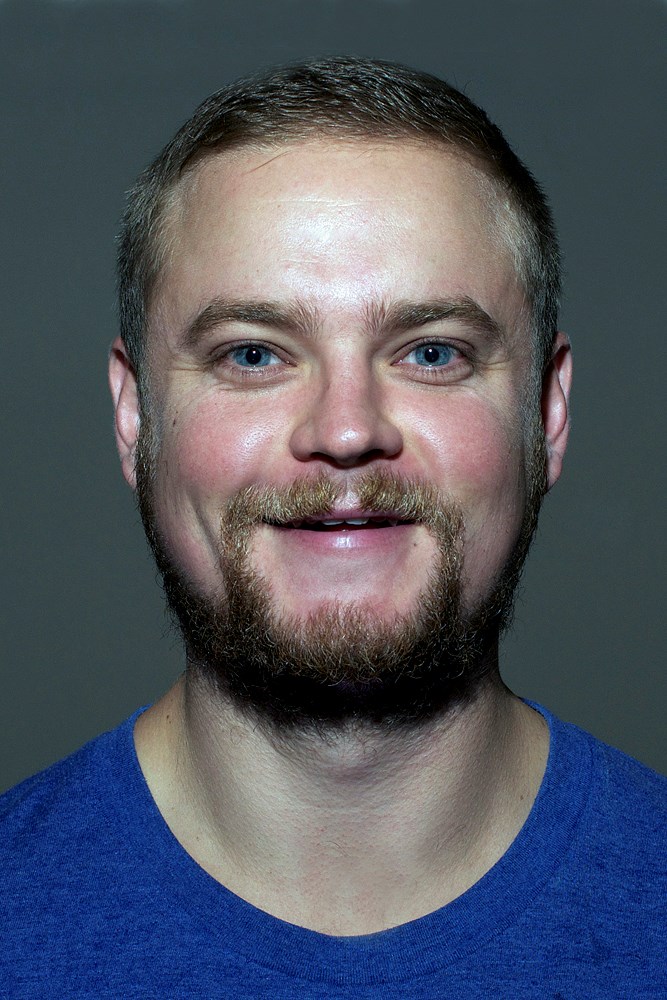 This is Year 9 for me at the helm of KTW sports.
While flipping through our 2018 papers on Monday, it occurred to me I've never penned a year-in-review column.
That changes today.
Here are 10 stories that stood out to me, accompanied by pictures from KTW photographer Allen Douglas, who makes our sports section sing with his work.
1. South Kamloops Titans' senior basketball teams
Whittling down the list to 10 was difficult and readers' opinions will differ on whether I got it right, but the task of picking the top story of the year was a layup.
The South Kamloops Titans' senior boys' and girls' basketball teams are a slam dunk, with each squad having won a B.C. title.
Two teams from the same high school went all the way, the boys in the AAA ranks and the girls in AA. Come on. That just doesn't happen.
South Kam won the school's first-ever provincial senior male high school basketball title, led by fiery head coach Tim Unaegbu (too fiery, at times, as he was suspended during the provincial tournament for technical-foul violations).
The Titans suffered an agonizing 69-63 loss to the Rick Hansen Hurricanes of Abbotsford in the 2017 AAA boys' B.C. final, but avenged the defeat with a 74-66 triumph over Byrne Creek of Burnaby last March in Langley.
Unaegbu had been grooming this group since junior with one goal in mind — wave the senior B.C. banner. They had one final chance. They got it done.
South Kam's girls damn near gave this reporter a heart attack at the Langley Events Centre, where it took overtime to knock off the G.W. Graham Grizzlies 73-67 in one of the most intense games I've covered.
Kendra McDonald scored for the Titans with 6.2 seconds remaining in the fourth quarter to force OT, quieting the rabid Grizzlies' faithful, who brought tin trash cans and drummed on them incessantly.
Talking to athletes after epics like that — win or lose — is among the duties I love about this job.
I can remember vividly the heartbreak in Ben MacDonald's voice after his Titans lost to Hansen in 2017.
No, it's not fun to see them in emotional pain, but there is value in relaying to the public back home how much it means to these kids, and how hard they tried.
Just as clear in my mind is the elation on the faces of the Walkley twins, Lauren and Katherine, after they grounded the Grizz, victorious in their Grade 12 years, their last kick at the can.
Head coach Del Komarniski, star players Maddy Gobeil and Olivia Morgan-Cherchas (both U Sports signees) and the rest of the 2018-2019 Titans have repeat potential this year.
March madness should be fun.
The Westsyde Whundas' senior boys deserve honourable mention. They enjoyed an incredible run and placed fourth at AA provincials.
2. Josie Morrison
Many of us woke up at ungodly hours to watch Josie Morrison in speed-skating action at the Olympic Winter Games in South Korea.
I had sleep in my eyes and the Kamloops athlete had tears in hers when we spoke minutes after she fell .45 seconds short of a medal in the team pursuit competition on Feb. 23.
Morrison didn't need a medal to make this city proud.
Her father, Owen Spence, fell from a ladder and died in December of 2008.
The South Kamloops secondary graduate did not crack the 2016-2017 World Cup team, an exclusion that left her skating career in jeopardy.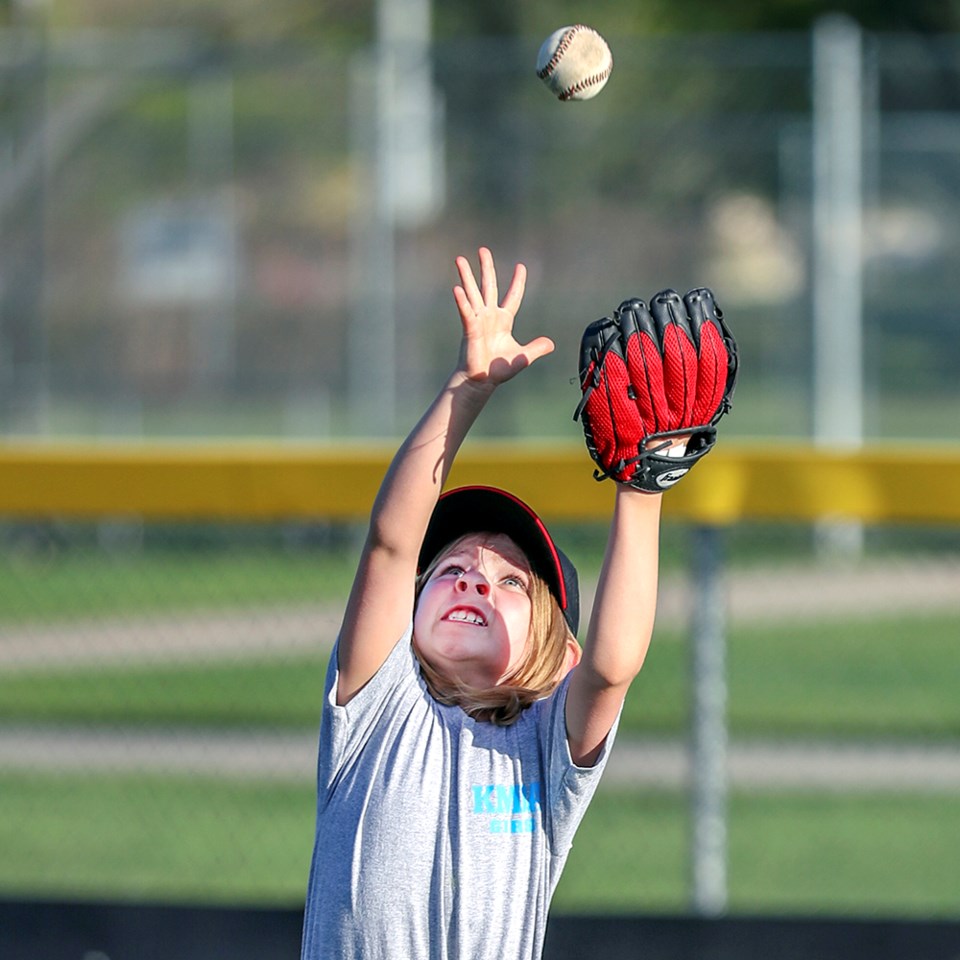 Morrison's husband and fellow 2018 Olympian Denny Morrison was seriously injured in a motorcycle accident in May of 2015 and had a stroke in March of 2016.
She helped save his life in the hours following the stroke.
The Spences were dealt another blow when eldest sister, Tori, was left off the Canadian Olympic speed-skating team last year.
Tori and Josie had pushed each other forever, but only one would realize the Olympic dream.
Morrison persevered and couldn't stop smiling when she took to the start line before her first race at the Gangneung Oval.
"My dad would be so proud of me, for sure, 100 per cent," Morrison said.
3. Don Hay's departure/Blazers overhaul
Don Hay is a Kamloops legend. He is beloved in this town, his hometown, and that won't change.
We were unfortunately sold a bogus story by the Kamloops Blazers when Hay "retired from the Blazers" in May.
The yarn smelled funky at the time, as pointed out back then in a KTW column, and was confirmed a hoax when Hay later gave an interview to NBC Sports Northwest.
"They wanted to make some changes and that's their right," Hay said.
Sports franchises have every right to keep some things in house. It is neither the right of reporters nor the general public to know everything that goes on behind closed doors.
This was different. When stories are fabricated and peddled, it usually doesn't end well — and it shouldn't. The Kamloops Storm learned that this season during #DewarGate (copyright Jon Keen).
Hay's ouster was part of a complete restart to the organization, a teardown that lands at No. 3 on this list.
Also losing their jobs were general manager Stu MacGregor, assistant coach Mike Needham and director of player personnel Matt Recchi.
Matt Bardsley took over GM duties and Serge Lajoie replaced Hay.
4. The Brown rink
The Kamloops Curling Club rink of skip Corryn Brown, third Erin Pincott, second Dezaray Hawes and lead Samantha Fisher moved to senior women's play from the junior ranks in time for the 2017-2018 campaign.
Team Brown won bronze at the B.C. Scotties (Kamloops skip Karla Thompson snared silver), gold at the Western Canada University Curling Championship and silver at the U Sports championship in their debut season.
Fisher left the team in the spring and was replaced by Ashley Klymchuk. The new-look rink is having a stellar 2018-2019 season.
Brown finished atop women's provincial tour standings and is the No. 1-ranked B.C. women's team in the country heading into the Scotties, which begin on Jan. 29 in Quesnel.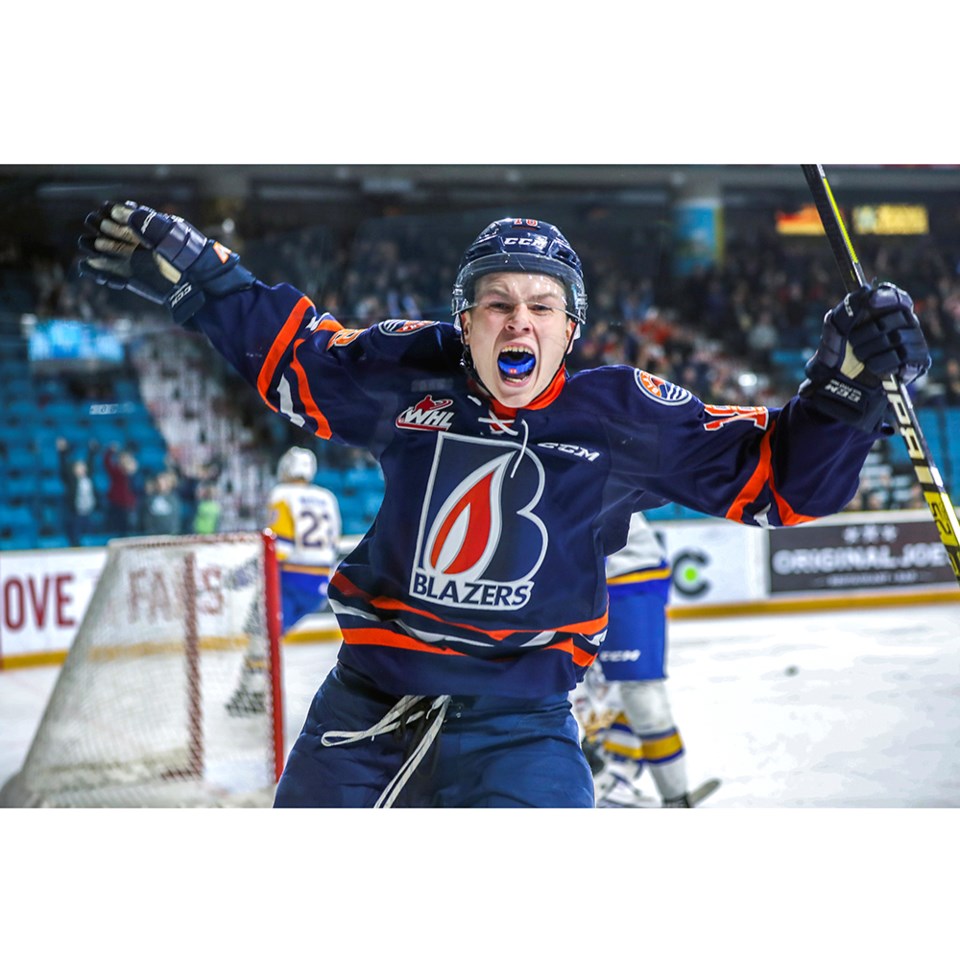 On a personal note, it has been a blast to watch this team go through ups and downs over the last decade — national-title victories, gut-wrenching provincial final defeats, personnel changes and everything in between.
Corryn deserves special thanks. She picks up the phone or answers the bell in person whether or not things go her team's way, minutes after the last stone is thrown. That doesn't always happen in this business.
Fisher and fellow original member Sydney Fraser may have moved on, but the Brown rink remains a darling of Kamloops sports fans.
How cool is it to see them firing up national rankings? Is it crazy to start picturing them at the Olympics? Will KTW fork up money to send me?
5. Greg Stewart
Greg Stewart became the No. 1-ranked athlete in the world in his discipline and a Canadian champion in his rookie season.
No spring chicken at 32, the 7-foot-2, 330-pound behemoth from Kamloops made up for lost time in a new sport, shot put, finishing the 2018 campaign with a personal-best throw of 15.80 metres.
That heave landed 18 centimetres shy of the International Paralympic Committee world record in the F46 disability class, a mark set by U.S. athlete Joshua Cinnamo in 2017.
Also among Stewart's highlights in 2018 were gold medals at the Para-Athletics Canadian Championships in Ottawa and World Para Athletics Winter Throws Challenge in Italy.
The World Para Athletics Championships in November is the most-significant event on Stewart's schedule for 2019.
Stewart, who was born with nothing below his left elbow, and coach Dylan Armstrong, who won bronze in shot put at the 2008 Olympic Summer Games in Beijing, have circled the 2020 Paralympic Summer Games in Tokyo on the calendar.
6. Kamloops Broncos blowup
The Kamloops Broncos cleaned house in 2018.
Kamloops finished 0-10 in B.C. Football Conference play and changes began immediately after their last game on Oct. 14.
Gone are president Dino Bernardo, general manager Jan Antons and head coach Brad Yamaoka, along with the entire coaching staff.
Each of the departed deserve credit for years of hard work, but key relationships had broken down behind the scenes and a reset was required.
Joe Liberatore has taken over the GM role. He said a head coach is expected to be named by Jan. 16.
7. Logan Stankoven
This fellow, Logan Stankoven, may end up being No. 1 on the list some time in the next few years.
The first round of the 2018 WHL Bantam Draft in May, the last draft for MacGregor and Recchi, could not have gone better for Tournament Capital hockey lovers.
Kamloops product Stankoven, a blue-chip prospect who has excelled at every level, fell to the Blazers at fifth overall.
He joined the Thompson Blazers for his 15-year-old season and leads the under-18 B.C. Major Midget League in scoring, with 57 points in 24 games. The closest player to him has 39 points.
The St. Ann's Academy student will join the major-junior Blazers next season and likely change the face of the franchise.
Everyone will have more fun coming to the rink, reporters included, and many of those seats that sit empty these days will be filled.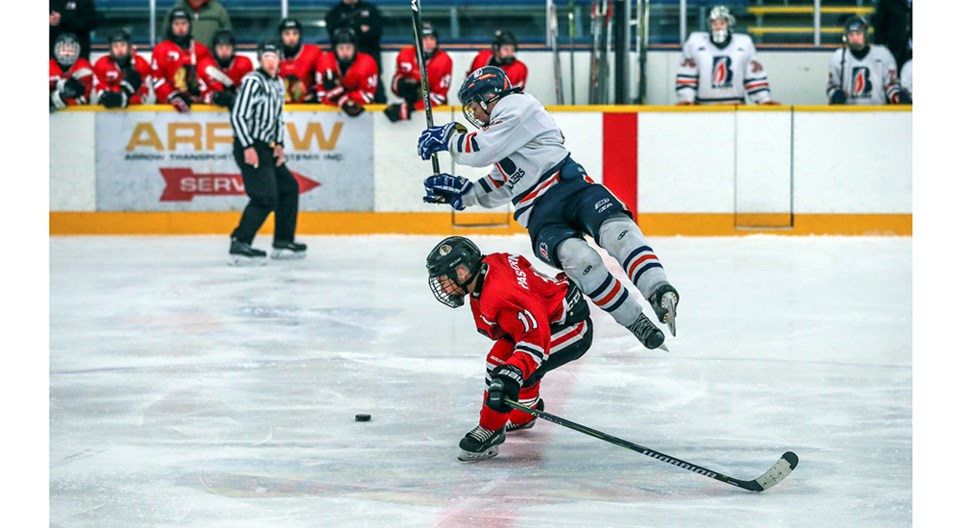 There are already some nice pieces in place and Stankoven's addition could lead to a lengthy playoff run some time in the next couple of seasons.
The first email I have in my inbox that includes his name is dated Nov. 4, 2012, when it was reported by Walt and Rosie Kirschner that Stankoven notched five goals and six points for the atom development Western Roofing Nailers in a pair of weekend games in Penticton.
Since then, I have received 180 more emails that bare his name. I expect that number will continue to grow.
8. Kyle Pauwels
Kamloops product Kyle Pauwels and his Saint Leo Lions claimed silver at the NCAA Division 2 Field Lacrosse Championship in Foxborough, Mass., in May.
In 2018, Saint Leo claimed its first regular-season Sunshine State Conference championship, earned its first berth to the NCAA Division 2 Tournament and upset No. 1 seed Lenoir-Rhyne in the southern region final in Hickory, N.C., on May 20.
Pauwels led the nation in 2018 with a .598 shooting percentage and finished with 55 goals and 72 points in 18 games.
9. Kendra Woodland
Westsyde secondary graduate Kendra Woodland achieved a dream when she strapped on the pads for Team Canada at the Under-18 Women's World Hockey Championship in Russia last January.
Woodland did not play in the third-place game, but Canada came home with bronze after beating Russia 5-1.
She is now toiling for the New Brunswick Reds on scholarship and was named the university's female athlete of the week on Oct. 16.
Woodland has a .944 save percentage, good for second in Atlantic University Sport.
10. B.C. Winter Games
The 2018 BC Winter Games saw the city come together.
About 1,600 volunteers did yeoman's work for the nearly 1,800 athletes, coaches and officials who came to Kamloops in February.
The Games left a legacy.
In addition to $80,000 worth of equipment and facility upgrades that came from the Games' operational budget and the Powering Potential Fund, another $60,000 has been allocated from the Legacy Fund.
Honourable mentions
I know I missed a few good ones. Apologies to those I overlooked.
Here are some more other names/stories from 2018 that come to mind: Joe Hicketts, Ken Olynyk/Curtis Atkinson, Adam Niles, Kamloops Raiders, Hometown Hockey, TRU WolfPack soccer and Gavin and Kristina Dodd.
I loved my job more than ever in 2018.
Thanks for reading.