Tom Gaglardi, Norm Daley and Don Moores will represent the Kamloops Blazers at one of the most important meetings in club history on Wednesday in Calgary.
The WHL board of governors will watch presentations from Kamloops, Kelowna and Lethbridge (in that order) and ask questions before voting to decide which city will host the 2020 Memorial Cup.
"The work has been done and I'm really proud of Norm and our advisory board," said Moores, the Blazers' president. "We've been going at it for a long time. Thankfully, it's coming to an end and, hopefully, we come out on the right side of it. It's so hard to know. You work hard to make sure you've crossed every T and dotted every I."
Bidding teams are allotted five minutes to show a video (Kamloops-based company Joy Factory Films put together the Blazers' offering) and 10 minutes for a presentation. Daley and Gaglardi will take the lead during Kamloops' talk. Moores, Gaglardi and Daley will be available to answer questions for 15 minutes following the presentation.
"You always have to have a few butterflies in your stomach to make sure you do a good job and you're on your game," said Daley, chairman of the Blazers' advisory board.
"We feel that we've put together the information and the proposal we need to win the day. That said, Lethbridge and Kelowna would probably feel the same way."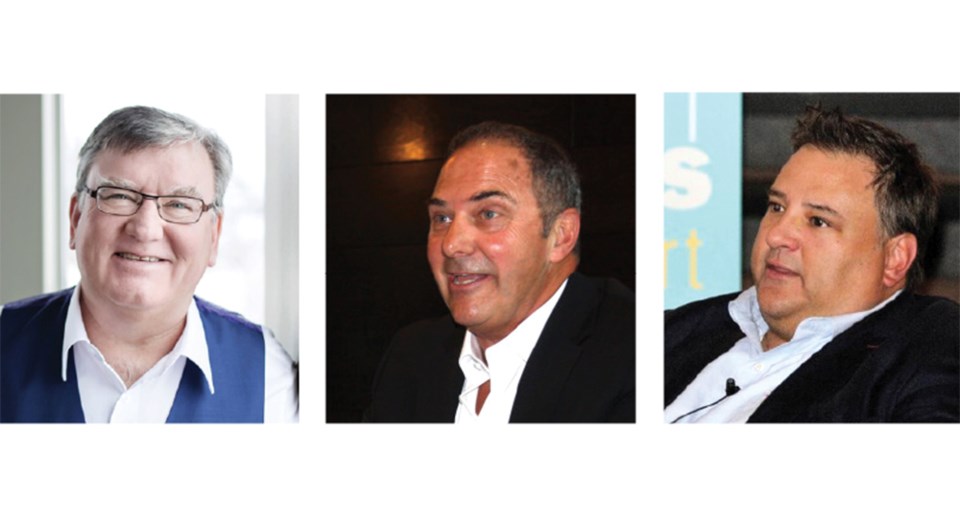 Gaglardi, the Blazers' majority owner, announced Kamloops' intention to bid at a press conference last November.
Here are several reasons why Gaglardi believes the Tournament Capital should host: The team will be a contender, Kamloops is a proven hosting community (see events such as Women's World Hockey Championship and Brier), upgrades at Sandman Centre will boost arena atmosphere, none of the last four WHL hosts for the Memorial Cup were Western Conference teams (it has not been held in B.C. since 2007 in Vancouver), the league should not forget to cater to medium-size markets, the Blazers have formed a business advisory board that will make it work financially and the 2020 tournament marks the 25th anniversary of the Blazers' last national championship victory.
Gaglardi's points are sure to be mentioned on Wednesday.
Profit from the 2020 Memorial Cup will be shared by every team in the WHL, meaning governors will be keenly interested in business plans submitted by bidding organizations.
Can the Blazers bring forth a guaranteed money number that pleases the board?
Rockets' owner Bruce Hamilton was re-elected chairman of the WHL board of governors in June. He held the position from 1998 to 2004 and has held it since 2008. Nobody has held the position longer.
Will his sway prove too much come voting time? Each of the 22 teams has one vote.
Kelowna held the Memorial Cup in 2004. Lethbridge has never staged the event.
Gaglardi told KTW the decision on who hosts the tournament is, "more and more coming down to the perceived strength of your hockey club more than anything else. Facility-wise, we have it all. The important part is to get the hockey side right and demonstrate to the rest of the league that we have Memorial Cup-calibre team."
The Blazers were recovering from a horrid 0-9 start in 2017-2018 when Gaglardi shared his opinion. Kamloops went on to miss the playoffs last season, a failure that led to a complete organizational overhaul. Head coach Don Hay and general manager Stu MacGregor were let go, along with director of player personnel Matt Recchi and assistant coach Mike Needham.
Mass changes and a struggling team might not have inspired confidence in the WHL board, but the Blazers seem to have come through the storm in promising shape on the ice.
It's early, but the team formed by MacGregor, Recchi and the Blazers' scouting staff, coached up by Hay and padded by new general manager Matt Bardsley, is generating buzz after a strong pre-season and two convincing victories over Kelowna to start the campaign.
The Rockets' slow start to the season and depleted roster might not mean anything to some board members. Hamilton has a proven track record of assembling winning teams. The current Kamloops regime does not.
Meanwhile, in Lethbridge, general manager Peter Anholt and company have completely turned around the once Eastern Conference-basement dwelling Hurricanes. Fledgling high-end forwards Logan Barlage and Dylan Cozens, both first-round picks in the 2016 bantam draft, will be 18 next season.
Blazers eligible to be around next season, key pieces such as Brodi Stuart, Orrin Centazzo, Connor Zary and Montana Onyebuchi, along with newcomer Zane Franklin, looked good on opening weekend. Early reviews are kind to head coach Serge Lajoie.
Two games may not mean much in the grand scale of a Memorial Cup decision, but 2-0 is more desirable than 0-2, especially when the victories were over the Rockets. Being 4-0 after a strong weekend in Victoria wouldn't hurt the Blazers, either.
"I'm glad that we had a good start," Bardsley said. "It's not going to hurt our chances. But, at the end of the day, they have to look at everything as a whole, as far as the team on the ice, the community that's hosting and the ability to host. There is so much in play."
Bardsley provided information on the outlook of the team for 2019-2020 to the Kamloops bid committee, notes likely to include assets such as draft picks that can be used to acquire players via trade if the Blazers win the bid.
Kamloops has a full set of picks for both the 2019 and 2020 bantam drafts, along with extra first-, fourth- and seventh-round picks in 2019 and an extra fourth-rounder in 2020.
Bardsley opted not to comment on current roster players, but Jermaine Loewen, Luc Smith and Dylan Ferguson know they will hold value at or before the trade deadline in January.
Developing prospects who will be ready to contribute next season, including the fifth overall pick in this year's bantam draft, forward Logan Stankoven, will surely get a mention.
Upgrades at Sandman Centre were delivered. Fans who came to the home opener on Friday likely would have noticed the new LED lighting system and loge seating. Retrofitted boards and glass to improve safety are expected to be installed next summer.
"The crews that come through, TSN and CBC, they always remark at how good a shape this arena is for its age," Daley said of Sandman Centre, which opened in 1992. "They can't believe it's that old."
Nathan Froese, who owns Joy Factory Films, is delighted with the hype-piece video his company created.
"It was a lot of work, a lot of shoots over like eight or nine months, digging up old footage and sending it to Vancouver to get it treated, shoots through the winter, getting Jon Keen calls ... we're really proud of how it turned out," Froese said.
Joy Factory's owner will be glowing, along with Daley, Gaglardi, Moores and the rest of Kamloops, if the Blazers' bid is successful.
Expect the decision to come down at about 2:30 p.m. Kamloops time on Wednesday.