Kian Zabihi doesn't say much.
Not to his coach. Not to his father.
These days, finding the right words is impossible.
Kian, who turned 14 in March, was recently told his 40-year-old mom has cancer.
What can you possibly say?
Nothing.
So he yells with a four-kilogram hammer.
Kian summoned each morsel of unspoken frustration festering in his mind and activated every ounce of fast-twitch fibre in his body last weekend at the Best Western Battle of the Border track and field meet at Hillside Stadium, morphing the devilish concoction into a record-smashing hammer-throw heave.
The throw of 65.92 metres annihilated the under-16 Canadian record, a mark of 62.78 metres set in 2004 by Trey Henderson of Vancouver.
"His mom, last week at the hospital, when she had a chat with him, she said, just for her, not to give up," Kian's father, Arash, told KTW. "Those were her words.
"This Friday, she is starting chemo and, to be honest, it's day by day. We're getting the results back from the biopsy. We're praying."
Tania's fight against ovarian cancer is underway and began less than seven months after 41-year-old Arash suffered a heart attack.
"I had high blood pressure for a while and I turned a blind eye to it," Arash said. "I think it caught up to me. We're having a tough time just with everything, with what's been happening, but Kian is just focused, despite his mom having cancer.
"Watching him is my peace, my self-care, just watching him do what he loves."
The family moved to Kamloops from Vernon in September so Kian can train with Olympic bronze medallist shot-putter Dylan Armstrong at the Kamloops Track and Field Club.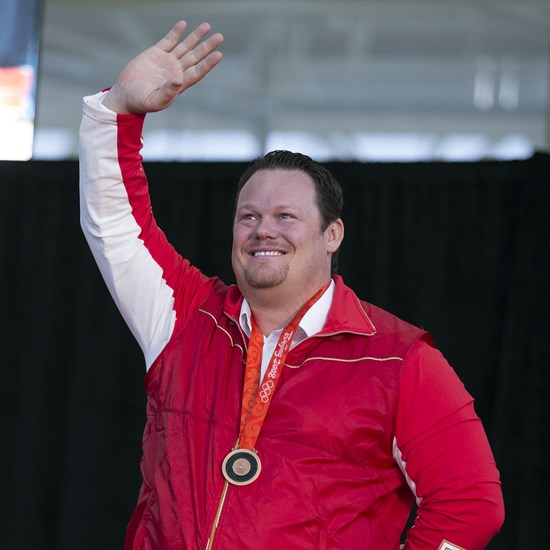 "It's 100 per cent of the reason we moved here," Arash said, noting nine-year-old daughter Tianna is taking a few lessons from her big brother's hulking coach. "We met Dylan and he's a great guy. We started coming to a couple practices from Vernon. Then it turned into a couple times a week. After a year of driving, we're like, we should come here. It was the best decision we could have made."
Kian demolished the B.C Athletics Track and Field junior development (13-and-under) record in hammer throw at the Cory Holly Classic throws event last August in Vernon.
He threw the three-kilogram (6.61-pound) hammer 64.43 metres, breaking the record of 54.38 metres that was held by Angus Taylor of Richmond-based Kajaks Track and Field Club.
"You're either fast or you're not," said Armstrong, with one eye on Kian in the throws cage outside the TCC. "You've got to be able to move the implement. You're born with that. It's genetics. He's got unbelievable fast-twitch fibre muscle. He's very fast. You can see that when he throws. There could be some big results in the future for him."
The Zabihis, who moved to Vernon from Maple Ridge in 2016, uprooted in search of family betterment and ran into a wall of strife.
Tania has taken medical leave from the full-time job she found and Arash, a community support worker who cares for children with special needs, has put a new job on hold.
"We're going to have to fight this head-on," Arash said. "We'll see what happens. Financially, emotionally, all of that, it's going to be a battle for the next bit."
Kian forges ahead.
This year, major dates on the schedule include the B.C Track and Field Championships Jamboree, from July 12 to July 14 at Hillside Stadium, and the Legion National Youth Track and Field Championships, from Aug. 9 to Aug. 11 in Cape Breton, N.S.
The 2022 Youth Olympic Summer Games in Senegal are the long-term target.
"Anything that he's holding inside … he's a quiet guy," Arash said. "It's really hard to get conversation out of him, even as his dad. Having him right now throwing with Dylan, anything he's keeping inside, I think, is helping him cope with it."
KTW interrupted Kian's practise routine this week for an interview, but he didn't have much to say.
The Grade 8 Sa-Hali secondary student said thanks, smiled and returned to the throws cage.
He spoke in there.
Dust rose and whisked in the wind as his uncorking feet churned dirt, crackling, while his upper body whirled and twirled violently, whooshing, until the hammer flew, whistling.
Listen up.
Kian has a lot more to say.