A Kamloops auto icon is coming to the city's original Ford dealership.
After 20 years in the auto industry and more than 16 years with Kamloops Ford Lincoln, Justin Grover is coming over to Dearborn Ford as the dealership's new general manager.
"It's great to be given an exciting new opportunity within the same company in a community that has been so supportive over the years," says Justin. "Thank you to the Cam Clark Auto Group for trusting me and giving me this opportunity and thank you to all those people who offered assistance along the way."
Dearborn Ford, named for the Michigan birthplace of Henry Ford, which became a major hub of the automobile industry, opened in Kamloops in 1926 with its first location downtown in the 100-block of Victoria Street. Back then, the only cars sold at the dealership were the Model T and Model A and the entire staff included a bookkeeper, two mechanics and a salesperson.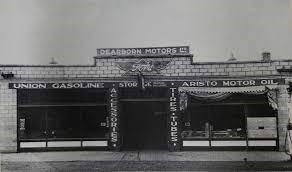 The company was a great success, eventually moving to a larger location at 520 Victoria St. in 1945, then to its current location along the East Trans-Canada Highway in Valleyview in 1968 after it was purchased by Ron Bacon and Doug Westwood.
Today, Dearborn, part of the Cam Clark Auto Group, is a far cry from two-models dealership back in 1926, with hundreds of new and used vehicles to choose from, including North America's best-selling truck line in the F series and its little brother, the Ford Ranger. 
Ford has also answered the call for a light duty truck with the addition of the Ford Maverick, which is estimated to be available in the fall of 2021.
It's that forward thinking that has Justin bullish on the future of the automotive industry and Ford in particular.
"We're never standing still," he said. "It's about constant innovation and improvement without sacrificing quality and tradition."
The whole team at Dearborn is very excited to see the future under Justin's leadership and knowledge of business. Congratulations, Justin, and welcome aboard!
Click here to find out more about Dearborn Ford.