As economies worldwide attempt to recover from the COVID-19 crisis, many investors may feel unsure of what to do. At the time of writing, a 10-year Government of Canada bond yields only 0.3% and interest rates are near 0%.
Given this, where can investors turn and what are some strategies to consider? One opportunity is private debt (PD), can potentially yield 5-8%.
What is private debt?
Regulatory changes have forced banks to scale back their lending, creating a void and an opportunity for other lenders to attain attractive returns. Private debts are privately negotiated loans to companies or individuals with a comprehensive set of covenants (terms and conditions) that typically have penalties and remedies should non-compliance occur.
Benefits of private debt
1. Lenders tend to rely on a variety of risk controls through covenants, collateral and a direct relationship with the borrower. Often, frequent detailed and timely reporting is required to monitor performance. Lower default rates historically due to strong covenants and other safeguards.
2. A higher yield than offered by similarly rated public debt to compensate for illiquidity.
3. Most private debts are not priced daily, which can result in lower correlation and volatility compared to stocks and bonds as it does not zigzag at the same time.
4. Most loans are between one and three years and do not carry as much interest rate risk when compared to a traditional bond fund ,which is closer to seven years' duration.
5. Many investors believe private debt is represented by distressed debt and high yield bonds which are relatively risky when compared to public investment grade bonds. However, in 2016, the American Society of Actuaries concluded that PD exhibits lower losses than public bonds.
Risks of private debt
1. Loans tend to be illiquid as they do not trade daily. Redeeming investors often have to wait between three and 12 months to get their capital back. In times where liquidity is reduced, investments may trade at a significant discount as fewer buyers may exist.
2. Despite the fact most PD loans have security or collateral, these investments are not 100% guaranteed and there can be a wide variance in risk between strategies. Some of the key variables to consider are the 5Cs of credit: character (credit history/bureau), capacity (ability to repay), capital (down payment), collateral (property, inventory, equipment, etc.) and conditions (rates, terms, etc.).
3. There can be a lack of transparency because these companies may not list on exchanges and they are not regulated in the same way and not required to publicly disclose all their business dealings.
4. Because there is wide dispersion between the risk and returns of each strategy, it is best to work with an experienced firm that has been through various economic cycles and has boots on the ground.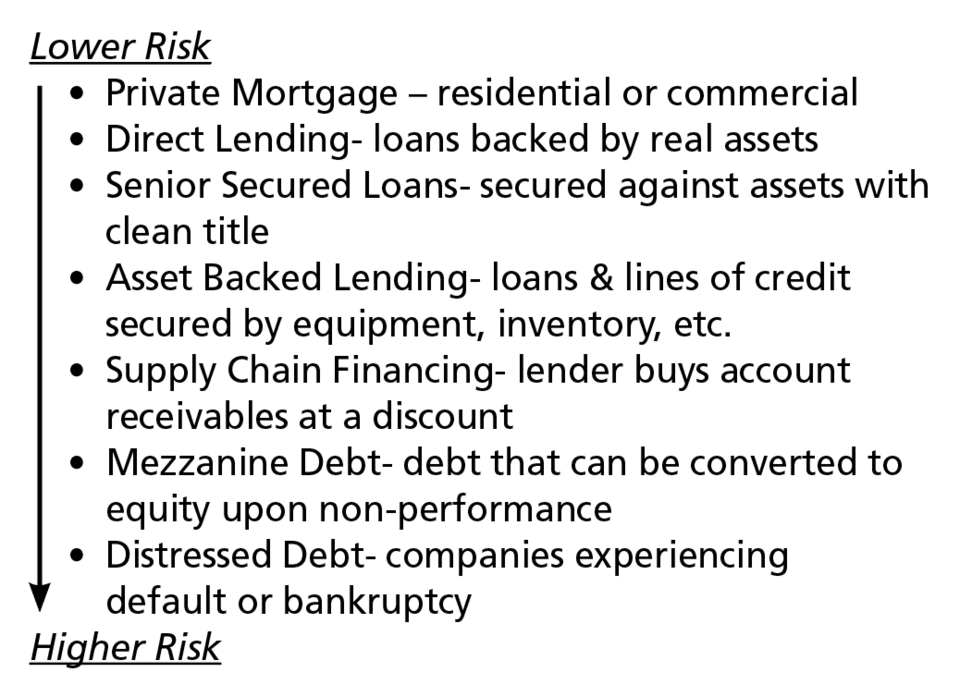 Who invests in private debt?
Although mostly an institutional investor base (pension funds, foundations, insurance companies and endowments), new structures are providing greater access to retail investors. These types of investments are typically available to accredited investors that need to meet a certain level of income, net worth or investable assets. We consider private debt an alternative to income or bond strategies.
We believe private debt with yields between 5% and 8% have many benefits, as well as considerable risks, but overall is under-utilized. Carefully selected PD can enhance diversification and smooth returns. Because many investors prefer liquidity, we encourage other parts of their portfolio remain accessible.
We encourage investors to consult an experienced team that specializes in the alternative and private debt space.
Until next time, Invest Well. Live Well.
Written by Eric Davis. This document was prepared by Eric Davis, vice-president, portfolio manager and investment advisor, and Keith Davis, investment advisor, for informational purposes only and is subject to change. The contents of this document are not endorsed by TD Wealth Private Investment Advice, a division of TD Waterhouse Canada Inc.-Member of the Canadian Investor Protection Fund. All insurance products and services are offered by life licensed advisors of TD Waterhouse Insurance Services Inc., a member of TD Bank Group. For more information, call 250-314-5124 or email Keith.davis@td.com.