Since its introduction in 1965, the Canada Pension Plan has been a mandatory savings program, with contributions shared between employees and employers (self-employed individuals pay both).
It was originally designed to replace 25 per cent of an individual's pensionable earnings. Funds are managed by the Canada Pension Plan Investment Board, which, according to its website, is among the 10 largest in the world.
In June 2016, the federal and provincial finance ministers reached an agreement to enhance the Canada Pension Plan. Those changes begin taking effect this year. For those who are already retired and collecting CPP, these changes largely will not affect you.
Why the change?
Overall, studies have shown that Canadians are savings less for their retirement. There are also fewer pensions being offered in todays' workplace. Statistics Canada showed that only 37.5 per cent of Canadian workers were covered by a pension plan in 2016, compared to 46 per cent in 1977.
What are the changes?
1. The main enhancement increases retirement benefit from 25 per cent, up to 33 per cent. The current maximum annual benefit is approximately $13,110 and would be increased to nearly $20,000.
2. The upper limit for earnings will also be increased by 14 per cent and introduces a concept referred to as the yearly additional maximum pensionable earnings. This amount is projected to be around $82,700 by the year 2025.
3. To fund the enhanced benefits, employee and employer contributions will gradually increase over seven years, starting this year. Full implementation is expected to by 2025.
The phase-in period is intended to make it easier for employees, employers and self-employed individuals to adjust to the increased contribution amounts. For example, an individual with earnings of $54,900 will contribute approximately an additional $6 per month in 2019. By the end of the phase-in period, this will increase to roughly $43 per month.
Each year of contributing to the enhanced CPP will allow Canadians to accumulate partial additional benefits. This also applies to the CPP post-retirement benefit where an individual is collecting CPP while continuing to work and contribute to CPP.
The table below outlines the two phases and changes to the CPP: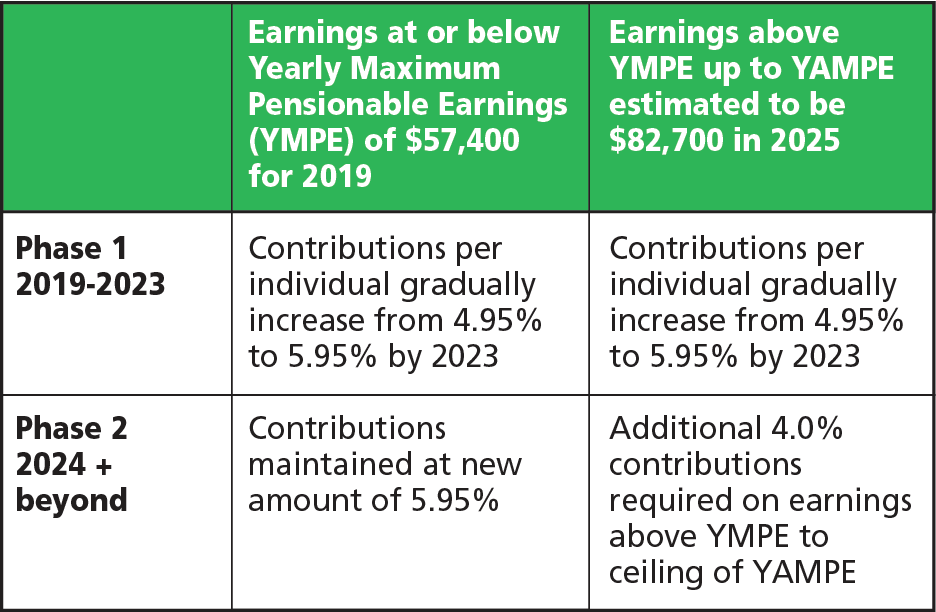 The calculations are complex to say the least, but overall this should be seen as a positive for Canadians. For more info on your CPP contributions and entitlement, please visit: servicescanadagc.ca.
Until next time, invest Well. Live Well.
This document was prepared by Eric Davis, vice-president, portfolio manager and investment advisor, and Keith Davis, investment advisor, for informational purposes only and is subject to change. The contents of this document are not endorsed by TD Wealth Private Investment Advice, a division of TD Waterhouse Canada Inc.-Member of the Canadian Investor Protection Fund. All insurance products and services are offered by life licensed advisors of TD Waterhouse Insurance Services Inc., a member of TD Bank Group. For more information, call 250-314-5124 or email Keith.davis@td.com.