Years ago, before kids, I was a bachelor travelling in New Zealand, known as the birthplace of bungee jumping.
I signed up for the Thrillogy, which include three bungee jumps at three very different locations. It was incredibly nerve-racking especially when I couldn't help but think at some point human error would eventually occur. Needless to say, I am not sure I would do this again. Perhaps age and or having a family limits my risk appetite. I make this analogy to demonstrate that people's tolerance for risk often changes over their lifetime.
Broadly speaking, investor risks can be split between two categories: 
1. Capacity: This is the level of risk you are capable of taking and is measured by standard deviation, more commonly known as volatility. For example, if you are debt-free, have no kids and have $1 million, you can afford to take more risk than could a family of four with little saved and many expenses ahead. 
2. Tolerance: This is the level of risk you want or are willing to take, also known as risk appetite, which is based on your feelings and emotional stresses you can manage with respect to investing. One of my favourite analogies is to envision portfolio volatility like turbulence on an airplane. Which of these two options would you chose when flying from Vancouver to Hawaii? You can get to Honolulu in six hours and sleep easy on the plane or you can get to Honolulu in four hours, but while white-knuckled due to extreme turbulence.
Often, there are mismatches between capacity and tolerance. Some investors will be too conservative and not keep up with the cost of living (inflation). On the other hand, taking on too much risk can jeopardize a worry-free retirement.
Typically, some sort of discovery tool will be used to estimate your comfort. The easiest question to ask yourself is what is the maximum turbulence you could tolerate? For example, an investor with $500,000 might feel able to handle a maximum decrease of 10 per cent, or $50,000, over any 12-month period. From here, a diversified portfolio can be personally built around this preference. 
The table below is based on a U.S. study, but helps illustrate the differences in portfolio composition: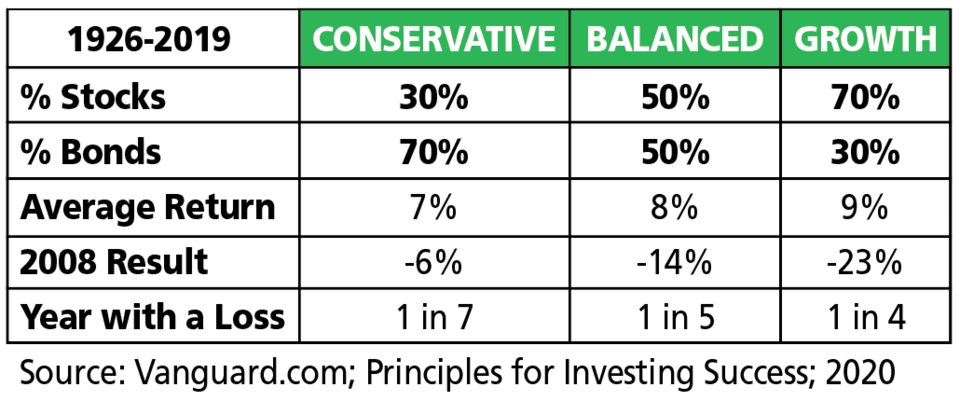 Another key point is that retirees tend to worry more about their finances than do younger people. As such, we must be aware of potential changes in lifestyle, needs and attitudes and adjust accordingly. By continually re-evaluating your objectives and comforts, you stand a better chance at managing unforeseen financial surprises.
Probably the most important thing in financial planning and wealth management is aligning your portfolio to your goals. If you could achieve all your goals and dreams with a four per cent return, shouldn't your portfolio be designed to realize this?
Many investors focus on returns instead of goals. Consequently, they take on more risk than required. For the most part, striving for higher returns to exceed your goals doesn't actually translate into an improvement in lifestyle. We encourage investors to review now before the next major market event and help reduce the turbulence.
Until next time, Invest Well. Live Well.
Written by Eric Davis. This document was prepared by Eric Davis, vice-president, portfolio manager and investment advisor, and Keith Davis, investment advisor, for informational purposes only and is subject to change. The contents of this document are not endorsed by TD Wealth Private Investment Advice, a division of TD Waterhouse Canada Inc.-Member of the Canadian Investor Protection Fund. All insurance products and services are offered by life licensed advisors of TD Waterhouse Insurance Services Inc., a member of TD Bank Group. For more information, call 250-314-5124 or email Keith.davis@td.com.