These past few months have been a white-knuckled ride for investors.
The world markets sold off sharply in a matter of weeks as the global economy went nearly full stop in efforts to curb the COVID-19 pandemic. The recovery since markets bottomed on March 23 has been unprecedented, leaving some investors uncertain of how to invest. We have had several investors ask us during these past few months: When is the right time to buy?
While no one can control the markets, we look for potential ways to increase successful outcomes. One strategy we have used over our careers is called dollar cost averaging (DCA). This is a fancy way of saying investing regularly over a given time period. 
Generally, investors have three choices: 
1) Invest a lump sum and ride the waves.
2) Wait for the market to fall and buy at a lower point.
3) DCA into the market to spread your risk.
On average, option No. 1 has the greatest chance of success. Vanguard did a study comparing the results of an immediate lump sum purchase of a balanced portfolio (60% stocks and 40% bonds) versus buying equal amounts over a 12-month period in U.S., U.K. and Australia. The lump sum method won 67% of the time and added returns of between 1.5% and 2.4%, depending on the country.
However, the study did not factor in the current valuation of the stock market. Another study did this analysis and found that DCA, when markets were high, helped reduce potential losses by nearly half.  
Most people want to do option No. 2; however, this means you need to have fortitude to buy when markets are dropping and the news is grim. Investors who are already fully invested need to get it right twice. They have to pull their money out at the top and put it back in when markets have plunged. 
I have yet to see investors succeed at option No. 2 because when things are bad, investors expect markets to go down further and typically decide to wait. Often, they remain largely in cash, which earns near 0%, and somewhat paralyzed to make a decision.  We cannot think of anyone who timed this COVID market sell-off and subsequent rebound. No one has perfect foresight and the temptation is to aim for perfection which is unlikely. We suggest using a strategy that minimizes emotion and guessing market highs and lows.
What we like about option No. 3 is that it has a psychological advantage and is very effective during volatile markets. A simplified hypothetical example may help illustrate:  
Investor A has $100,000 and, on Jan. 1, buys 5,000 shares of an investment at $20 a share. By June 30 of the same year, the shares drop to $15, then recover to $20 by the end the year.  
Alternatively, Investor B buys in two lumps of $50,000 each, on Jan. 1 and June 30. This would result in buying 5,833 (2,500 + 3,333) shares at an average price of $17.14. Amazingly, at the end of the year, she would have made $16,660, or 16.7%, while the actual investment returned 0%.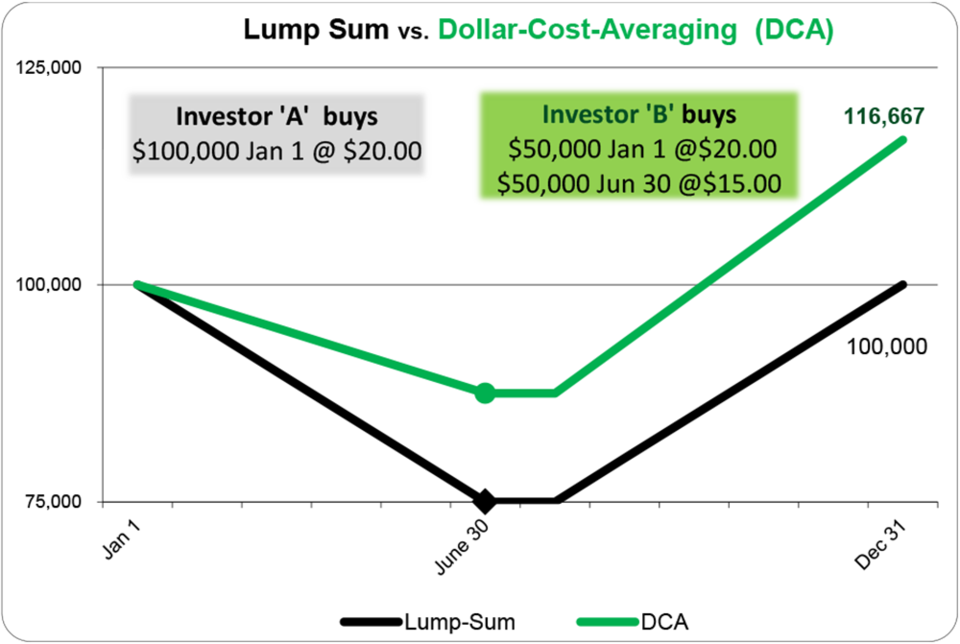 Typically, the best investments to dollar cost average are the most volatile. In addition, you want to buy as frequently as possible because it gives you the opportunity of buying at lower prices. With DCA, the fluctuations in markets can actually enhance your future returns.
Stay safe and, until next time, Invest Well. Live Well.
Written by Eric Davis. This document was prepared by Eric Davis, vice-president, portfolio manager and investment advisor, and Keith Davis, investment advisor, for informational purposes only and is subject to change. The contents of this document are not endorsed by TD Wealth Private Investment Advice, a division of TD Waterhouse Canada Inc.-Member of the Canadian Investor Protection Fund. All insurance products and services are offered by life licensed advisors of TD Waterhouse Insurance Services Inc., a member of TD Bank Group. For more information, call 250-314-5124 or email Keith.davis@td.com.