With recent property tax assessments in the mail, many people have seen large increases in their home values. We often hear "you can't lose with real estate." or "real estate is a better investment than the stock market." While at certain points in time, this may be true, over the long run you might be surprised how they have played out.
Before we go any further, we feel it is important to mention that we are believers in real estate. Between our families, we own residential, rental and recreational.
The chart below compares real estate returns from January 1999 to December 2022 in several Canadian cities versus the Canadian and U.S. stock markets. Stock market returns do not include investment fees or taxes. Real estate returns do not factor in rental income or home ownership costs such as mortgage, insurance, upkeep, property transfer tax, legal fees or property tax.

What about Kamloops real estate? We found data on Venture Kamloops website going back to 2013. Our city has benefited from solid real estate gains in the recent years.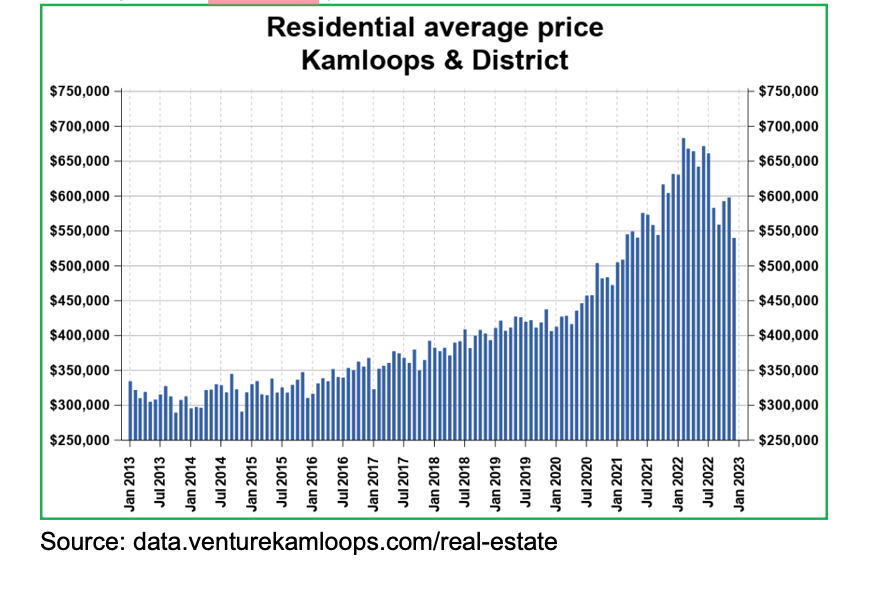 Interesting point: The Kamloops average sale price peaked in June 2022 at approximately $680,000. The January 2023 figures reflects a price drop of more than 20 per cent in seven months. That means Kamloops real estate hit a bear market in January. The Canadian National Real Estate Association cites that ,nationally, it was the lowest month for home sales in 14 years.
So, why the difference in psychology between stocks and real estate? Maybe it is because real estate is tangible. You can see it, walk through it and have the keys that go with it. Perhaps it's because you can sell a stock in just a few clicks, whereas real estate has a longer sale process. Potentially, the costs of buying and selling real estate deter investors from selling in a panic. In the end, the objective is the same — to invest in assets that will grow over the long term and increase your wealth.
We like to remind all investors that:
• We believe owning a home is financially prudent;
• Because a home is often a person's largest portion of net worth, we encourage investors to diversify;
• Historically, the Canadian and U.S. stock markets have outperformed real estate;
• During certain periods, there can be over- or under-performance from any of these three assets.
Until next time, Invest Well. Live Well.
Written by Keith
The views expressed are those of Eric Davis, Senior Portfolio Manager and Senior Investment Advisor, and Keith Davis, Associate Investment Advisor, TD Wealth Private Investment Advice, as of March 22, 2023 and are subject to change based on market and other conditions. Davis Wealth Management Team is part of TD Wealth Private Investment Advice, a division of TD Waterhouse Canada Inc. which is a subsidiary of The Toronto-Dominion Bank. For more information: 250-314-5124 or keith.davis@td.com.