Canadian stocks have been struggling this year.
At the time of writing, the TSX excluding dividends is down 0.8 per cent (Thomson Reuters, 2018). Several other global stock indexes are also in the negative, adding frustration to investor's returns. The bright spot looks to be the S&P 500, which is up an impressive 9.8 per cent year-to-date.
Once you peel the layers back, however, the primary drivers of this are tech stocks — Amazon, Apple, Netflix, Google and Microsoft. It appears rising interest rates are taking a toll on dividend stalwarts.
It is natural to feel frustrated and want to follow hottest-performing investments. The challenge is if you jump around trying to catch the top performer, it rarely works out. Every year, an independent financial analytic firm, Dalbar, compares investor results to a relevant index.
Most of the data is from the U.S., but we feel it is relevant to Canadians.
The most recent report showed that over the 20-year period of data ending on Dec. 31, 2016, the average S&P 500 Index (S&P 500) return was 8.2 per cent versus the average U.S. equity mutual fund investor at 4.7 per cent — or a shortfall of 3.5 per cent.
For example, a $250,000 investment in the S&P 500 versus the average investor could have had these results: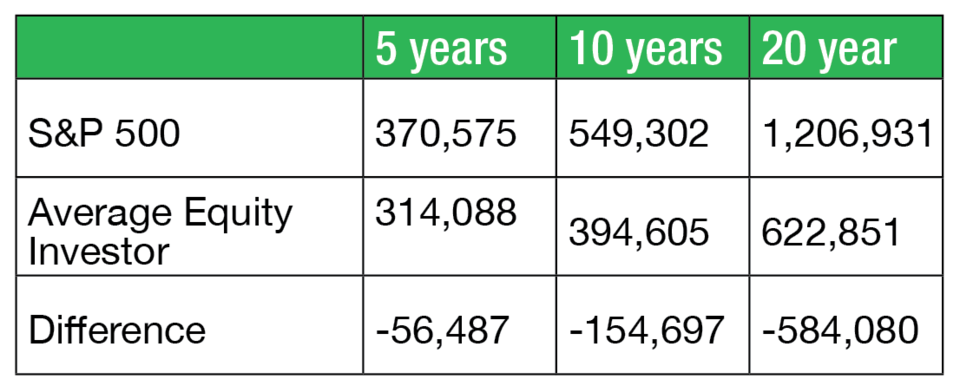 Dalbar goes on to conclude that "no matter the state of the industry, boom or bust, investment results are more dependent on investor behaviour than fund performance. Mutual fund investors who hold their investments have been more successful than those who try to time the market."
It is worth noting that fees do affect performance, but they are the second detractor of results.
Investors are continually influenced throughout good and bad markets by the media and industry experts all vying for attention and trying to forecast an unknown future. I would add that many of these pundits are not accountable. They do not sit across from you, admit they got it wrong and explain how it impacted your portfolio.
Even guessing the future correctly doesn't mean it will be profitable. Two recent examples have been the rise of markets after the Brexit vote and the election of U.S. President Donald Trump.
In this day and age, most people are "too connected."
Investors are influenced by short-term results despite setting up a longer-term plan. In our experience, retirees are more vulnerable since they no longer work and often rely on their savings. Some watch the business news and check their accounts online daily. An analogy we always like: "If you planted a tree, would you dig it up every day to see if it took root?" If you feel that you need to check daily, you may need to revisit your portfolio mix.
We are not saying we should take an ostrich approach, but practising patience and looking only a few years into the future tends to help ground oneself and improve decision-making. Similar to fitness and weight loss, people need to stick with their plan over time to reap the benefits. There are no shortcuts to good health or investing success.
Until next time, invest well, live well.
This document was prepared by Eric Davis, vice-president, portfolio manager and investment advisor, and Keith Davis, investment advisor, for informational purposes only and is subject to change. The contents of this document are not endorsed by TD Wealth Private Investment Advice, a division of TD Waterhouse Canada Inc.-Member of the Canadian Investor Protection Fund. All insurance products and services are offered by life licensed advisors of TD Waterhouse Insurance Services Inc., a member of TD Bank Group. For more information, call 250-314-5124 or email Keith.davis@td.com.