Investors, retirees, endowments and pension plans are often looking for income or cash flow from their investments.
This income typically comes in the form of dividends or interest and generates a "yield," which is expressed as an annual percentage.
Generally, the investment world is priced off of stable government bonds also known as the "risk-free rate."
Despite the fact that interest rates on bonds have gone up over the last 12 months, rates are still incredibly low compared to historical averages.
As of July 26, 2021, the rates on Government of Canada bonds for 1, 5, 10 and 30 years are only 0.25%, 0.80%, 1.20% and 1.77% respectively, according to Thomson Reuters.
Given the above, investors continue to look for options that may provide better yields. Here are some additional options:
1. Common shares represent actual ownership of a corporation where you share in the profits and losses. Most large, mature or "blue-chip" companies pay a portion of their profits out in the form of regular dividends. Among the longest uninterrupted payers of dividends in Canada include Banks and Telecoms. As at July 26, 2021, Bank of Montreal and Bell Canada Inc. (BCE) currently yield 3.4% and 5.7% and paid since 1829 and 1881, respectively. Because companies have already paid corporate taxes, Canadian investors get a tax credit for dividends received from Canadian companies thus making dividends one of the most tax efficient income source. According to taxtips.ca, Canadians pay no tax on dividends up to a $49,020 net income in 2021 and very little thereafter.
2. Preferred shares are a form of equity that pays a regular dividend. Bonds are typically issued at $100 or "par," whereas preferred shares generally are issued at $25. In terms of priority, preferred shares rank below bonds, but above common shares and tend to have volatility somewhere in between. Canadians receiving dividends from preferred shares issued by a Canadian company also benefit from the same dividend tax credit as common shares mentioned above.
3. Real Estate Income Trusts (REITs) are the only remaining trusts permitted to flow all income and cash flow to investors and thus avoid paying corporate taxes. There are many types: residential, commercial, office, industrial, retail, etc. Currently, many REITs have a yield between 4% and 6%. Several REITS are able to make use of tax strategies like depreciation which effectively reduces tax borne by their investors.
4. Mortgage strategies are typically very stable and pay 4% to 7% interest on average because they have residential or commercial real estate which can be sold in the event of default. Factors we look for include: diversified geographically, first-lien position, lower loan-to-value ratios and a long track record. Investors should be aware that some of these funds tend to be less liquid and often take a few months to redeem and return your full investment.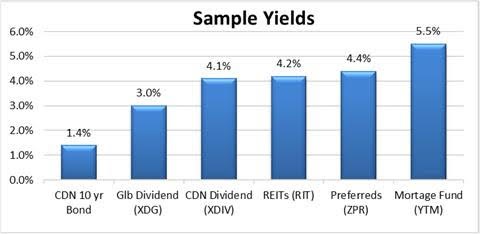 We have built the included chart with data as of July 26, 2021, for illustration purposes only and is to demonstrate that there can be significant yield differences between various strategies (asset classes).
Given the variety, features and complexity, these spaces can be difficult to navigate alone. We typically recommend a diversified approach and, as always, please consult a professional before making any decisions.
Until next time, Invest Well. Live Well.
Written by Eric and Keith Davis. This document was prepared by Eric Davis, vice-president, portfolio manager and investment advisor, and Keith Davis, investment advisor, for informational purposes only and is subject to change. The contents of this document are not endorsed by TD Wealth Private Investment Advice, a division of TD Waterhouse Canada Inc.-Member of the Canadian Investor Protection Fund. All insurance products and services are offered by life licensed advisors of TD Waterhouse Insurance Services Inc., a member of TD Bank Group. For more information, call 250-314-5124 or email Keith.davis@td.com.