I have often said that you could have all the money in the world, but if you have no time, it is useless. Alternatively, having a lot of time and no money is problematic, too. More than14 years ago, for my nephew Kaden's first birthday, I bought him one common share of the Walt Disney Company (DIS). Being his godfather and uncle, I wanted to do something special that he could keep forever and imprint the value of investing — hopefully.   
According to Thompson Reuters, Disney shares were trading at US$32.79 on Dec. 9, 2007. At the time of this writing, Disney traded around US$171 for a total return of almost 522 per cent — or an annual compound average return of more than 30 per cent. In addition, dividends grew from 35 cents to $1.76,
Due to the COVID-19 pandemic, Disney was forced to suspend its semi-annual dividend since 2020. 
My rationale for choosing Disney was that it was relevant to him and I was confident it would continue to grow its businesses worldwide, business that now includes parks, resorts, products, Pixar, ESPN, ABC, Marvel, Lucasfilm, etc.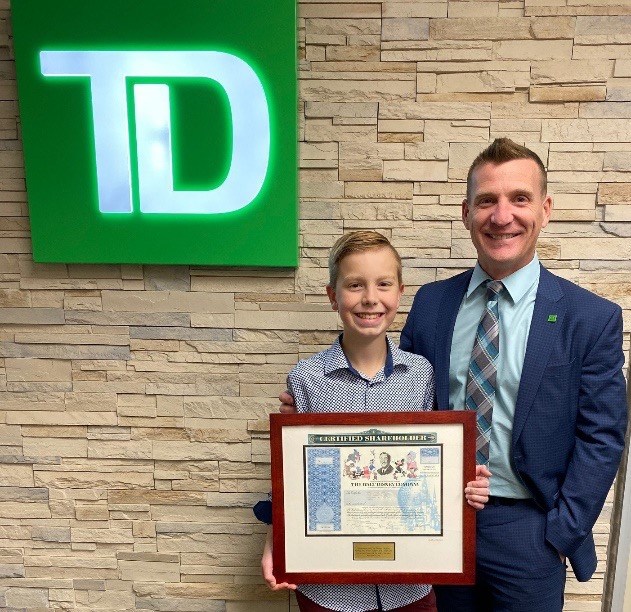 It is important to mention that this period (2007 to 2021) was anything but smooth. Annually, Disney's stock price consistently drops between 10 and 20 per cent throughout the year, but seldom stays down long.
Not too long after buying, Disney hit a low of US$16.77 in February 2009, nearly a 50 per cent drawdown from the original purchase price, but we didn't sell. Jump ahead to 2020, where the novel coronavirus forced a worldwide closure of Disneyland theme parks and the stock fell again by 45 per cent, to a modern low of US$81. But, still, we held on.
The point I'd like to make is that I believe the most powerful investment tool is time. Albert Einstein said "the most powerful force in the universe is compound interest."
Even if you think about the ultra-wealthy, they are typically well into their 60s unless they invented a new-age technology that went viral. While we are unlikely to be ultra-wealthy, we can help the younger generations make the most of their opportunities. 
A long time ago, I had the opportunity to meet David Chilton, author of The Wealthy Barber. One of his philosophies was to save 10 per cent of your pre-tax income. According to the November 2020 Statistics Canada website, the average Canadian makes $57,200 a year; however, this can be greatly affected by age, education and other factors. 
If we tried to follow The Wealthy Barber and save nearly 10 per cent of one's pre-tax income, what could this amount to over time? Given the low interest rate environment, I used a 6.5 per cent annual compound return for the following table. This assumes no withdrawals from the portfolio: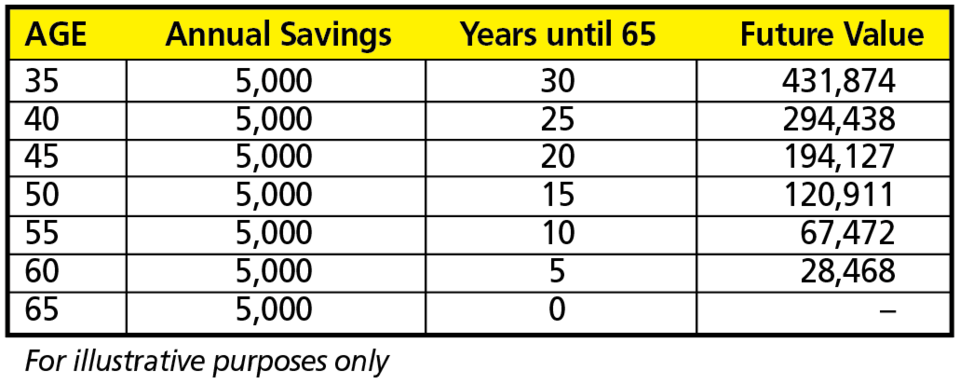 I have been fortunate that I began saving at an early age and built from there. In fact, my parents had to open my first mutual fund account because I was not of legal age. While results are important, I feel the most valuable thing is to create the habit of saving at an early age. This can help establish a good foundation for one's future, demonstrates the benefit of delayed gratification and can provide flexibility and options when life takes its turns. 
As always, please seek out professional guidance to help you along your journey.
 In closing, I share with you a quote from Walt Disney himself: "Our greatest natural resource is the minds of our children."
Until next time, Invest Well. Live Well.
Written by Eric Davis. This document was prepared by Eric Davis, vice-president, portfolio manager and investment advisor, and Keith Davis, investment advisor, for informational purposes only and is subject to change. The contents of this document are not endorsed by TD Wealth Private Investment Advice, a division of TD Waterhouse Canada Inc.-Member of the Canadian Investor Protection Fund. All insurance products and services are offered by life licensed advisors of TD Waterhouse Insurance Services Inc., a member of TD Bank Group. For more information, call 250-314-5124 or email Keith.davis@td.com.