With Christmas looking and feeling very different this year, many people are wondering how they can help organizations whose fundraising efforts have been dampened by the COVID-19 situation. 
In 2020, according to World Giving Index, the most generous countries ranked were the U.S., Myanmar, New Zealand, Australia and Ireland. For many of us, giving is an important part to help build a better society. Our team is passionate about philanthropy and we feel there are three ways people can give: 
1. Time (volunteering).
2. Talent (sitting on a board or committee). 
3. Treasure (donating cash or an investment).
Since 2015, our clients collectively have donated various stocks and mutual funds from their portfolios that have exceeded $1.5 million. These funds have gone to so many worthwhile causes, including cancer research, education, pet organizations, hospitals, Kamloops Hospice Association, the Alzheimer's Society of BC, the Kamloops Food Bank and churches.
We track these gifts to ensure clients are maximizing all their tax credits. 
Most Canadians pay between 28 per cent and 50 per cent in income and estate taxes. B.C. residents who have donated more than $200 receive total charitable tax credits of 43.7 per cent. Furthermore, if you donate (transfer) a profitable investment in-kind, the government forgives your capital gains tax. 
Here is an example of a B.C. donor with a net income of more than $150,000 and who has already donated $200. They have the choice of a writing a $10,000 cheque or donating TD Bank shares that are worth $10,000, but only cost $2,000 originally.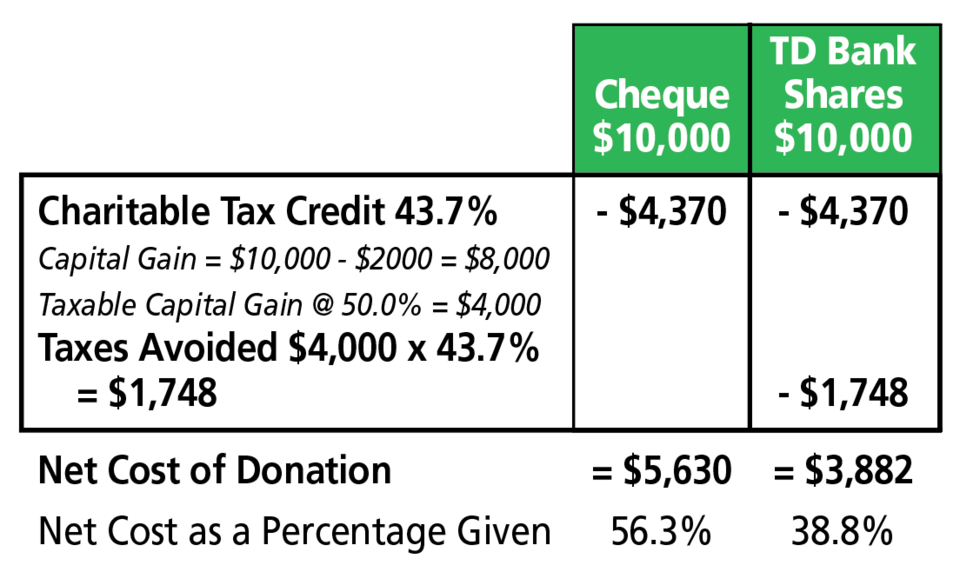 You may be surprised to learn that your actual out-of-pocket costs are significantly less than the actual donation amount. Using the same example with an income earner of $50,000 would still result in a net cost of donation of $5,630 and $4,502, respectively. The key is that donating $1 costs you, at most, 56 cents, but could be much lower. It is worth noting that donating through a business or holding company can also provide excellent results. 
How much should I give?
We often get asked this question and offer some ideas to consider:
• One per cent of your income.
• Set up automatically monthly giving, 
• Give profitable securities (shares) directly which can have significant tax benefits.
• Pool tax receipts on the highest income tax return. 
• Consider donating through your corporation.
• Change RSP-RIF beneficiary to the charity of your choice.
• Use life insurance to enhance the amount you give.
• Make a bequest in your will Ask yourself: "If I decided to give 10 per cent to my favourite charities, would my two children mind receiving 45 per cent versus 50 per cent?" 
Please know that we are not here to push anyone to donate; rather, we are trying to help each of you achieve your goals in the most tax-effective way. We enjoy being a part of our clients' journey and encourage them to give while they are alive, so they can see and feel the benefits.
Our hope is others will be inspired to do the same. In particular, their loved ones will know that giving back is a family virtue, a lesson that is particularly important this year.
We would like to leave you with this quote from Winston Churchill: "We make a LIVING by what we GET, but we make a LIFE by what we GIVE." 
Until next time, Invest Well. Live Well.
Written by Eric Davis.
This document was prepared by Eric Davis, vice-president, portfolio manager and investment advisor, and Keith Davis, investment advisor, for informational purposes only and is subject to change. The contents of this document are not endorsed by TD Wealth Private Investment Advice, a division of TD Waterhouse Canada Inc.-Member of the Canadian Investor Protection Fund. All insurance products and services are offered by life licensed advisors of TD Waterhouse Insurance Services Inc., a member of TD Bank Group. For more information, call 250-314-5124 or email Keith.davis@td.com.