Have you heard the buzz? TELUS STORYHIVE is celebrating 10 years of community support of local content creators, and you can be part of this momentous milestone by applying to their biggest edition yet, the 2023 Anniversary Documentary Edition.
If you're a content creator in Kamloops, Kelowna, Penticton, Vernon or any B.C. or Alberta community, you can celebrate with STORYHIVE by pitching your short documentary idea. You could be one of 80 content creators to receive $20,000 in production funding, training, mentorship and distribution on TELUS Optik TV and Stream+.
Kelowna filmmaker and past recipient of two documentary grants, Chelsea Jade McEvoy, is no stranger to the TELUS STORYHIVE experience. She was selected for the 2018 Documentary Edition to make Wheel Love, and in 2019, Re-Inventing The Wheel, which screened at the Kamloops Film Festival, and won multiple awards, including best documentary in New York's Chelsea Film Festival 2020.
"When I met James Hektner (featured in Wheel Love), I knew I wanted to tell the story of their community, their resilience, and what they created in the Okanagan." Hektner is a paraplegic and president of the peer support group, Accessible Okanagan, a vibrant community of 'wheelies' in the Okanagan Valley and Kamloops region.
In Re-Inventing The Wheel, the group serves as the impetus for Dan McLean, a paraplegic new to navigating his world in a wheelchair, alongside his wife Colleen. "The group shows him the ropes and helps teach him how to live life again after injury," describes McEvoy.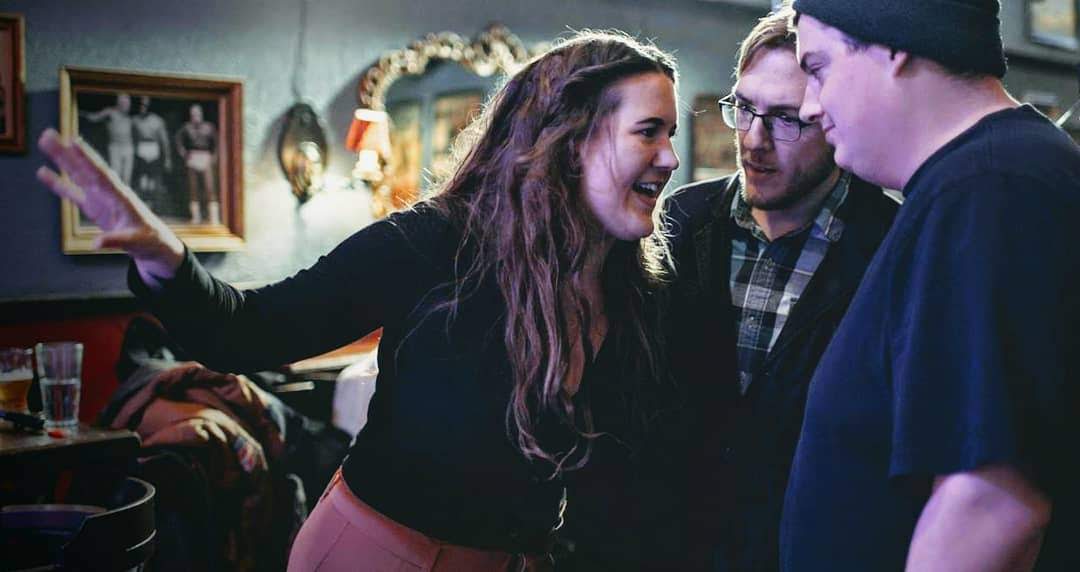 McEvoy captures the emotionally powerful camaraderie of people with spinal cord injuries (SCI), while imparting the sublime realization of how what's been lost can be superbly recaptured: getting out there, chasing adventures, having fun, and reclaiming a zest for life.
"Peer support is integral, not just for people with disabilities, but for anyone who's struggling with anything or just passionate about something," says McEvoy.
Fittingly, she experienced just that. "STORYHIVE's support was invaluable. Mentors were always available to answer questions and provide feedback; I loved sending a rough cut and receiving lots of notes. It was awesome to learn from people who've been through it."
Her mentor, Sharon McGowan on Wheel Love, especially resonated. "She helped me gain the confidence to be a leader as a female filmmaker in a male-dominated industry." Wheel Love was an important story for McEvoy to tell because of its personal significance: an intimate look into fertility and the challenges of trying to conceive with someone having an SCI, her partner, Hektner. "It was a learning curve, being the subject of my own documentary, but it steered the direction I wanted to go in my career. Without the STORYHIVE grant, I probably wouldn't have made it, so it's a real testament to them."
"STORYHIVE's support enabled me to elevate my career," says McEvoy. "Funding helped me become a better filmmaker because it gave me greater access to resources. Mentors helped me be more self-assured, go after bigger projects, and push myself creatively."
Since 2013, STORYHIVE has been able to support a community including thousands of local content creators across B.C. and Alberta, providing over $52 million in production funding and creating a safe space for storytellers to hone their skills and bring projects they care about to life.
"We are thrilled to be celebrating 10 years of supporting local content creators across B.C. and Alberta, especially in regions like the Okanagan. STORYHIVE is built on local storytelling and representing the people that make our communities so amazing. It is exciting to be accepting applications for our biggest edition yet with our Anniversary Documentary Edition. We hope to see many diverse stories from the Okanagan locals. If you have an idea to pitch, we encourage you to apply and share your story," shared STORYHIVE Interior B.C. Territory manager, Audrey Kiss.
"I'm very grateful to STORYHIVE for giving me so much opportunity and it's encouraged me to give back; I'm now the president of the Okanagan Society of Independent Filmmakers, a Kelowna non-profit providing indie filmmakers opportunities to create their films."
STORYHIVE is looking for a wide range of non-fiction content, for example, stories where people and organizations create meaningful change; technology that is revolutionizing people's lives; work that is protecting and sustaining the environment, health care that is transforming communities and groundbreaking agricultural practices.
"My advice to filmmakers starting out is; apply to a STORYHIVE program and don't give up. They can help kickstart your career, and ultimately help change your life."
If you are a new and emerging content creator residing in a rural or urban community, you can apply. If you have a compelling story, now's your chance to uplift your community with the power of your locally-reflective content, told from your perspective.
Intake opens January 17, 2023, 12pm PT. Visit storyhive.com/apply and submit your application by February 28, 2023.