*This article was written prior to known results in the Nov. 3 U.S. election.
Last night, Americans headed to the polls in arguably one of the most divisive elections in history.
In the months leading up to the election, there had been no shortage of theatrics, assertions and assumptions about either candidate winning. Many clients have been asking us about the potential ramifications to their investments.   
So who is better for the stock markets: Democrats or Republicans? Generally, the Republican platform believes in less regulation, lower taxes and being more pro-business, which are viewed as positives for U.S. stock markets. Yet the following table tells a different story, highlighting the average S&P 500 Index returns during various presidencies.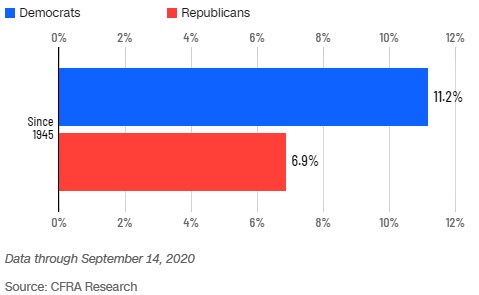 On average, the markets have returned more under a Democratic president. We found this data remarkable since a more pro-business party should have more favourable stock market returns.
What the statistics don't completely account for is the timing around major events. For example, in 2008, then-president Barack Obama inherited a depressed economy and stock market due to the financial crisis. The following years saw a strong recovery in the markets.
In addition, we believe investors should temper their expectations. Ned Davis Research (no relation) studied presidential cycles, discovering that the Dow Jones Industrial Average (DJIA) posted its weakest returns in the first two years of a four-year election cycle. Since 1900, the DJIA has gained the following returns: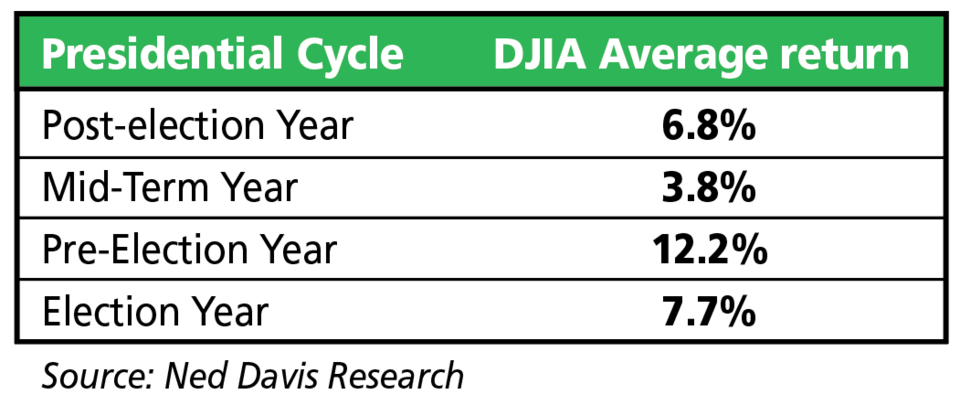 The election and aftermath may take some time to play out. Furthermore, the world is still navigating through a global pandemic. It reminds us that no one can predict short-term moves in the markets. When Donald Trump surprisingly won the presidential election in 2016, the experts got it wrong. Initial belief was that markets would drop upon his narrow victory. Surprisingly, the S&P 500 rallied over 20 per cent during his first year as president — a good reminder that the markets often do not behave the way we expect.
Because of this, we encourage investors to ensure they are properly diversified and take at least a two- to five-year investment outlook. 
Until next time, Invest Well. Live Well.
Written by Eric Davis. This document was prepared by Eric Davis, vice-president, portfolio manager and investment advisor, and Keith Davis, investment advisor, for informational purposes only and is subject to change. The contents of this document are not endorsed by TD Wealth Private Investment Advice, a division of TD Waterhouse Canada Inc.-Member of the Canadian Investor Protection Fund. All insurance products and services are offered by life licensed advisors of TD Waterhouse Insurance Services Inc., a member of TD Bank Group. For more information, call 250-314-5124 or email Keith.davis@td.com.