Doug McCloy is a true B.C. boy, having lived his entire life of 73 years only in Vancouver and Kamloops.
McCloy was born in 1946 in Vancouver General Hospital and lived with his parents and brother in their little house on Dumphries Street, eventually attending David Thompson High School.
His first job was pumping gas at a service station after classes and on weekends. Upon graduation, he got steady work at the Bonner and Bemiss factory, where they made large paper bags. He earned enough money to buy his first car — a 1948 Dodge coupe. He then went up-market, replacing the Dodge with a 1963 Pontiac two0door sedan, which was, in turn, replaced by a 1967 Ford Mustang.
McCloy's mother was a childhood friend of the wife of the owner of Kamloops Glass and when McCloy heard about an apprenticeship position open at that business, he left Vancouver and arrived in Kamloops in 1968, where he has been ever since.
McCloy moved into an apartment with a couple of buddies while learning about the automotive and residential glass business. During his off-hours, McCloy joined the Rocky Mountain Rangers reserve unit, carrying on from his similar association with the Canadian Army reserves in Vancouver.
Driving around town in his Mustang, between the North Kamloops and Valleyview A&Ws, was a favourite pastime and that is how he met his future wife, Suzanne. They were married in 1970 and eventually raised two boys: Jeff and Chris. The family cars during this time became a 1970 Mercury Cougar SR7, then a 1976 Chevrolet Impala coupe, followed by a 1963 Chevrolet short box pickup.
The McCloys became residents of Beaver Crescent in Dallas and, as McCloy's interest in all things automotive increased, he built a large garage in his backyard. His father-in-law, Bill Brandon, was a member of the Kamloops chapter of the Vintage Car Club of Canada (VCCC) and had a few vintage cars in his possession, among them a 1941 Cadillac and a 1926 Model T Ford.
The two men became quite close and began ice racing together with a Datsun 510. Most weekends in the winter were spent racing the Datsun on Barnes Lake, near Ashcroft, while the rest of the week was spent repairing the car for the next race. They were fairly successful in their ice racing ventures and McCloy still has the trophies displayed in his home.
One day, while working in Brandon's garage, McCloy looked at the Model T Tudor sedan sitting in the corner and asked his father-in-law what he was going to do with it. A deal was made and McCloy took the Model T home to his own garage, joined the VCCC and began the restoration, taking the car apart right down to the frame and starting from there. The result, after several years, was one of the nicest Model T Fords you will ever see.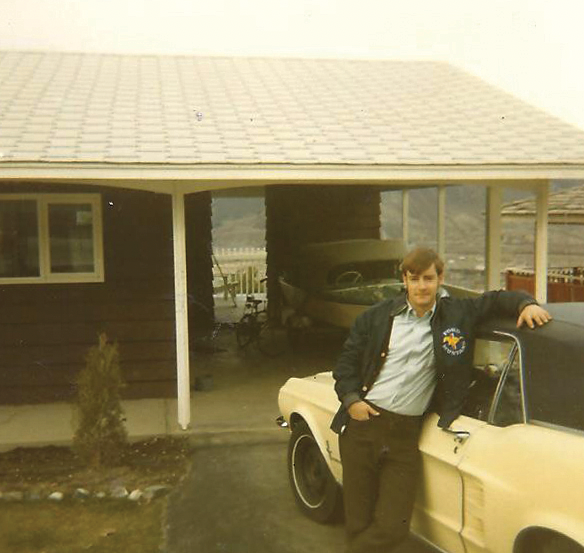 Sometime in 1991, the Kamloops chapter decided to make a bid to host the 1993 May Tour, the annual convention of the VCCC. When the bid was accepted, the group began organizing the 1993 Overlander May Tour.
As it had done during the two previous Kamloops May Tours, the group planned to raffle off a car to enhance the event, help defray the costs and donate funds to charities. A decrepit Ford Model A Tudor sedan was located and purchased and McCloy became the ramrod in charge of its restoration. The Model A was moved to his garage and a two-year, from the ground up restoration began, which was completed just in time for the Tour.
In addition to taking on the massive project, McCloy has been active in other capacities as the chapter's property manager and served two terms as president. After 17 years with Kamloops Glass, McCloy decided it was time for a career change, so he took a locksmith course, applied for a position with the Kamloops-Thompson school district and worked there, looking after locks, windows and doors in all the local schools until his retirement.
McCloy's life took a huge U-turn in 2002 when he suffered a severe stroke while attending a Kamloops Blazers game. After a stay in hospital, he ended up in the Berwick on the Park care home, at about the same time his marriage ended.
McCloy is a fighter, however, and after about two years in Berwick, he decided to get his life back together and moved out. He had a small house (with a large garage) built in Valleyview, got his driver's licence back and, in 2010, purchased a beautiful 1966 Ford Mustang GT.
Although still experiencing effects from his stroke, McCloy continues to tinker with his Mustang in his garage and participate in car club events. And, if any club members are having issues installing a new windshield or glass in their vintage autos, he is always eager to lend his expertise.
McCloy's younger son, Chris, recently moved back to Kamloops and, obviously inheriting some of his dad's mechanical abilities, has restored a 1978 Honda Civic hatchback, just like one he had when attending high school.
It is heartwarming to see the second generation becoming interested in preserving our automotive heritage and McCloy is an inspiration to us all, showing that life can go on, even after the major setbacks one has endured.
Dick Parkes is with the Kamloops chapter of the Vintage Car Club of Canada.