As I write this, we remain cautious in our living with COVID 19 and its implications for all of us.
That said, I am still able to slip away to a quiet space on the land. There, I watch tiny buds begin to loosen their grip on the way things are to allow the green leaves of tomorrow to slip into the world. Every day, those leaves take another small step into the warmth of sunshine — slowly, slowly opening more fully into who they are called to be. As you read this, I imagine those leaves will be wide open, tiny flags waving in the breeze, celebrating the newness of life around us.
In my space, I sit beside a fast flowing creek. A mourning cloak butterfly flits around me as I watch the water run by in a hurry to get to what's next. I am very aware that the natural world knows nothing of this pandemic — this very large and presumably long pause which holds humanity in its grip.
We live in the grip of a virus that brings sickness and death, while the natural world is offering us signs of new life every day. In a world looking for — living for — signs of hope, we in the Northern Hemisphere are now surrounded by them:
• tulips poking up through the soil;
• birds busy building nests;
• butterflies chasing sunbeams through the trees;
• dandelions dancing in the breeze, inviting bees to a veritable feast.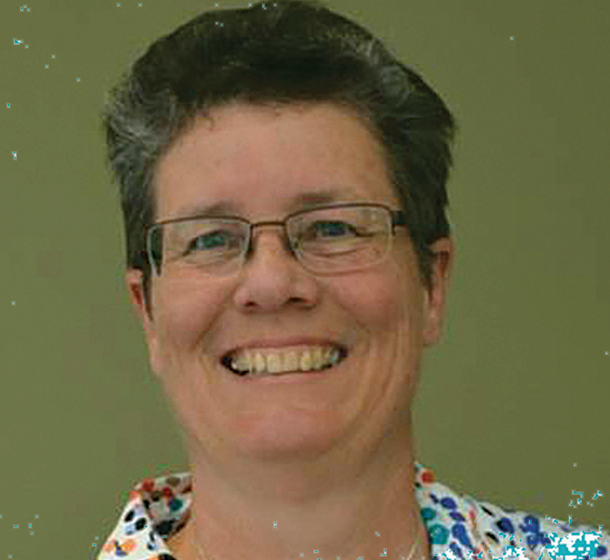 The natural world has much to teach us when we take time to look and to listen. This earth is our home and she is home to so many of our forgotten kin. Saint Francis understood this when he wrote his song of praise to one who created all things, naming and claiming the natural world as our kin: Brother Sun, Sister Moon, Brothers Wind and Air, Sister Water, Brother Fire and Mother Earth.
During this shutdown of our human world, we can celebrate our wider earth family. We cannot hug one another but we can find a tall, strong tree to lean into with a hug. We cannot sit across the table having coffee or tea with a friend, but we can pull up a chair beside our favourite house plant and share our heart with them.
All that we cannot do with one another we can still do with our family in the natural world.
We are being held in the grip of a pause — a pandemic pause. We humans are so much like the waters of that creek, wanting to rush on to what is next. Pausing is hard for us.
I invite you to live into this pause.
To be awake to the signs of new life all around you.
To stop and listen to the birds, easier to hear in a world greatly silenced.
To sit in a sunbeam, relish the warmth, knowing Brother Sun is pulling forth new life in our midst.
To sit for a time with our brothers and sisters and to experience the peace of the wild things.
In his poem by that name, The Peace of the Wild Things, Wendell Berry invites us to find peace in the midst of despair for this world. It's almost as if he wrote it for these days:
When despair grows in me
and I wake in the night at the least sound
in fear of what my life and my children's lives may be,
I go and lie down where the wood drake
rests in his beauty on the water, and the great heron feeds.
I come into the peace of wild things
who do not tax their lives with forethought
of grief. I come into the presence of still water.
And I feel above me the day-blind stars
waiting for their light. For a time
I rest in the grace of the world, and am free.
May you rest in the grace of this world — may the peace of the wild things ease your despair for this world …
Rev. LeAnn Blackert is in ministry with the new Wild Church in Kamloops (wildchurchbc.org), where she works with Michele Walker and Lesly Comrie. Blackert is spending her "stay home" time with her partner and two cats. She enjoys quiet mornings on her back deck, reading books and connecting online with her Wild Church community.